Employing a Q Methodology study to explore animal agricultural priorities
January 11, 2023
Noah Janzing grew up in Hollister, California and studied animal and food science at Colorado State University. Aiming to understand the impact of the agricultural industry on environmental and occupational health led him to the Department of Environmental and Occupational Health Sciences (DEOHS) MPH in One Health program where he is a NWCOHS trainee in the Occupational Health at the Human-Animal Interface program. 
Pursing the MPH in One Health was seamless transition from his undergraduate studies. The MPH program interlinks his two interests: public health and agricultural production.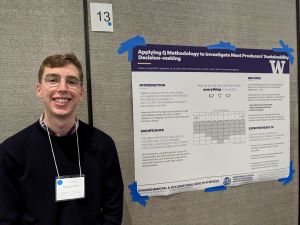 Connecting decision-making to action
For his thesis project, Janzing is employing a Q Methodology study to understand how the animal agricultural industry makes sustainability-related decisions in response to changing consumer preferences and economic trends.
The animal agriculture industry faces many negative consumer perceptions regarding sustainability, particularly environmental impacts and animal welfare. For producers to overcome these negative perceptions, Janzing aims to uncover the complex decision-space of sustainability to illustrate how producers make decisions and identify areas where consumer decisions could help support improvements.
Producers are balancing effective and efficient meat production with a sustainable, nutritional, and equitable food source. This balance requires meeting consumer demands and needs (paired with market trends and pressures) to have a sustainable production in terms of environmental health and animal welfare.
Filling the research gap
There is a lack of research showing how producers and value chain stakeholders make sustainability-related decisions rooted in response to changing consumer preferences and economic trends. This thesis project has the following objectives:
Identify both shared and divergent perspectives regarding animal agriculture outcomes across beef, broiler, and pork industries.

Assess the level of alignment between current and ideal production priorities across beef, broiler, and pork industries.

Qualitatively assess industry specific priorities and explore the motivations supporting producers' sustainability related decisions.
The findings will increase our understanding of the decision-making complexities within animal agriculture. Knowledge of the variance between each livestock and poultry producer, as well as the knowledge of gaps between individual operation's current and aspirational practices, will illuminate how meat producers navigate a complex decision-making landscape where they are attempting to deliver multiple societal goals.
Work in progress
Through a literature review, Janzing explored the complex decision space in animal agriculture as it relates to sustainability. He has compiled a Sustainability Component Framework that has helped guide the conversation on the key elements that encompass a sustainable production. He is currently analyzing and coding key informant interviews that will inform the Q methodology study.
In the next few weeks together with other researchers, he will start conducting ~40 individual interviews and Q sorting exercises to explore how meat producers make decisions about environmental sustainability and animal welfare outcomes. To conclude his thesis research, Janzing will conduct factor analysis and interpretation of the results.
Research team connections and next steps
Janzing acknowledges the tremendous support from the USDA-funded project IDEAS (Inter-Disciplinary Engagement in Animal Systems) research team and reflects on his thesis mentorship from DEOHS Associate Professor Jennifer Otten and the project PI, DEOHS Assistant Professor Sarah Collier: 
"They have had a tremendous impact on my education through rich discussions and support throughout the project. I feel quite lucky to be able to work with such great researchers and on a study that I am truly passionate about."
After graduation, Janzing hopes to find a career that prioritizes a sustainable future, ideally at the crossroads of public health and the agriculture industry.
Adobe Stock Image: dusanpetkovic1, #258495612