Occupational Medicine Resident trainee explores occupational exposure for cannabis workers
December 1, 2021
Cannabis is a booming new industry in the state of Washington which has led to the creation of thousands of new jobs in cannabis cultivation, processing and distribution. Previous work has shown that, similar to other agricultural occupations, cannabis cultivators may be at increased risk of occupational lung disease, in particular occupational asthmas.
Dorian Kenleigh, MD, MS, a second year Occupational and Environmental Medicine resident, together with his research team, is seeking to determine the prevalence of signs of cannabis allergy and respiratory symptoms among cohorts of persons with cannabis exposure. The ultimate goal is to assess the relationship between occupational exposure to cannabis and the development of respiratory and allergic symptoms.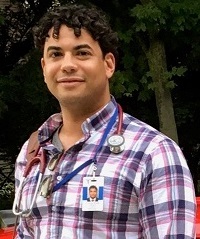 His study group's previous work also found evidence that occupational exposure to plants of the family Cannabacae can trigger allergic sensitization. These findings can have implications for worker safety programs, regulation as the cannabis industry continues to develop and possible long-term health consequences for cannabis workers. The research team is actively developing relationships with industry associations like the Cannabis Alliance to facilitate the partnerships necessary to continue the work. 
In a cross-sectional study of indoor grow facilities by Drs. Cora Sack and Christopher Simpson, Dr. Kenleigh's research mentors, more than 70% of workers reported experiencing work-related respiratory symptoms. Within that cohort, 45% demonstrated abnormal spirometry in the form of primary airflow obstruction and 30% demonstrated allergic sensitivity responses cannabis in skin prick testing. These results were compelling, but confounded by the ubiquitous recreational cannabis use among the studied workers.
Dr. Kenleigh is building upon Drs. Sack's and Simpson's research by developing an appropriate control group of recreational cannabis users and non-users who do not have occupational exposure to cannabis. So far, Dr. Kenleigh has determined the prevalence of cannabis allergy, respiratory symptoms, lung function and airway inflammation in these control groups. He plans to compare these indicators with the previous study's cohort of occupationally exposed cannabis cultivators.  The team plans to present their research at the American Occupational Health Conference in May 2022.
Dr. Kenleigh reflects on his research experience – "Cora [Dr. Sack] has a true passion for her craft and this passion is infectious. It motivates me, as a trainee, to learn more in order to keep up with her. Every time we have a meeting to discuss our progress I've learned something new and have a new topic to review.  I'm truly fortunate to be able to be mentored by two of the top experts in this field. "
Cover photo: AdobeStock The Colonel