Occupational Health Research Services PhD student, Érica Chavez Santos, reflects on her experience as a guest speaker on Radio KDNA, a Spanish language public radio station in the Yakima Valley in Eastern Washington
July 28, 2021
At the end of June I had the privilege of being a guest on Radio KDNA. The segment was just in time not only for the heat wave that hit our state during that week, but also the hot summer months that Eastern Washington experiences every year. Temperatures are significantly higher in Eastern Washington than the greater Seattle area which contribute to the thriving agricultural region.
My colleague, Pablo Palmandez, and I represented the University of Washington Pacific Northwest Agricultural Safety and Health Center (PNASH). We were guests along with Alejandro Diaz, a safety and health specialist at the Washington State Department of Labor and Industries (WA L&I). Not coincidentally, another brilliant colleague and incoming University of Washington (UW) Department of Environmental and Occupational Health Sciences (DEOHS) Master's student, Diana Marquez, hosted the segment.
The radio segment was part of WA L&I's Be Heat Smart campaign to promote heat safety awareness and education among the agricultural community. The segment focused on findings from the Heat Education & Awareness Tools (HEAT) study on the importance of recognizing heat-related illness symptoms and the precautions one can take to stay safe when working in the hot weather. The HEAT study involved working with community partners and the agricultural community to understand the factors that increase the risk of heat-illness. PNASH also worked in collaboration with workers to develop a heat training toolkit in Spanish and English for agricultural workers.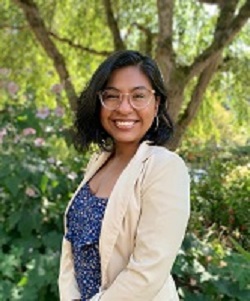 Last April 2020 I shared a bit about my involvement with the HEAT study and how close to home working with farmworker communities is to me. This is where I come from, it's my community, so being able to take the work we're doing on the research end back to the community is very important to me. I am very grateful to work at PNASH with a dedicated team that also values centering community. Being on the radio means a lot to me because it brings me back to my roots and reminds me why I'm in the PhD program.
Research is important and it requires a lot of data collection, data cleaning, analyses, manuscript writing, publishing, and disseminating results. PNASH strives to do great research that helps inform best practices to keep agricultural workers safe while conducting outreach with and dissemination to communities. It's really important to acknowledge that academic structures make it harder for certain people to access knowledge. Sometimes disseminating research through academic journals is restrictive, so we end up perpetuating an ivory tower and culture of exclusion where the people that would benefit from the knowledge and information the most have the least access to it. The radio program is an effort to break that cycle and disseminate information to community in a culturally responsive and adequate way. Collaborating with Radio KDNA and Proyecto Bienestar ( a community health intervention effort lead by a Yakima Valley community advisory board in partnership with the UW, Northwest Communities Education Center/Radio KDNA, Heritage University, and Yakima Valley Farmworkers Clinic)  allows campaigns like Be Heat Smart to happen.
As much as I get nervous on the radio, I know it's an impactful way to reach communities and share knowledge and resources; plus, it helps me practice talking about my research in a more digestible way. Spanish is my first language, but I often don't get the opportunity to talk about my research in Spanish. Sometimes it's difficult to translate topics that I struggle to understand in English. I think this is something that bilingual, first-generation college students sometimes encounter. I'm grateful to say that my mom and dad serve as key consultants whenever I prepare for something like this, because they're from these communities, they know what farm work is like and they know what's accessible and what's not. I think a lot of good can come from more researchers finding creative and equitable ways to share research results and information with the community.
I think equity and anti-racist approaches need to be implemented in all aspects of the HEAT project. I really admire the way my mentor and Project Principal Investigator, Dr. June Spector, implements equitable practices by ensuring outreach, dissemination of results to participants/communities, and evaluation of our work. Even more so, Dr. Spector believes in paying extra fees so that published manuscripts are open source and accessible to all. These approaches and practices are all ways we are able to form sustainable and equitable relationships with collaborators and partners.
Photo credit: Érica Chavez Santos