Etiquetas bilingües de pesticidas / Bilingual Pesticide Safety Project
Mobile Application Development

Errors in pesticide handling increase the risk of pesticide exposures and illnesses. Errors also cost farm operators time and money. The Environmental Protection Agency (EPA) rules for the safe handling of agricultural pesticide products are in English. However, Spanish is the primary language of the vast majority US agricultural workers.
We need pesticide safety information from the label in Spanish. I am bilingual but, the English is technical and I don't understand it. How can I explain it to my workers?
The solution
The bilingual PestiSeguro/PestiSafe mobile app containing the
health and safety information from pesticide labels in English and true Spanish translations.
Convenient, on-the-go pesticide safety information delivered via cell phone or tablet.
Anytime, anywhere access, even while offline.
A user-friendly interface and easy navigation.
A frequently updated database of pesticide label information with the latest products and instructions.
There are a lot of people who don't understand labels and it's the law that we understand
them.
Mobile Application Development
2016 Pilot-tested the research prototype with orchard managers and applicators.
2018 Beta-tested the EBP/BPD app for the Tree Fruit industry completed.
2018 Selected a new name PestiSeguro/Pestisafe.
For a limited time, the beta app is available for testing. To take it for a test-drive contact Idanis Cruz at labels18@uw.edu.
Next Steps
2019* Release upgraded PestiSeguro/PestiSafe for the tree fruit industry
2019* Build out app for additional Washington State crops
2020* Launch PestiSeguro/PestiSafe for Washington State Crops
2021* Expand to other states in the region and nationally
2022* Financially self-supporting
*Dependent on obtaining additional funding.
About
The Etiquetas Bilingües de Pesticidas/Bilingual Pesticide Safety Project seeks solutions to minimize agricultural worker, family, and community pesticide exposure and illness while protecting crops and the environment. This project arose from earlier research on best practices for minimizing agricultural worker and family pesticide exposure.
During our 15 + years of pesticide safety research, farm managers frequently told about their need for pesticide label information in Spanish. The status quo, on-the-spot translations by farm managers and coworkers, is often inaccurate or unavailable when needed We seek to address this language disparity through common technology and Spanish translations.
Central to all our work is removing language barriers and developing safety solutions designed for a predominantly Spanish-speaking agricultural workforce. Then, agricultural workers, managers, and companies can have the confidence that they are taking the appropriate measures to minimize, ag worker, family, and community exposure to pesticide, as well as protect their crops and the
environment.
Research funding provided by CDC/NIOSH cooperative agreement #5 U54 OH007544 for the Pacific Northwest Agricultural Safety and Health (PNASH) Center. Additional support came from the UW CoMotion Innovation fund.
The EBP/BPS app is for information purposes only. It is NOT a substitute for obtaining and reading the pesticide product label. The label that comes with the pesticide product is the legal document. The label is the law.
Contact:
Kit Galvin
206.616.5850
kgalvin@uw.edu
Pablo Palmández (habla español)
509.728.2018
palmap@uw.edu
 
---
Etiquetas bilingües de pesticidas / Bilingual Pesticide Safety Project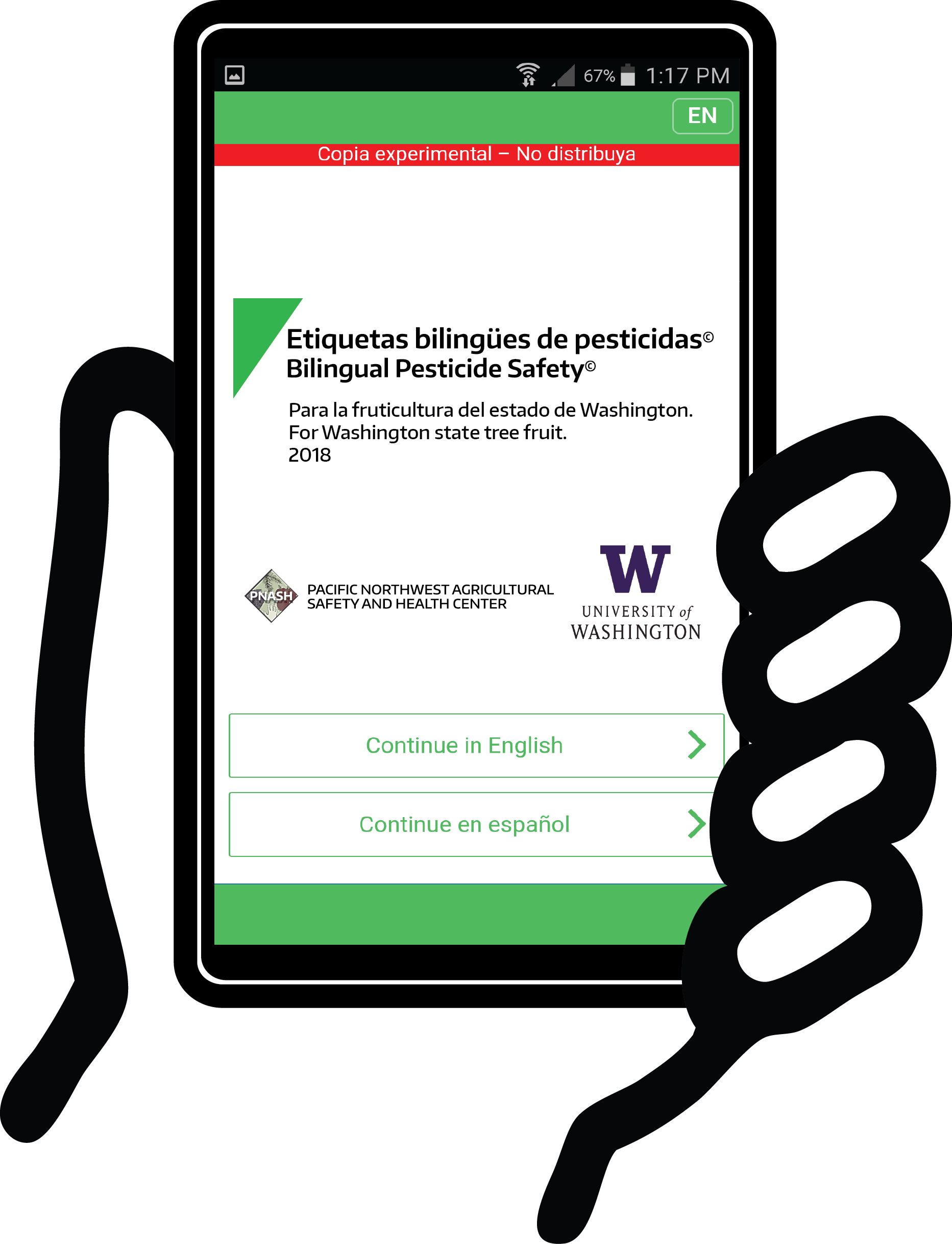 La solución
Desarollo de la aplicación móvil
Los errores en el manejo o manipuleo de los pesticidas aumentan el riesgo de exposición y enfermedad por pesticidas. Los errores también cuestan tiempo y dinero a las operaciones agrícolas. Las reglas de manejo o manipuleo seguro de pesticidas agrícolas de la Environmental Protection Agency (EPA) están en inglés. Sin embargo, el español es el idioma principal de la vasta mayoría de trabajadores agrícolas de los Estados Unidos.
"Nosotros necesitamos información de seguridad con los pesticidas de la etiqueta en español. Yo soy bilingüe, pero el inglés es técnico y no entiendo. ¿Cómo puedo explicarle a mis trabajdores?"
La solución
La aplicación móvil PestiSeguro/Pestisafe contiene la información de seguridad y salud de las etiquetas de pesticidas en inglés y traducción precisa al español.
información conveniente y sobre la marcha de pesticidas, disponible via teléfono celular o tableta.
De acceso en cualquier momento, en cualquier lugar, aun fuera de línea.
Uso sencillo de la Interfaz de usuario de facil navegación.
Actualizactión fecuente de la base de datos de la información de las etiquitas de pesticidas, con los productos e instrucciones mas recientes.
"Mucha gente no entiende las etiquitas. Entender las etiquetas es la ley."
Desarrollo de la aplicación móvil
2016 - Prueba poloto del prototipo de información con mayordomos o encargados de huertas y aplicadores.
2018 - Se completó la prueba beta de la aplicación con la industria de árboles frutales
2018 - Se seleccionó un nuevo nombre: PestiSeguro/PestiSafe.
La aplicación está disponible por tiempo limitado para prueba beta. Contacte a Idanis Cruz al correo
electrónico labels18@uw.edu para llevar a cabo la prueba beta.
Siguientes etapas
2019* Tener PestiSeguro/PestiSafe a disposición de la industria de arboles frutales.
2019* Estructurar la aplicación para cultivos adicionales del estado de Washington.
2020* Lanzamiento de PestiSeguro/PestiSafe para cultivos del estado de Washington.
2021* Expandir a otros estados de la región y a nivel nacional.
2022* Financiamento autosuficiente.
*Dependiendo de la obtención de fondos adicionales.
Sobre la aplicacion movil
El proyecto de Etiquetas Bilingües de Pesticidas/Bilingual Pesticide Safety busca soluciones para minimizar la exposición y enfermedad del trabajador agrícola, la familia y comunidad a los pesticidas, al mismo tiempo que se protegen los cultivos y el ambiente. Este proyecto surgió de investigaciones previas respecto a las mejores prácticas para minimizar la exposición del trabajador y la familia a los pesticidas.
Durante los más de 15 años de investigación en seguridad con pesticidas, los encargados o mayordomos de instalaciones agrícolas frecuentemente se expresaron referente a su necesidad de información en español de las etiquetas de los pesticidas. La situación actual de las traducciones en el momento por parte de mayordomos y compañeros de trabajo es, a menudo, inadecuada o no disponible cuando se necesita. Buscamos enfrentar esta disparidad en el idioma mediante tecnología común y traducciones al español.
Es fundamental para todo nuestro trabajo la eliminación de barreras de lenguaje y el desarrollo de soluciones nuevas diseñadas para una fuerza de trabajo agrícola predominantemente de habla hispana. Así, los trabajadores agrícolas, encargados o mayordomos y las compañías pueden tener la confianza de estar tomando las medidas adecuadas para minimizar la exposición de los trabajadores agrícolas, las familias y comunidad a los pesticidas, además de proteger sus cultivos y el ambiente.
Fondos de investigación provistos por el acuerdo cooperativo #5 U54 OH007544 de CDC/NIOSH para el Pacific Northwest Agricultural Safety and Health (PNASH) Center. Fondos adicionales obtenidos mediante UW CoMotion Innovation.
La aplicación EBP/BPS es solamente para propósitos de información. NO es un sustituto de la obtención y lectura de la etiqueta del producto pesticida. La etiqueta que viene con el producto pesticida es el documento legal. La etiqueta es la ley.
Contáctenos:
Kit Galvin
206.616.5850
kgalvin@uw.edu
Pablo Palmández (habla español)
509.728.2018
palmap@uw.edu