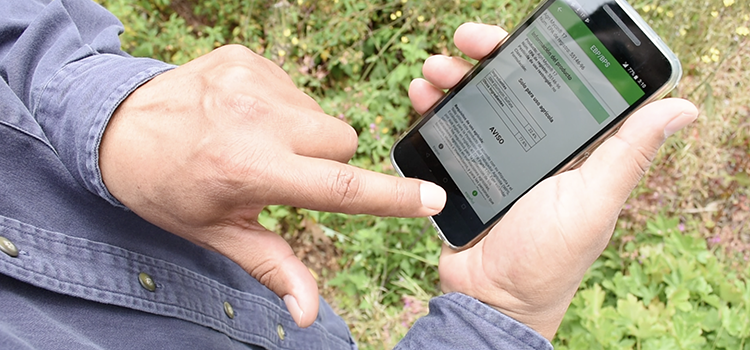 Safe with Pesticides/Seguro con Pesticidas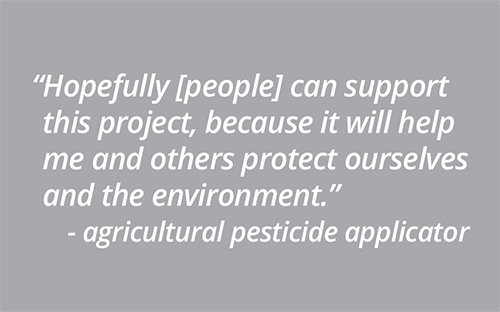 PestiSeguro/PestiSafe is a new mobile application developed by the University of Washington that delivers detailed pesticide safety information in both Spanish and English.
The developers recently completed extensive testing with a cross-section of Washington farmworkers. Now we are seeking additional funding to launch the application for use with agricultural workers across Washington state. The long-term project goal is for the app to be financially self-sustaining.
The app features:
A frequently updated database of pesticide label information with the latest products and instructions.
Demo App is now available for Android. Take it for a test drive!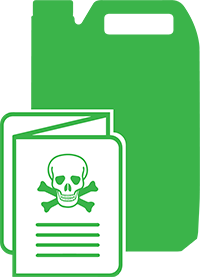 Protect health, save time and money
Pesticide handling errors can harm Washington agricultural workers, crops and the environment and cost farm operations time and money. Critical pesticide safety information is provided in the product label. This document is long and technical, just like a drug package insert. And it is only available in English.
PestiSeguro/PestiSafe was developed by the UW's Pacific Northwest Agricultural Safety and Health Center, part of the Department of Environmental & Occupational Health Sciences. The data in this app is for reference and information purposes only.
For more information about the project, visit:
Contact us
Kit Galvin
206.616.5850
kgalvin@uw.edu
Pablo Palmández (hablo español)
509.728.2018
palmap@uw.edu
---
Seguro con Pesticidas/Safe with Pesticides
Nueva aplicación móvil proporciona información bilingüe de seguridad con los pesticidas a los trabajadores agrícolas.
PestiSeguro/PestiSafe es una nueva aplicación móvil desarrollada por la Universidad de Washington que provee información detallada de seguridad con los pesticidas en español e inglés.
Recientemente, los diseñadores evaluaron extensivamente la aplicación en una muestra representativa de trabajadores agrícolas del estado de Washington. Actualmente, estamos buscando fondos adicionales para el lanzamiento de la aplicación, usándola con trabajadores agrícolas en todo el estado de Washington. La meta a largo plazo del proyecto es que la aplicación sea de financiamiento autosuficiente.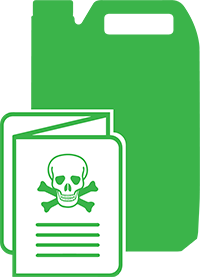 Funciones de la aplicación:
Información conveniente y sobre la marcha de pesticidas, la que está disponible vía teléfono celular o tableta.
De acceso en cualquier momento, en cualquier lugar, aun fuera de línea.
Uso sencillo de la interfaz de usuario y de fácil navegación.
Actualización frecuente de la base de datos en lo que respecta a la información de las etiquetas de pesticidas, con los productos e instrucciones más recientes.
La aplicación de demostración ya está disponible para Android.
Proteja la salud, ahorre tiempo y dinero
Los errores en el manejo o manipuleo de los pesticidas pueden dañar a los trabajadores agrícolas del estado de Washington, así como a los cultivos y el ambiente, costando tiempo y dinero a las operaciones agrícolas. En la etiqueta del producto se proporciona información crítica de seguridad del pesticida. Este documento es largo y técnico (como las indicaciones adjuntas a los medicamentos) y solo está disponible en inglés.
PestiSeguro/PestiSafe fue diseñada por el Pacific Northwest Agricultural and Health Center (PNASH) de la Universidad de Washington, que es parte del Department of Environmental & Occupational Health Sciences. Los datos de esta aplicación son solo para propósitos de referencia e información.
Contáctenos
Kit Galvin
206.616.5850
kgalvin@uw.edu
Pablo Palmández (hablo español)
509.728.2018
palmap@uw.edu