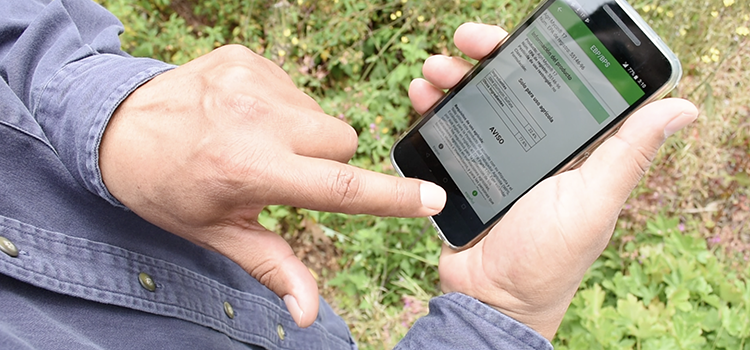 Safe with Pesticides/Seguro con Pesticidas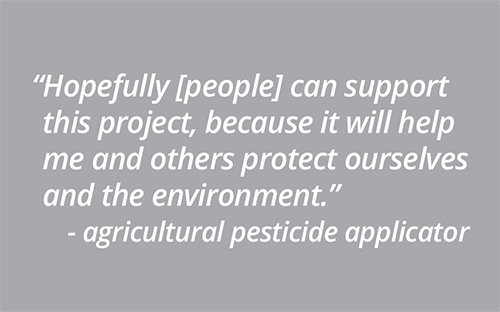 PestiSeguro™/PestiSafe™ is a new mobile application developed by the University of Washington that delivers detailed pesticide safety information in both Spanish and English.
The developers recently completed extensive testing with a cross-section of Washington farmworkers. Now we are seeking additional funding to launch the application for use with agricultural workers across Washington state. The long-term project goal is for the app to be financially self-sustaining.
The app features:
A frequently updated database of pesticide label information with the latest products and instructions.
Demo App is now available for Android. Take it for a test drive!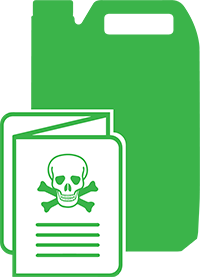 2010 - 2017* WA state farmworkers:
Reported 630 cases of pesticide-related illness;
90% of the affected farmworkers preferred interviews in Spanish;
79% of cases were related to farmworkers' inability to access, understand or act on label safety requirements or instructions.
*Pesticide Illness Surveillance Program, WA Department of Health, Sept. 2018
Protect health, save time and money
Pesticide handling errors can harm Washington agricultural workers, crops and the environment and cost farm operations time and money. Critical pesticide safety information is provided in the product label. This document is long and technical, just like a drug package insert. And it is only available in English.
PestiSeguro/PestiSafe was developed by the UW's Pacific Northwest Agricultural Safety and Health Center, part of the Department of Environmental & Occupational Health Sciences. The data in this app is for reference and information purposes only.
For more information about the project, visit:
Contact us
Kit Galvin
206.616.5850
kgalvin@uw.edu
Pablo Palmández (hablo español)
509.728.2018
palmap@uw.edu
---