What is heat illness?
Heat illness is a medical condition resulting from the body's inability to cope with a particular heat load and includes, but is not limited to, heat cramps, heat rash, heat exhaustion, fainting, and heatstroke. Prolonged or intense exposure to hot conditions and heavy physical work even in cooler conditions can lead to your body overheating. Symptoms of heat illness may not be recognized initially and can quickly progress.
Why is it important to know about heat illness?
Heat illness is preventable but, if left unchecked, could lead to death. People who work outside, especially in the summer, are exposed to heat and can get heat illness. Heat illness can also lead to injuries. Workers are more likely to get injured if they get tired or dizzy from the heat while working. Heat exposure can also lead to heatstroke, a condition that can be fatal. What you learn here will prepare you for helping your co-workers and yourself stay safe when working in hot weather.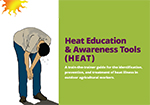 New Heat Toolkit
Popular PNASH Resources
Quick Signs and Dangers Reference Table pdf English Spanish
Heat Illness Types pdf English/Spanish
Heat Stress Jeopardy PPT English Spanish
Signs and Symptoms Body Map pdf English/Spanish
Prevention Information pdf English/Spanish
Washington State Heat Rule
The Washington State Heat rule (WAC 296-307-097) is effective from May 1st - September 30th every year. During this time, employers are required to implement a heat illness accident prevention plan, monitor employees, provide water, and train workers. Visit the WA Department of Labor and Industries webpage to learn more about these requirements.
Regional and National Resources