June T. Spector, MD, MPH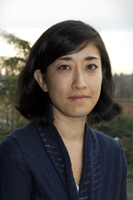 Assistant Professor, Env. and Occ. Health Sciences
(Primary department)
Dr. Spector received her MD from Yale University School of Medicine in 2005 and completed her Internal Medicine residency training at Hospital of the University of Pennsylvania in 2008. Following an MPH in biostatistics and epidemiology at Johns Hopkins and occupational & environmental medicine fellowship training at the University of Washington, Dr. Spector became an Acting Instructor/Senior Fellow in 2010 and an Assistant Professor in the Departments of Environmental & Occupational Health Sciences and Medicine in 2012.
Contact Information
University of Washington
Office: Suite 100
Box: 354695
4225 Roosevelt Way NE
Seattle, WA 98105-
Tel: 206-897-1979
Research Interests
Musculoskeletal disorder etiology, prevention, and management; occupational health services and outcomes; health effects of environmental exposures in occupational populations
KEYWORDS: Occupational and environmental medicine; Occupational disease statistics; Occupational and environmental epidemiology; Occupational exposure; Workers' compensation issues; Contingent and immigrant worker safety and health
Teaching interests
ENV_H596 (Current Issues in Occupational and Environmental Medicine –Work-Related Musculoskeletal Disorders)
ENV_H576 (Clinical Occupational Medicine)
Education
MD, Medicine (MD), Yale University, 2005
MPH, Epidemiology/Biostatistics, Johns Hopkins University, 2009
Projects
Pilot study of risk factors for heat-related illness in agricultural workers
Heat exposure has been identified as an important cause of non-fatal heat-related illness (HRI) and death in agricultural workers. The overall goal of this study is to identify potential risk factors for HRI and to quantify the physiological effects of heat exposure in adult outdoor crop workers.


Feasibility study to guide the development of a computer vision-based musculoskeletal hazard assessment and feedback tool
Existing methods for measuring musculoskeletal exposures in workplace and other practical settings have substantial limitations. The overall objective of this pilot project is to develop and determine the feasibility, in real-world settings, of a computer vision-based musculoskeletal hazard assessment and feedback tool.


Development of a surveillance strategy to guide injury prevention efforts in the Washington commercial fishing industry
The fishing industry is among the most dangerous industries in the country, and surveillance of fishing fatalities is ongoing. However, there is currently no comprehensive commercial fishing injury surveillance system for nonfatal injuries. The overall objective of this project is to develop a surveillance strategy for nonfatal commercial fishing injuries for use in prioritizing, developing, and evaluating interventions to prevent these injuries.


Developing and evaluating the effectiveness of an early return-to-work intervention for supervisors of healthcare workers
Direct supervisors play a key role in helping to facilitate early, safe return-to-work (RTW) in injured and ill employees, but supervisors often feel that they do not have sufficient training to effectively manage the RTW process. This project will develop and test the effectiveness of a best practices electronic multimedia supervisor training intervention aimed at early, safe RTW in injured and ill healthcare workers, compared to "usual practice" alone.


Spector JT, Turner JA, Fulton-Kehoe D, Franklin GM. Pre-surgery disability compensation predicts long-term disability among workers with carpal tunnel syndrome. American Journal of Industrial Medicine. In Press2012.
Weaver VM, Kim N-S, Lee B-K, Parsons PJ, Spector JT, Fadrowski J, Jaar BG, Steuerwald AJ, Todd AC, Simon D, Schwartz BS. Differences in urine cadmium associations with kidney outcomes based on serum creatinine and cystatin C. Environmental Research 2011;111:1236-1242. PMID 21871619.
Spector J, Navas-Acien A, Fadrowski J, Guallar E, Jaar B, Weaver V. Associations of blood lead with estimated glomerular filtration rate using MDRD, CKD-EPI and serum cystatin C-based equations. Nephrology Dialysis Transplantation 2011;26:2786-2792. PMID 21248295.
Spector JT, Adams D, Silverstein B. Burden of work-related knee disorders in Washington State, 1999-2007. Journal of Occupational and Environmental Medicine 2011;53(5):537-47. PMID 21508866.
Enders L, Spector JT, Altenmüller E, Schmidt A, Klein C, Jabusch H-C. Musician's dystonia and comorbid anxiety: two sides of one coin? Movement Disorders 2011;26(3):539-42. PMID 21370273.

Spector J, Kahn S, Jones M, Jayakumar M, Dalal D, Nazarian S. Migraine headache and ischemic stroke risk: An updated meta-analysis. American Journal of Medicine 2010;123(7):612-24. PMC2900472.
Hellman NE, Spector J, Robinson J, Liu Z, Tobias JW, Lipschutz JH. Matrix metalloproteinase 13 and tissue inhibitor of matrix metalloproteinase 1, regulated by the MAPK pathway, are both necessary for MDCK tubulogenesis. Journal of Biological Chemistry 2008;283(7):4272-4282. PMID 1803967.
Spector JT, Brandfonbrener A. Methods of evaluation of musician's dystonia: Critique of measurement tools. Movement Disorders 2007;22(3):309-12. PMID 17216638.
Liu Z, Greco AJ, Hellman NE, Spector J, Robinson J, Tang OT, Lipschutz JH. Intracellular signaling via MAPK/ERK completes the pathway for tubulogenic fibronectin in MDCK cells. Biochemical and Biophysical Research Communications 2007;353(3):793-98. PMC1839983.
Spector JT, Brandfonbrener A. A new method for quantification of musician's dystonia: The frequency of abnormal movements scale. Medical Problems of Performing Artists 2005;20:157-62.