Claire Schollaert
PhD, Environmental & Occupational Hygiene
Hometown
Walnut Creek, CA
Future plans
A career as an environmental health scientist in academia, government or the nonprofit sector
"I was really drawn to our department because I was interested in climate-related impacts on health, and also linking land management and atmospheric science to the public health field."
- Claire Schollaert
While growing up, Claire Schollaert dreamed of various ways to turn her passion for the environment into a career—perhaps as a veterinarian, or an ecologist working on seabird restoration, which she studied during college.
It was when she took a job researching urban air pollution in Boston University's Environmental Health department after college that she became hooked on the community-oriented, "solutions-driven" approach of environmental health.
"I found it satisfying to work on research projects that were in direct response to community-generated questions related to environmental exposures," she said. "It was clear to me how our research and results were directly translating into either policy changes or interventions that were making on-the-ground differences."
During her PhD in the UW Department of Environmental & Occupational Health Sciences (DEOHS), Schollaert has put those principles into action by focusing on solutions to climate-related impacts on health, particularly the health threats of wildfire smoke.
In recognition of her wide-ranging, interdisciplinary work on air quality and health and her leadership in student research activities, Schollaert is now being honored as the 2023 DEOHS Outstanding PhD Student.
"Claire's research will serve as an important tool in understanding how at-risk communities are differentially impacted by varying smoke sources and treatment protocols," said DEOHS Associate Teaching Professor Tania Busch Isaksen, Schollaert's coadviser. "I know she will make a tremendous impact at the intersection of environmental public health and forestry resource management."
The health co-benefits of forest management
Schollaert's research aims to help people coexist with fire as climate change accelerates wildfires and the health risks of the smoke they produce.
Forest managers look to prescribed burning, controlled fires intentionally set to reduce brush and trees, as a way to limit wildfires. But public health scientists are concerned that prescribed burns, like wildfires, can threaten respiratory and cardiovascular health.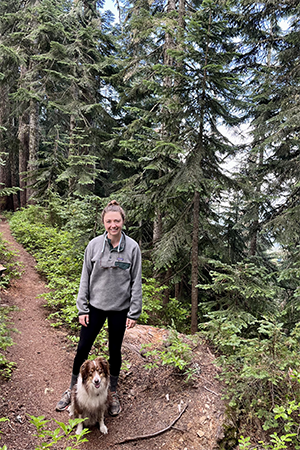 Her findings offer hope that the two camps are not as opposed as they might seem. Through a modeling study, she predicted how different forest management plans in the Lake Tahoe region would influence asthma outcomes across California.
Any additional prescribed burning beyond current levels, she found, would lead to reduced emergency department visits and hospitalizations related to asthma.
"It's a cool finding showing the health co-benefits of forest management activities," Schollaert said. Even though prescribed burns have their own health impacts, "less severe wildfires in the area, and the smoke exposure burden avoided, can outweigh that risk," she explained.
Bringing together forest managers and public health scientists
Schollaert's modeling study is part of the Science for Nature and People Partnership (SNAPP), an effort led by DEOHS Associate Professor June Spector, Schollaert's coadviser, and The Nature Conservancy.
The project brought together a working group of forest managers, scientists, community organizations, government agencies and conservation groups to integrate human health into planning for the future of forests in Washington, Oregon and California.
Collaborative work across these different sectors has been a highlight of Schollaert's experience at the UW, and inspired her to intern at the US Forest Service Air Resource Management Program.
"I'm very interested in the intersection of public health, land and ecosystem management, climate and air quality," she said. "I found it really exciting to work with this community who's now invested in figuring out how to talk and work together. I don't see a way to move forward without this sort of collaboration, especially because our wildfire crisis is getting worse."
Assessing smoke exposures and health outcomes
Schollaert has also studied the impact of wildfire and prescribed burning on health outcomes through a historical assessment of exposures to these smoke sources across Washington, Oregon and California.
In this project, she showed that wildfire smoke is the dominant source of smoke causing health impacts, but that prescribed burns and agricultural burns—which growers perform after the harvest—also contribute impacts.
The project, funded by the UW Population Health Initiative, is a collaboration with Busch Isaksen and Julian Marshall, professor in the UW Department of Civil & Environmental Engineering.
A leader in air quality, climate and health
Schollaert's passion for mitigating the health impacts of wildfire smoke comes through in a host of other endeavors during her PhD. She spent a summer working with the Pacific Northwest Agricultural Safety and Health (PNASH) Center to test the use of low-cost air quality sensors in central Washington to help protect farmworkers during smoke season.
During her recent internship with the US Forest Service, she developed an interactive tool that the agency could use to improve equity in targeting prescribed burns, sparing communities that have recently experienced a great deal of fire and smoke.
She has also helped lead student research forums including the Graduate Climate Conference and the DEOHS Works in Progress Seminar, and was an inaugural fellow in the UW Future Rivers Program.
Throughout, she has valued the guidance of her coadvisers and committee, and her friendships with fellow students.
"There's a great group of grad students in our department who support each other," she said.
A wide open future
Schollaert is keeping an open mind about what's next after graduation, with a strong desire to continue her work on wildfire smoke and health in government, academia or the nonprofit sector.
"Claire has enormous potential for future leadership in the field," Spector said.
In her spare time, Schollaert loves skiing and hiking around the Pacific Northwest. She and her husband recently moved to a new house and built some raised beds for gardening. Though they met on the east coast, they hope to stay out west for a while.
"We're pretty open for things in the future, but we don't feel quite finished with Seattle yet," she said.
Schollaert received funding from the Castner Award, the Graubard Fellowship from the UW Program on Climate Change, the UW Population Health Initiative and the SNAPP Project.