Practical Solutions for Pesticide Safety: Protecting Agricultural Pesticide Handlers
Guide and Hands-on Training Kit
The Practical Solutions for Pesticide Safety guide is a collection of 24 solutions and ideas identified on farms and developed in partnership with farmers, educators, and researchers in Washington State. 
The Guide
Download the guide in English or in Spanish.
NEW!!
Launching Fall 2019: Online solutions for handheld pesticide application equipment. Solutions for nursery, greenhouse, and forestry pesticide handlers >
---
The Hands-on Training Kit
Use these hands-on sessions developed for four of the practical solutions during short "shop" or "tailgate" safety sessions. Or integrate them into a more comprehensive training class.  The hands-on examples will reinforce the two key safety messages associated with each solution or substitute your own messages.  
The kit contains a supply list, training tips, a copy of the solution, and a poster of the solution with two key safety messages for each of the following:
Thermo-wind meter for checking local weather conditions
Spill containment trays and tubs
Scrub brush for decontamination
Ammunition box for storing emergency eyewash
It also includes resources for obtaining supplies and additional pesticide safety information. 
Download the Training Kit Manual and Supporting Posters
Training Posters (42"x30")
These materials are also available in Spanish.
---
We hope the kit will inspire you to incorporate solutions into your own training style, develop your own hands-on teaching tools, or discover new practical solutions.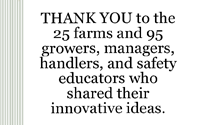 We would greatly appreciate hearing about any solutions you develop and your experience with this guide and kit. 
Contact PNASH with your comments, questions, and feedback! 
By email: pnash@uw.edu
By phone: (800) 330-0827, Kit Galvin