About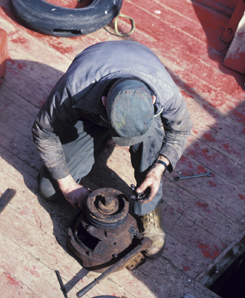 Work-related musculoskeletal disorders are the leading type of occupational injury in Washington state and incur the greatest costs to industry and the workers' compensation system.
Musculoskeletal disorders affect soft tissues, such as muscles, tendons, ligaments, nerves and blood vessels. These disorders have also been referred to as: cumulative trauma disorders (CTDs), repetitive strain injuries (RSIs) and overuse injuries.
UW researchers are seeking to reduce the magnitude, cost and burden of work-related musculoskeletal disorders. From 1992 through 2000, workers compensation claims for these injuries totaled $2.9 billion and accounted for 27% of all workers' compensation claims in Washington state, representing the largest? (or second largest?) component/category (choose one) of workers compensation claims.
- Washington State Department of Labor & Industries
Musculoskeletal disorders are often confused with ergonomics. Ergonomics is the science of fitting workplace conditions and job demands to the capabilities of workers. In other words, musculoskeletal disorders are the problem and ergonomics is a solution
Our Involvement
Faculty
Courses
ENV H 559 Applied Occupational Health and Safety
ENV H 566 Introduction to Ergonomics
ENV H 569 Occupational Biomechanics
Continuing education workshops:

Applied office ergonomics
Ergonomic quality in facility design
OSHA 2250, Principals of ergonomics
Academic Degree
Master's Degree in Exposure Science, Ergonomics and Human Factors Emphasis
Services
Field Research and Consultation Group
Occupational and Environmental Medicine Clinic
Occupational Epidemiology and Health Outcomes Program
Other Resources