Our students and graduates share a common goal: to create sustainable communities where everyone has access to clean air, clean water, safe food and safe workplaces.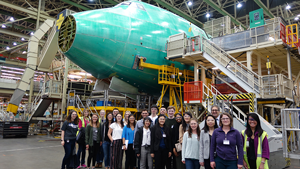 We can connect you with one of our students or recent graduates for employment or internships.
Our students and graduates are motivated early professionals who bring their talents and energy to your workplace for short-term internships or long-term employment.
Our students and alumni earn undergraduate and graduate degrees in environmental health, toxicology, industrial hygiene and safety, occupational and environmental medicine and environmental and occupational health.
Recruit our students or alumni
Connect with our work-ready students and alumni and provide valuable, hands-on experience in environmental and occupational health to the next generation of health and safety leaders.
We offer:
Complimentary on-campus information sessions for prospective employers.
Access to a centralized database of job postings.
Help with arranging on-campus interviews and resume screening.
Information and webinars about working with our students and alumni.