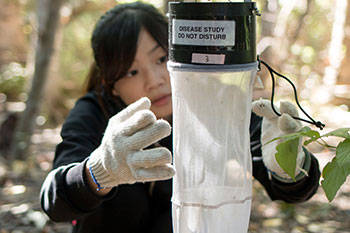 Environmental exposures cause hundreds of thousands of illnesses each year, including asthma and cancers. This Master of Science degree in Environmental Health trains students to identify, evaluate, and control exposures to chemical and microbial contaminants in air, water, soil, and food. The curriculum includes courses in the supporting sciences of biostatistics and epidemiology, as well as foundational courses in exposure science, toxicology, and risk assessment. Additional courses provide training in waste management, air pollution, water and wastewater, and other environmental health topics. Students earning this degree are well prepared to help maintain a safe supply of food and drinking water, discover mechanisms of diseases caused by environmental exposures, treat and dispose of solid and toxic wastes, and reduce air, water, and noise pollution.
Interested in an MS or PhD degree? You may qualify for in-state tuition if you reside in one of 16 Western states and territories. Learn more
Questions about our degree programs?
Career paths of recent graduates
Graduates from the MS in Environmental Health program pursue careers in environmental health practice, research, or consulting, or continue on to doctoral work in the field. Recent graduates from this degree option are currently working as:
An Environmental Health Associate at Ramboll Environ, a global consulting firm that works to manage environmental and health risks (Class of 2015)
A Public Affairs Specialist at the Environmental Protection Agency (Class of 2015)
An Environmental & Health Sciences Consultant at ICF International, a global consulting and technology services provider (Class of 2015)
More information & requirements
The MS in Environmental Health is a 2-year degree. Students in this option complete a research thesis as a culminating experience.
A complete list of course requirements and degree competencies for the MS in Environmental Health is available here.