The built environment is anything constructed, ranging from sidewalks to freeways, tree-lined parking strips to full-fledged parks, and homes to whole communities. The way we build and the places where we live, work, and play can significantly affect our physical and mental health.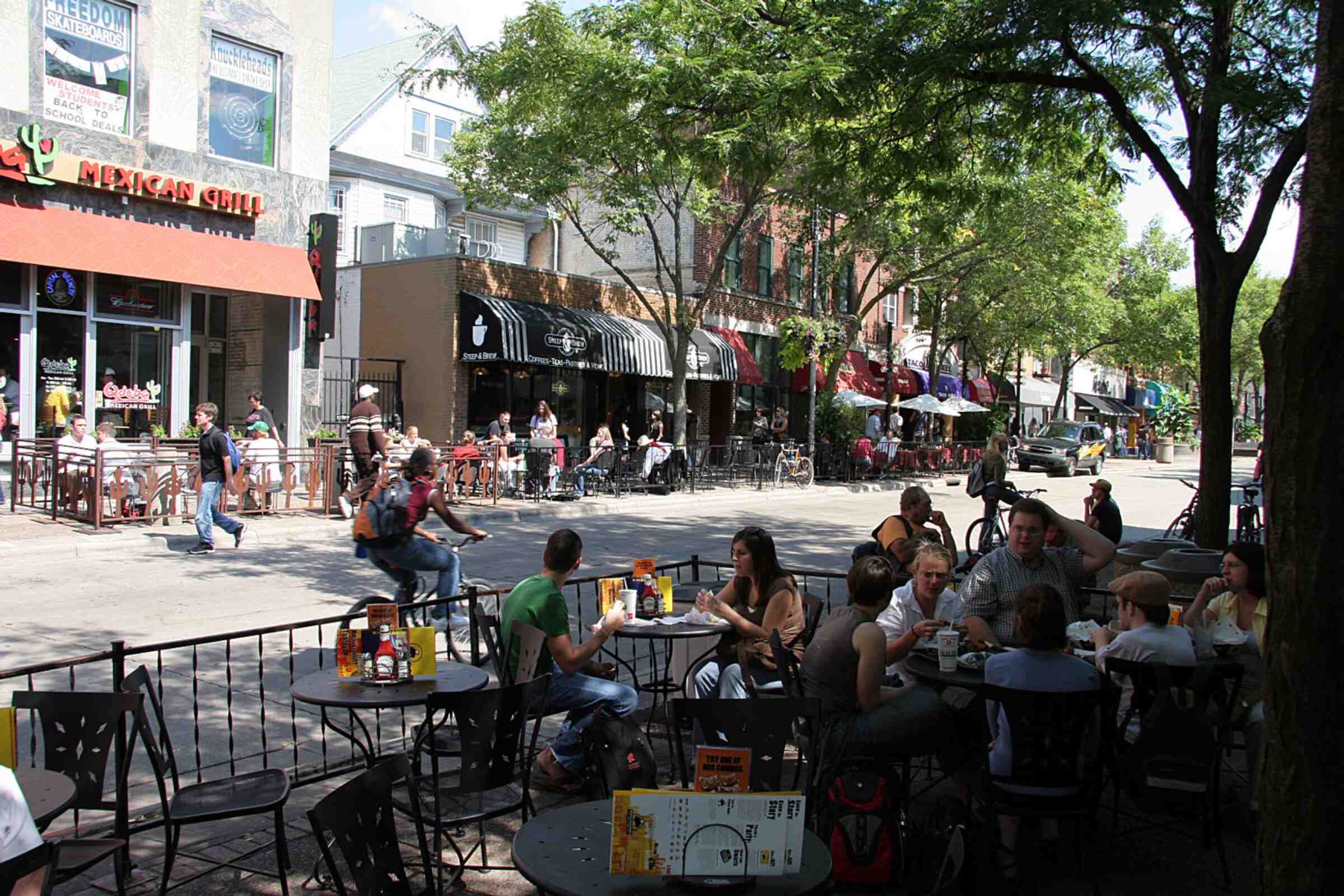 Faculty
Courses
The following courses are cross-listed in the Department of Urban Design and Planning (URBDP) in the College of Built Environments
ENV H 538/URBDP 538: Public Health and Built Environment (Winter Quarter)
ENV H 536/URBDP 536: Health Impact Assessment (Spring Quarter)
Concurrent Degree
A concurrent degree program for a Master of Public Health degree and a Master of Urban Planning degree is now being developed; final approval is anticipated before the end of 2015. To obtain both degrees in three years, a student will meet all prerequisites and requirements for each degree and complete a shared thesis. For further information, please contact Dr. Andrew Dannenberg.
Community Design
Healthy community design, for example, integrates evidence-based health strategies into community planning, transportation, and land-use decisions.
Howard Frumkin, dean of the School of Public Health and professor in the department, has written and spoken widely on the associations between community design and human health. From 2005 to 2010, Frumkin directed the Centers for Disease Control and Prevention's (CDC) National Center for Environmental Health in Atlanta, Georgia. Listen to him discuss the benefits of walkable communities in this video from the Healthy Community Design Initiative, which is part of the National Center for Environmental Health.
Student Research Highlight: Marissa Baker, MS, Occupational & Environmental Exposure Sciences (Michael Yost) NOx Exposure and Probability of Walking in Seattle, WA: Methods Development and Assessment
Former team lead for the Healthy Community Design Initiative at CDC, Andrew Dannenberg co-teaches a course on Public Health and the Built Environment and another course on Health Impact Assessment on the UW campus. Dannenberg is an affiliate professor in the department and in Department of Urban Design and Planning in the UW College of Built Environments.
Making Healthy Places: Designing and Building for Health, Well-being, and Sustainability, edited by Dannenberg, Frumkin, and Richard Jackson (University of California, Los Angeles), covers the depth and breadth of the subject--how the built environment affects health.
Built environment can affect choices, said Dannenberg. For example, what could make a person take the stairs instead of the escalator? Dannenberg shows his class a video of a stairway transformed into piano keys in the Odenplan metro station in the center of Stockholm, Sweden. Sixty-six percent more people chose the stairs over the escalator.
Health Impact Assessment
Health impact assessment (HIA) is a tool that can be used to evaluate a proposed project or policy in terms of its potential effects on the health of a population. It looks at the impacts on health, including physical activity, air pollution, injury prevention, social capital, mental health, and social equity. More information on HIAs can be found on the HIA resource page from the Centers for Disease Control & Prevention.
The UW is one of only about eight schools in the country to offer a graduate-level course in the subject. Dannenberg and Research Professor Fritz Wagner (Department of Urban Design and Planning) co-teach the Spring quarter course.
Health Impact Assessment: King Street Station Multimodal Hub, Spring 2011
In Spring 2011, students conducted an HIA of the current King Street Transit Hub redevelopment project. The HIA report (PDF file) was submitted to the Seattle Department of Transportation (SDOT) for use in their decision processes. See full details on the King Street Transit Hub, where the SDOT has also posted the students' HIA report.
Health Impact Assessment: Lower Duwamish Waterway Cleanup, Spring 2012
In Spring 2012, students produced an HIA of the Lower Duwamish Waterway Cleanup (PDF file) as part of the ten-week HIA graduate class. Download the report. The purpose of this HIA is to examine the potential effects of the Lower Duwamish Waterway Superfund cleanup activities on the health and well-being of selected populations and to make recommendations that mitigate negative health impacts and support the overall health of affected populations.
It uses readily available existing information, incorporates minimal community engagement, and is subject to a number of study
limitations. A more comprehensive HIA for the Duwamish River Cleanup Plan was conducted by a UW School of Public Health research team led by Associate Professor William Daniell in partnership with Just Health Action and Duwamish River Cleanup Coalition/Technical AdvisoryGroup. For more information, see http://duwamishcleanup.org.
Health Impact Assessment: Tacoma South Downtown Subarea Plan, Spring 2013
Health Impact Assessment: Pioneer Square Plan for Alliance for Pioneer Square, Spring 2014
Health Impact Assessment: Delridge Multimodal Corridor Plan for Seattle Department of Transportation, Spring 2015
Healthy Housing
"An estimated 5.7 million U.S. families live in substandard housing—housing conditions that cause significant illness, injury and deaths; yet we can prevent many of them through housing regulation, inexpensive repairs, ongoing maintenance, and small behavior changes," according to the State of Healthy Housing report by the National Center for Health Housing, a nonprofit corporation based in Columbia, Maryland. The center brings the public health, housing, environmental, and regulatory communities together to combat disease and injuries caused by hazards in the home through applied research, program evaluation, technical assistance, training, and outreach.
Senior Lecturer Charles Treser has been in healthy housing for the last forty years, first as a sanitarian working in the Allegheny County Health Department in Pennsylvania. He later became involved with the National Center for Healthy Housing.
Treser teaches courses through the Northwest Center for Public Health Practice to a variety of professionals, anyone interested in the essentials of healthy housing—public health nurses, weatherization, public housing, tenants' groups and property managers. The Northwest Center for Public Health Practice is one of the original partners in the National Healthy Homes Training Center and Network, which brings together public health and housing practitioners to promote practical and cost-effective methods for making homes healthier through the use of the Seven Principles of Healthy Housing: Keep It Dry, Keep It Clean, Keep It Pest-Free, Keep It Well-Ventilated, Keep It Safe, Keep It Contaminant-Free, and Keep It Maintained. It also serves as a forum for exchanging information on new research and best practices.
In May 2011, Treser taught the National Healthy Homes Training Center's flagship course, the Essentials for Healthy Homes Practitioners. at the innovative Building Performance Center in Bellingham, Washington. Inside the Center, students can see parts of a house on display: the ventilation system or the plumbing in the kitchen and a bathroom visible through Plexiglas windows. The models show students the differences between more traditional housing construction, such as knob and tube electrical wiring and lath and plaster electrical wiring, and more modern building materials such as sheetrock for walls and Romex wiring. These models are beneficial to showing professionals who don't know much about construction how a house is put together.
In 2010, Treser adapted the healthy housing course for undergraduates. The class is offered as an elective. Treser said it's important for students to learn about the homes where they live, and because many students will work as sanitarians or environmental health specialists with local health agencies. The healthy housing movement has increased emphasis on preventing lead paint poisoning and factors that lead to asthma. So, students need to know how to diagnose problems with homes and what to recommend to the people who live there, he said.
Building Materials
Seeing the health impacts of substandard housing on refugees was part of the impetus for Elizabeth Cooper to enroll in the master's program in Environment Health.
Cooper received her undergraduate degree in biology, then a master's degree in architecture in 2000. She has been an architect at a firm in Boise ever since. While living in Idaho, she started a non-profit working with refugee women and heard stories about their living conditions in refugee camps. Then when they come to the US, they're typically housed in the cheapest available housing, which often means substandard, explained Cooper. "Their children have problems with asthma and allergies, respiratory infections, conditions that are so common among urban poor."
Some of the illnesses may be linked to mold or other allergens like dust. But chemicals may cause problems, too. They can leach out from building materials. Even though people spend 85-90 percent of their time indoors, few think about how the materials that make up a home affect human health.
Students in the department have been working with Professor John Kissel to study aggregate indoor exposure and, in particular, how much the dermal exposure route contributes to overall chemical exposure. Amelia Greenhall (MS, Environmental Health, 2011), for example, assessed the amount of exposure a young child might get to a phthalate plasticizer used in vinyl floor tiles. Children can reasonably be expected to spend more time playing and crawling on floors and otherwise interacting more directly with residential surfaces than adults.
Cooper is also working with Kissel. "I'm interested in knowing how we're exposed to chemicals and biological agents through contact with indoor surfaces," she said.
She is researching how much chemical residues of methamphetamine on indoor surfaces would contribute to a person's overall exposure to these semi-volatile organic compounds. Makeshift methamphetamine laboratories are often set up in rented apartments, homes, or hotel rooms, and the chemicals contaminate the property. While no national regulations exist, some states have guidelines for cleaning up these places. How clean is clean enough is still not known. Cooper's study will examine the potential consequences of exposure to residual methamphetamine at surface loads that would be anticipated in post-remediated clandestine drug labs.