Go To: Projects | Future Directions | Partners | Contact
Non-Invasive Sampling for Tuberculosis Case Finding and Diagnosis
The introduction of non-invasive sampling techniques, such as oral swab analysis (OSA), could revolutionize tuberculosis (TB) care by improving the efficacy, ease, and safety of sample collection for diagnostic testing.
Partnering with researchers at the Washington National Primate Research Center (WaNPRC), South African Tuberculosis Vaccine Initiative (SATVI), University of Cape Town (UCT), and UW Medicine, among others, the Cangelosi lab in our department is working to realize this goal. 
img alt="A researcher at SATVI demonstrates buccal swabbing technique" src="/sites/default/files/images/mouth-swab-sa.png" style="width: 300px; height: 226px;" data-align="center" data-caption="A researcher at SATVI demonstrates buccal swabbing technique" />
Why is an alternative sample needed?
Current TB diagnostics rely on the collection of sputum, a viscous fluid from deep in the lungs that is coughed up by TB patients for analysis. This process is challenging for patients and health care providers, and it threatens the safety of health care workers by putting them at risk of TB transmission. Sputum is difficult to standardize and to work with, requiring highly trained laboratory staff for analysis. Certain patients, such as children, are often unable to produce sputum.
How could non-invasive sampling help?
The search for a non-sputum TB diagnostic sample has been ongoing for years with little success. In the 2015 UNITAID report, "Tuberculosis; Diagnostics Technology and Market Landscape", a low-cost, non-sputum-based test for TB was identified as one of the highest priorities in TB diagnostics research. OSA presents an alternative strategy. Oral swabs are more uniform and easier to work with than sputum, and are safer to collect. 
What has already been accomplished?
In a previous study, OSA successfully identified 18 out of 20 sputum-confirmed adult TB patients in Worcester, South Africa. No false positive results were seen among 20 control samples. These results suggest that OSA has promise as a non-sputum alternative for TB diagnosis, and have provided the basis for additional, larger-scale analyses. Read The Daily's coverage of this study and the development of OSA here.
Preliminary results from our current projects provide additional support for the feasibility of OSA as a TB diagnostic.
Relative to adults with clinically- and laboratory-confirmed TB, OSA (2 samples/subject) showed a similar sensitivity to that of sputum GeneXpert (1 sample/subject).
|   | Sensitivity |
| --- | --- |
| Sputum GeneXpert | 49/64 (77%) |
| OSA | 50/64 (78%) |
Among pediatric patients, OSA significantly improved the detection of confirmed TB.
|   | Detection Rate |
| --- | --- |
| Sputum Culture | 37/107 (35%) |
| Sputum + OSA | 55/107 (51%) |
Our current projects
Several studies are underway or in development.
1. OSA to detect TB in adults
Working with SATVI investigators, Dr. Mark Hatherill, Dr. Angelique Luabeya, and Dr. Justin Shenje, we are collecting swabs from South African adults with suspected TB, and from healthy controls in both South Africa and Seattle. Results from the groups will be compared to evaluate the functionality of the swabs. The performance of two different types of swabs and different sampling locations within the mouth will be tested. 
2. OSA To diagnose pediatric TB
In order to evaluate the performance of OSA in children with suspected TB, swabs are being collected from children under the age of 15. Dr. Mark Nicol and Dr. Heather Zar of the UCT are leading sample collection in Cape Town, South Africa. Based on their diagnosis, the study participants are assigned to one of three categories: definite TB, possible TB, and not TB. The results of OSA will be compared to sputum culture and GeneXpert testing among children. 
3. OSA to diagnose tb in women and adolescents
This study is lead by Dr. Sylvia LaCourse, who will work with the Kenya Medical Research Institute (KEMRI)/CDC to evaluate the performance of OSA when compared to sputum culture and GeneXpert diagnostic testing. The patients in this study will comprise HIV-infected and uninfected adults (including pregnant women) and adolescents with suspected TB.
4. nasal swabs from TB-infected cows
In collaboration with the UW's Center for One Health Research, we will test nasal swab samples collected from cows with suspected TB. In addition to humans, many animals can get TB, including cows, elephants, and monkeys. When these animals are in close contact with humans, the disease can be transmitted between species.
[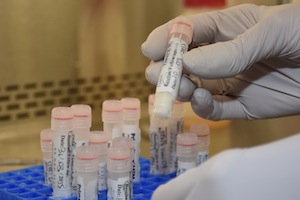 Future Directions
Stay tuned! Next steps will include expanding OSA to additional countries and populations, and expanding case finding capabilities to facilitate earlier detection and diagnosis.
How could non-invasive sampling make a difference?
Point-of-care Diagnostics
There are several applications of OSA that could transform the global fight against TB. Due to the simplicity of oral swab collection, it could facilitate the use of point-of-care (POC) diagnostic strategies that would greatly speed up the diagnostic process and make it possible to reach more isolated populations. A non-sputum POC test was identified by UNITAID in their 2015 report as one of the highest priorities in TB diagnostics. It could also improve care of patients who often cannot produce sputum samples, such as children.
Active Case-finding and Epidemiologic Analysis
With future development, oral swabs could allow for more active TB case-finding activities, such as following up with household contacts of TB patients. These activities could shorten the interval between development of TB symptoms and diagnosis, a key step toward reducing the spread of TB.
Animal Health and the Human-Animal Interface (One Health)
Expanding the use of oral and nasal swabs to detect TB in animals could improve veterinary medicine and lead to greater understanding of routes of transmission between humans and animals.
In The News
Dr. Angelique Luabeya, the project lead based at SATVI in Worcester, South Africa, recently participated in a press conference at the Union World Conference on Lung Health. The conference took place over October 11-14, 2017 in Guadalajara, Mexico. Read a write-up on OSA following the conference here. This was an exciting opportunity to spread the world about OSA and its applications.
Partners
Washington National Primate Research Center (WaNPRC)
Lisa Jones-Engel
Dr. Jones-Engel pioneered the use of oral swabs for her work with non-human primates (read more
here
and
here
). She continues to refine the method and shares her extensive experience to help inform the current projects.
Angelique Luabeya
Mark Hatherill
The team at SATVI has worked on numerous other studies on TB prevention, treatment, and control, and contributes their substantial expertise in conducting clinical trials.
University of Cape Town (UCT)
Mark Nicol
Heather Zar
UW Medicine, Division of Allergy and Infectious Diseases
Sylvia LaCourse
Dr. LaCourse is an Infectious Disease physician with experience in TB and HIV. She received a CFAR New Investigator Award and is collaborating with KEMRI/CDC to evaluate using OSA as a diagnostic.
Keck Graduate Institute (KGI) and Claremont BioSolutions
Angelika Niemz
Robert Doebler
UW Research Team
Rachel Wood
Research Scientist