Hilary Arnold Godwin, PhD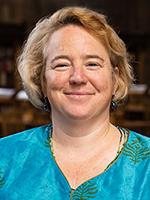 Dean, UW School of Public Health
(Primary department)
Professor, Environmental and Occupational Health Sciences
Hilary Arnold Godwin is dean of the UW School of Public Health and professor in the Department of Environmental & Occupational Health Sciences. She has 15 years of experience as an academic leader with expertise in interdisciplinary, collaborative research on nanotoxicology and the chemistry of lead poisoning and its impact on public health. She is trained in chemistry and biophysics, and has supervised research programs in mechanistic toxicology and environmental health for more than 20 years.  Dean Godwin previously served as associate dean for academic programs as well as chair of environmental health sciences for the Fielding School of Public Health at the University of California, Los Angeles. She also served as chair of the chemistry department at Northwestern University, where she was the first woman hired into a tenured track position.


Dean Godwin has received numerous awards, including the Camille Dreyfus Teacher-Scholar award, the Alfred P. Sloan Research Fellowship, the National Science Foundation CAREER award, the Burroughs Wellcome Fund Toxicology New Investigator award and the Camille and Henry Dreyfus New Faculty award. She also received a $1 million award from the Howard Hughes Medical Institute, where she still serves as a professor, to develop a program to help students interested in the sciences, particularly those at risk, to transition from high school to college.
Contact Information
University of Washington
Office: UW School of Public Health
Box: 357230
1959 NE Pacific St., room F-350
Seattle, Washington 98105
Tel: (206) 685-7430
Affiliations
Research Interests
Nanotoxicology. Lead poisoning. Climate change and health. The impacts of conservation programs and policies on indigenous populations. Community-based approaches to addressing environmental health problems.
Education
NIH Postdoctoral Fellow, , Johns Hopkins University School of Medicine, 1996
PhD, Physical Chemistry, Stanford University, 1994
BS, Chemistry, University of Chicago, 1989
Godwin H, Nameth C, Avery D, Bergeson LL, Bernard D, Beryt E, Boyes W, Brown S, Clippinger AJ, Cohen Y, Doa M, Ogilvie Hendren C, Holden P, Houck K, Kane AB, Klaessig F, Kodas T, Landsiedel R, Lynch I, Malloy T, Miller M, Muller J, Oberdorster G, Petersen, EJ, Pleus RC, Sayre P, Stone V, Sullivan KM, Tentschert J, Wallis P, Nel AE. Nanomaterial Categorization for Assessing Risk Potential To Facilitate Regulatory Decision-Making. ACS Nano 2015; 9(4):3409-3417.
Godwin H, Heymann SJ. A Call to Action: Training Public Health Students to be Agents of Social Change. American Journal of Public Health 2015; 105 (S1): S34-S37.