Gretchen Onstad, PhD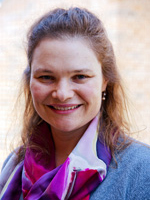 Lecturer, Env. and Occ. Health Sciences
(Primary department)
Gretchen Onstad is an environmental chemist who utilizes analytical chemistry to characterize sources of pollution, to study human exposure to environmental pollution and to examine control measures for preventing exposure. She is currently interested in preventing exposure to groundwater contaminants in rural populations that rely on household wells for drinking water. Her expertise is in analysis of drinking water disinfection by-products and disinfection chemistry, and markers of human exposure to air pollution (pesticides, woodsmoke, diesel exhaust).
Contact Information
University of Washington
Office: HSB F226B
Box: 357234
Environmental and Occupational Health Sciences
Seattle, WA 98195-7234
Tel: 206-616-9870
Fax: 206-616-2687
Affiliations
Research Interests
Drinking water quality and treatment, analytical method development, oxidation kinetics, disinfection byproducts, harmful algal blooms, source apportionment of chemical contaminants (nitrates, fracking fluid) in household wells and removal by point-of-use water treatment.
KEYWORDS: Water treatment contamination; Cortisol, Disinfection byproducts and removal, Source apportionment; Chemical biomarkers
Education
PhD, Environmental Sciences and Engineering, University of North Carolina (Chapel Hill), 2003
BS, Chemistry, University of Washington, 1997
Projects
US EPA Contract: "35 Analyte Study Drinking Water Concentrates for US EPA Four Lab Study" (PI: Gretchen D. Onstad). This is a collaborative research project with Jane Ellen Simmons, PhD, Pharmacokinetics Branch Chief (NHEERL) of the US EPA in RTP, NC, wherein we will be analyzing disinfection byproduct mixtures in disinfected waters that she will be administering to pregnant rats during an intensive 14-week toxicological study.

DEOHS MA/AF Initiative Project: "Development and validation of laboratory and field methods for occupational exposure to the insecticide acetamiprid in Washington State orchards" (PIs: Richard Fenske and Gretchen Onstad)
Onstad G.D., Canfield D., Quay P., and Hedges J.I. (2000) Sources of particulate organic matter in rivers from the continental USA: Lignin phenol and stable carbon isotope compositions. Geochimica et Cosmochimica Acta. 64:20:3539-3546.
Onstad G.D. and Weinberg H.S. (2005) Evaluation of the stability and analysis of halogenated furanones in disinfected drinking waters. Analytica Chimica Acta. 534:2:281-292.
Ho L., Onstad G., von Gunten U., Rinck-Pfeiffer S., Craig K., Newcombe G. (2006) Differences in the chlorine reactivity of four microcystin analogues. Water Research. 40:6:1200-1209.
Krasner S.W., Weinberg H.S., Richardson S.D., Pastor S.J., Chinn R., Sclimenti M.J., Onstad G.D., Thruston, Jr., A.D. (2006) Occurrence of a new generation of disinfection byproducts. Environmental Science and Technology. 40:7175-7185.
Onstad G.D., Strauch S., Meriluoto J., Codd G., von Gunten U. (2007) Selective oxidation of key functional groups in cyanotoxins during drinking water ozonation. Environmental Science and Technology. 41:12:4397-4404.
Rodriguez E., Onstad G.D., Kull T.P.J., Metcalf J.S., Acero J.L., von Gunten U. (2007) Oxidative elimination of cyanotoxins: Comparison of ozone, chlorine, permanganate and chlorine dioxide. Water Research. 41:15:3381-3393. (shared first-authorship)
Onstad G.D., Weinberg H.S., Krasner S.W. (2008) Occurrence of Halogenated Furanones in U.S. Drinking Waters. Environmental Science and Technology. 42:9:3341-3348. Featured by Chemical & Engineering News ("Minimizing Halogenated Mutagens in Water: Water-treatment process affects formation of toxic compounds" March 31, 2008, 86:13:26)
Sullivan A.P., Frank N., Onstad G., Simpson C.D., Collett Jr. J.L. (2011) Application of High-Performance Anion-Exchange Chromatography – Pulsed Amperometric Detection for Measuring Carbohydrates in Routine Daily Filter Samples Collected by a National Network: 1. Determination of the Impact of Biomass Burning in the Upper Midwest. Journal of Geophysical Research-Atmospheres. 116:D08302.