Joseph Coble, MSPH, 1984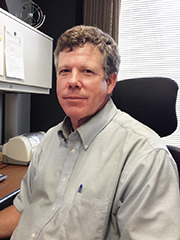 by Kathy Hall
Education
BA, Environmental Science, University of Virginia, 1981
MSPH, Industrial Hygiene & Safety, University of Washington, 1984
ScD, Industrial Hygiene, Johns Hopkins University, 2000
Career Path
Industrial Hygienist, Weyerhaeuser Technical Center
Manager of Industrial Hygiene, James River Corporation
Investigator, National Cancer Institute, Department of Occupational and Environmental Epidemiology
Industrial Hygienist, OSHA Directorate of Standards and Guidance
Director, Office of Technological Feasibility, OSHA

In the early 1980s, Joseph Coble joined our department's air quality researchers who were investigating indoor air
pollutants—especially formaldehyde and other gases from plywood and other wood products. He chose UW for his master's degree because of the availability of training grants through the Education and Research Center funded by the National Institute for Occupational Safety and Health (NIOSH) and the appeal of living in the Pacific
Northwest.
His thesis research on formaldehyde sampling led to a full-time job as an industrial hygienist at the Weyerhaeuser Technical Center. He became a certified industrial hygienist in 1989. Two years later, he moved to James River Corporation, a large paper company. He left industry for academia in 1996, but he didn't forget his roots. His doctoral dissertation at Johns Hopkins University Bloomberg School of Public Health was part of a large epidemiology study of pulp and paper workers.
After he earned his doctorate, Coble joined the National Cancer Institute (NCI), where he worked on large epidemiology studies of pesticide applicators and miners. While at NCI, he authored or co-authored more than 30 peer-reviewed publications.
Coble moved to the regulatory side of the field in 2010, taking a position in OSHA's Directorate of Standards and Guidance. He later became the director of its Office of Technological Feasibility. He worked on OSHA's new silica standard, which came out in 2016. NIOSH and OSHA worked for decades to replace the prior limit for respirable silica, which was grounded in 1960s era research.
Coble says his advice for current students is to challenge the status quo, to not accept someone's judgment that reducing exposures and improving working conditions are not feasible. OSHA's four-decade silica process reflects the need to be persistent and not give up.