Xiaoqiong "Christy" Huang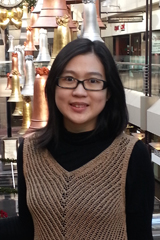 Year Graduated: 2012
Job Title: Health and Environmental Investigator
Employer: Public Health – Seattle and King County
Please tell us about your career path so far, starting with your first job after graduation and leading to where you work now.
I graduated from the program in 2012. During college, I focused on food safety, which explained my choices of undergraduate research on Salmonella and internship as an Environmental Specialist at Washington State Department of Health.
What do you like best about your current position?
The opportunity to educate food workers, restaurant operators and the general public about the significance of food safety, thereby protecting people from foodborne illnesses.
How do you think the Environmental Health major prepared you for the work you do now (courses, internship experience, etc)?
No matter which specialty you want to concentrate on, you will be able to find courses and projects that actually match your interest. As soon as I knew my passion was in food safety, I tailored my classes around food protection and microbiology, and reached out to Professor Scott Meschke to join his Salmonella research team. With the technical knowledge and research experience I acquired in school, I was able to land an internship with Washington State Department of Health. All these turn into a solid foundation for me to become a food safety professional.
Any advice for current undergraduates who are in the major or who are considering Environmental Health?
Environmental Health is a discipline that contains a lot of areas of interest. I strongly recommend current or prospective undergraduates to identify and focus on a specialty, whether it is air quality, food safety, occupational safety, solid waste, etc. This will enhance the chance of finding an internship, which can potentially lead to a future job. Also make good use of the academic advising. The academic advisors usually have a lot of useful resources that can help you navigate through course, research, and internship selection. And lastly, study hard and enjoy your time in the program!