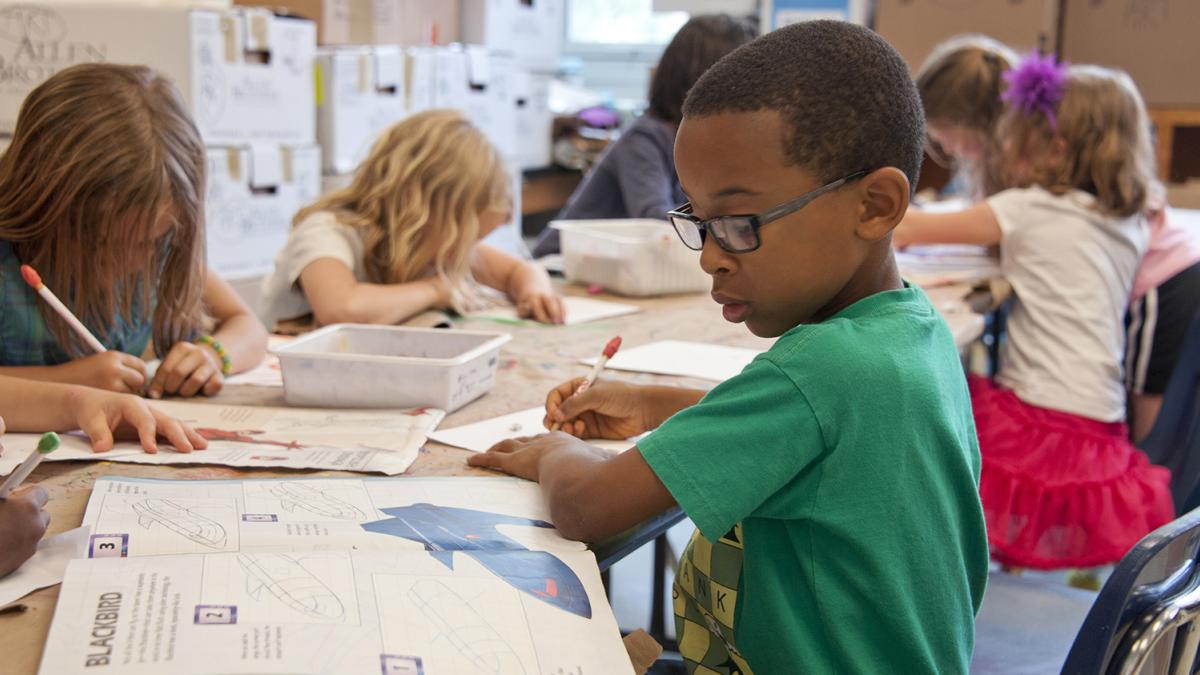 DEOHS-led study finds HEPA filter units in classrooms decrease ultrafine air pollution from road and aircraft traffic
The Healthy Air, Healthy Schools Project is measuring and identifying sources of ultrafine pollution particles in classrooms in urban and rural settings in Washington to investigate the impacts of improving air quality in schools. The study is led by the University of Washington Department of Environmental & Occupational Health Sciences (DEOHS).
Phase 1 of the study, completed in December 2021, found that ultrafine air pollution particles from road and aircraft traffic infiltrate schools around Seattle-Tacoma International Airport, with potential negative effects on health and student academic performance. Using HEPA air purifiers significantly improved classroom air quality.
The study found that about one-half of all outdoor ultrafine pollution was measured inside classrooms in five schools near the airport before HEPA air purifiers were installed. Measurements after the HEPA units were deployed found that ultrafine pollution in classrooms dropped to about one-tenth of outdoor levels.
As part of their work, the research team developed an interactive map showing how aircraft landing and take-off paths into Sea-Tac are likely to contribute to outdoor ultrafine pollution at all King County schools. The map demonstrates significant impacts of those flights on schools within 10 miles of the airport.
This part of the study was funded by the Washington State Legislature and five cities near Sea-Tac Airport: SeaTac, Burien, Federal Way, Normandy Park and Des Moines.
Read the executive summary Read the full report Technical information Report Back Survey
What's next
Phase 2 is a two-year study in 30 schools across Washington that began in 2021. UW researchers will deploy HEPA air cleaners in classrooms in 20 schools near Sea-Tac Airport to measure the difference in air quality in classrooms with and without filters over the course of one year, with funding from the State of Washington.
Researchers will also compare student academic performance during the year in classroom with and without the filters. Research suggests that air pollution exposure is associated with lower test scores.
In addition, the research team will expand its work to measure the impact of HEPA air cleaners on air quality in 10 elementary schools around King County, Yakima County and the Yakama Nation, particularly during wildfire smoke events. This part of the study is funded by the US Environmental Protection Agency.
The phase 2 study will allow researchers to investigate the effectiveness and optimal usage of HEPA filter units and to explore alternative interventions, including school building upgrades. The findings will inform future recommendations to improve air quality in schools and other public buildings in Washington.
The Healthy Air, Healthy Schools project was inspired by the Mobile ObserVations of Ultrafine Particles (MOV-UP) study, also led by DEOHS.
Project goals
Inform schools, districts and state legislators about the current ability of building ventilation systems to effectively remove outdoor sources of pollution particles.
Quantify the current ability of ventilation solutions to remove indoor-generated particles.
Identify any additional benefit and cost of in-room filtration and air handling interventions.
Describe the infiltration rates of ultrafine particles of aircraft origin, traffic origin and wildfire smoke origin.
Communicate study results to partners.
About indoor and outdoor air pollution
There are many sources of indoor and outdoor particle pollution. Outdoor sources of particles include roadway traffic, residential wood burning, aircraft traffic and wildfire smoke. These emission sources produce fine particles and ultrafine particles that can enter indoor spaces. This movement of particles from outdoors to indoors is called infiltration.
Air can enter buildings through openings, joints and cracks in walls, floors and ceilings and around windows and doors. Indoor sources of particles include cooking, vacuuming/cleaning activities and generation of particles by people. Room-based air filtration units have the potential to remove some sources of particle pollution. Reducing indoor sources of pollution is also a major step in lowering the number of particles indoors. High rates of infiltration can result in indoor spaces having worse air quality than the outdoors.
Outdoor fine particles have known impacts on health, especially for children, the elderly and those with cardiovascular disease and asthma. Fine particles and ultrafine particles are at least 30 times smaller than the diameter of the average human hair. Small particles are of greatest concern because they can get deep into the lungs and even into the bloodstream. Some health effects of indoor air pollution may show up immediately, including irritation of the eyes, nose and throat; headaches; dizziness; and fatigue. Immediate effects are usually short-term and can go away by lowering indoor air pollution. Other health effects may show up years later, which include some respiratory diseases, heart disease and cancer.
Partners
DEOHS gratefully acknowledges the contributions of our community and state partners to this study: the Washington State Legislature; the cities of SeaTac, Burien, Federal Way, Normandy Park and Des Moines; Federal Way Public Schools; Highline Public Schools; and the
University of Washington Ultrafine Advisory Group.
Special thanks to state Sen. Karen Keiser (D-Kent) and Reps. Steve Bergquist (D-Renton), Tom Dent (R-Moses Lake), David Hackney (D-Tukwila), Jesse Johnson (D-Federal Way) and Tina Orwall (D-Des Moines) for their support, and to the US Environmental Protection Agency for funding support.
Contact
University of Washington: Dr. Elena Austin: elaustin@uw.edu.
Federal Way Public Schools: Sally McLean, chief finance and operations manager: smclean@fwps.org. Kassie Swenson, chief of communications and strategy: kswenson@fwps.org.
Highline Public Schools: Catherine Carbone Rogers, chief communications officer: catherine.carbone@highlineschools.org