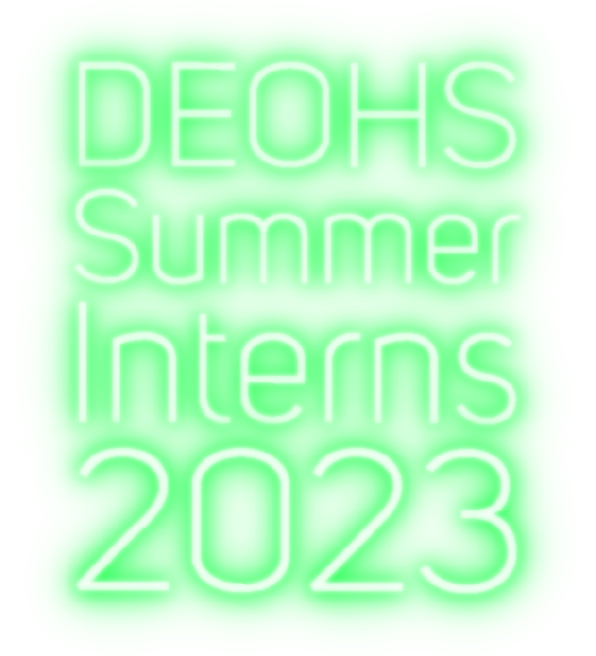 Matthew Deinitchenko
BS in Environmental Health
Hometown
San Ramon, CA
Internship with:
UW Environmental Health & Safety Department
Editor's note: This summer, 20 DEOHS undergraduate students are getting hands-on experience as interns with health agencies, nonprofits and private companies. In our occasional "On the Job" series, we feature some of their stories.
This summer, I am working with lasers as a radiation safety intern in the University of Washington's Environmental Health and Safety (EH&S) Department. This specific internship caught my attention because radiation was so mysterious to me with the only knowledge of it coming from nuclear disasters and movies.
I primarily work with the UW's Laser Safety Officer Amy Lim, inspecting lasers in research labs across campus to ensure they are functioning properly and not exposing workers to radiation. I do microscope audits by myself and work with Amy to inspect labs with hazardous lasers.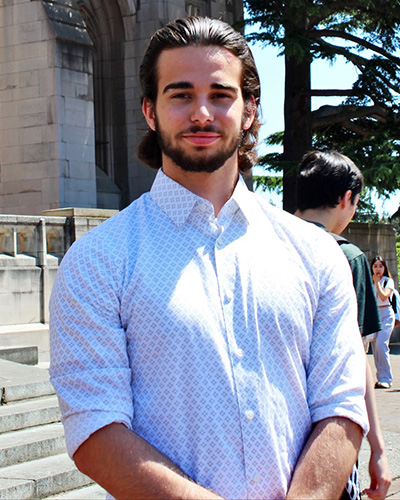 My office is located in the UW Magnuson Health Sciences Center, but I spend a lot of time in buildings all over the Seattle campus and some off-campus locations, such as the UW Medicine offices in South Lake Union or the Washington Clean Energy Testbeds behind University Village.
I enjoy seeing all of the impressive research that is happening around the school during laser inspections and having an exclusive look into how EH&S works to keep everyone safe on campus.
I also work with the EH&S database, which contains information on registered lasers, locations of radioactive materials on campus, records of researchers' training and licenses, history of lab inspections and other details.
I helped create an updated laser safety manual and step-by-step guidelines for principal investigators on how to use the EH&S database, as well as redesigning the webpage for laser safety and non-ionizing radiation.
I will always remember meeting the Radiation Safety team on my first day and touring the lab where they check for radioactive contamination on incoming packages. A team member casually pulled a black canister out of a box and asked me if I knew what it was.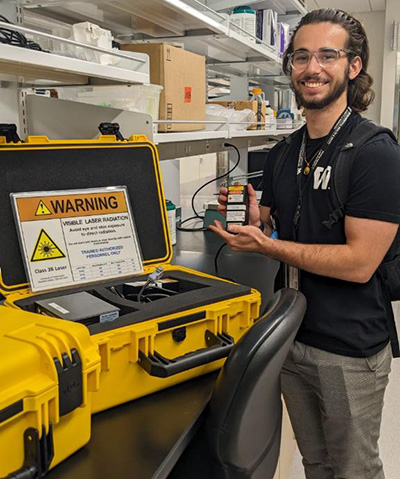 It turned out to be Uranium-235 inside the canister. That was when I learned that radioactive material is not as scary as the movies make it out to be!
This internship experience has given me a greater appreciation for the attention to safety that we have today.
I am so proud to be part of DEOHS and this major. I get to study interesting topics such as zoonotic diseases, connect to a vast network of alumni and meet professors and mentors that want to see me succeed.
I got a lot of help from the department to find my internship. Our undergraduate seminar class, ENV H 480, made me aware of all the different steps to find an internship or job. I also scheduled time with the DEOHS career adviser, Dan Poux, to practice interviews and polish my resume, which all helped me land the internship.
I also have found a community with my DEOHS classmates. Being able to converse and have connections with all of your peers in the same major is a rare thing, and I appreciate the department's smaller size and focus on personal connections.
I plan to pursue a career in medicine and hope to one day be a physician.