Seven students and staff members from the UW Department of Environmental & Occupational Health Sciences (DEOHS) were recognized Friday at an annual awards celebration held by the UW School of Public Health.
Their contributions range from investigating the health effects of climate change to advocating for women in trades to the development of a new tool to monitor air pollution.
Watch for profiles of many of these award winners on our blog in coming weeks.
2018 award recipients recognized by DEOHS and the School of Public Health are:
School of Public Health awards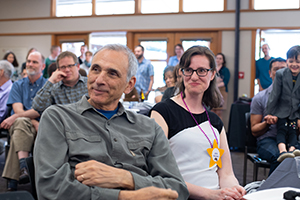 Miriam Calkins, Gilbert S. Omenn award for academic excellence: Calkins, who received her PhD in Environmental and Occupational Hygiene, studies occupational heat exposure and injury risk in construction workers and the health effects of climate change. A study she led found increased risk for heat illness and dehydration on hotter days for people of working ages. This schoolwide honor is based on academic contributions to public health, community engagement and leadership potential.
Hannah Curtis, Staff Community Service award: Curtis is a DEOHS research coordinator who co-leads a study documenting the risks faced by women working in construction and pilot-testing a mentorship program to help women in trades advocate for themselves on the job. The award recognizes Curtis's volunteer service addressing health issues, reproductive health rights and ending violence against girls and women.
Joseph Dempsey, Distinguished Teaching award: Dempsey, a DEOHS doctoral student, serves as a teaching assistant who is lauded by his students for his creative instructional style. He is known for using environmental themes from popular culture, including Dr. Seuss's "The Lorax," to illustrate classroom lessons.
DEOHS awards
Glen Abel, Distinguished Staff award: Abel is a research scientist working with DEOHS Professor Zhengui Xia to investigate how exposure to environmental pollutants, including heavy metals, affects the nervous system and cognitive function of children and adults. Abel provides staffing support for lab researchers and essential continuity on complex experiments, research grants, safety compliance and animal welfare.
Graeme Carvlin, Outstanding PhD Student: Carvlin worked with DEOHS faculty and undergraduate students to build a system of 40 air monitors installed at the US-Mexico border to gather data about pollution in areas where idling cars wait to cross. The air-quality monitors he designed cost significantly less than existing sensors, and Carvlin's work played an important role in recent legislation in California that uses revenue from the state's cap-and-trade program to fund air monitoring across the state.
Meagan Jackson, Outstanding Master's Student: Jackson worked with the Washington State Department of Health to evaluate the effectiveness of disinfecting septic systems with ultraviolet light. Her work produced several research publications and conference presentations and is likely to influence revised state policies on the disinfection of septic systems located near sensitive waterways and aquifers.
Ali Everhart, Outstanding Undergraduate Student: As an Environmental Health major, Everhart's internship took her to Arizona, where she worked with the Indian Health Service on food safety and mosquito control. The experience helped pave the way for her new job as a field environmental health officer serving tribal communities in remote western Alaska.
In addition, DEOHS annually recognizes two students named as recipients of the Russell L. Castner Endowed Student Research Fund, which supports student research in environmental health. Our 2018 award winners are PhD student Rachel Shaffer and Master's student Kori VanDerGeest.