[Reprinted with permission from the fall 2018 edition of Northwest Public Health magazine.]
Jenna Buchanan is on a mission to improve the culture of safety at Boeing. She seeks to learn lessons not only from accidents but also from close calls.
Buchanan is a 2007 graduate of the UW Department of Environmental & Occupational Health Sciences (DEOHS) in the School of Public Health. She recalls how a reporting system and quick action at Boeing helped to protect an aircraft mechanic from a potentially fatal fall.
"He later told me, 'What you did saved my life,'" said Buchanan, a senior manager of Environmental, Health and Safety (EHS) at Boeing's Everett site. She is responsible for the health and safety of 40,000 employees and contract workers. "I know that the work I'm doing matters."
Safety crusader
As a Boeing intern more than a decade ago, Buchanan measured workplace exposure to hexavalent chromium, a cancer-causing chemical made famous by Erin Brockovich.
An admirer of the legal crusader, Buchanan wanted to ensure that all people have access to safe and healthy places to live, work and play. She secured a full-time position at the company before graduating.
Now, a partnership with Boeing is bolstering the department's academic programs and enhancing the company's pipeline to talented students like Buchanan.
Boeing supports student research, internships
The bond was formalized in 2017 with a philanthropic gift and the school's first "Focal," a company leader who serves as a conduit between Boeing's EHS teams and DEOHS. There are 61 other Boeing Focals across the UW.
"We are engaging with DEOHS to support students and the department and to provide students with insight on career opportunities at Boeing," said Susan Colligan, who received her MS in industrial hygiene and safety from the UW in 1986. Today, she is senior manager of enterprise workplace safety at Boeing and the school's Focal. "Our relationship-building includes internships, financial support for students and research, mentoring and other engagement activities, such as factory tours and panel discussions."
Boeing has contributed $45,000 over the past two years to support student research that aligns with the department's mission to create healthy, safe and sustainable communities. Some projects address issues relevant to Boeing and its workplace safety, but it is not a requirement.
The Boeing student support awards are available to all students in the department and other UW students who work with department faculty. So far, 10 students have received awards of up to $5,000 each.
Collaboration opens doors for DEOHS students
"Our partnership with Boeing has provided a vital bridge of support to students who are entering careers in occupational and environmental health," said DEOHS Chair Michael Yost. "In addition to helping attract strong students to our program, this partnership has allowed them to finish their studies more quickly and with greater focus on translating the work into professional practice."
Many students who receive Boeing support are seeking careers in the private sector and are in the latter part of their degree studies or in an accelerated degree program, according to Yost. "They're translating academic training into practical solutions for preventing injuries and illness."
Studying vibration exposure in forklift drivers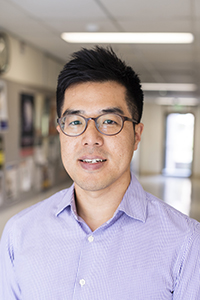 That includes Hyoung-gon "Frank" Ryou, originally from Seoul, who is using his award to investigate shocks and vibrations experienced by forklift drivers as they operate the machine and to explore strategies to reduce exposure. Whole-body vibration is a risk factor for low back pain.
His research has shown that the amount of vibration depends on the type of operation (e.g., driving, loading/unloading) and road conditions. He plans to test three different tires to see which is best at limiting shock. Results from the study could improve safety conditions for operators and potentially change industry standards.
"The work setting is where people spend most of their day," said Ryou, who is pursuing a PhD in environmental and occupational hygiene and works in the UW Ergonomics Lab, led by DEOHS Professor Peter Johnson. "We can prevent common, avoidable injuries by applying ergonomics in the workplace."
Other recent student award recipients include PhD student Trevor Peckham, who is focused on improving aspects of the employer-employee relationship that influence health, and MPH student Orly Stampfer, who plans to work with the Tulalip Tribe to design a health messaging system that alerts people about community air quality.
"A known commodity"
For Buchanan, her internship at Boeing was a major professional turning point. "I was a known commodity. People at Boeing knew who I was and what I was capable of doing," she said. Classes she took in exposure science and toxicology gave her a good foundation.
Buchanan has since mentored dozens of UW interns. She puts them to work on projects meaningful to their studies and connects them to people and opportunities, such as trainings and site tours. In turn, the students channel their energy and perspective into positive change at the company and beyond.