Miriam Calkins
PhD, Environmental and Occupational Hygiene
Hometown
Harvard, Massachusetts
Future plans
Associate Service Fellow, National Institute for Occupational Safety and Health
"Trade workers have higher (environmental) exposures than the general public because they are working in industries with concentrated chemicals or a longer duration of heat exposure. These workers often have less agency to change their environment."
- Miriam Calkins
April marked a grim global milestone: the 400th consecutive month with recorded global temperatures above the 20th century average.
For construction workers and others who spend long hours working outside, global warming is a trend with potentially life-or-death consequences.
But how do you measure the health effects of heat exposure on individual workers? That question is at the heart of Miriam Calkin's work as a doctoral student in the UW Department of Environmental & Occupational Health Sciences (DEOHS).
In May, Calkins was selected by UW School of Public Health faculty as the winner of the 2018 Gilbert S. Omenn award, recognizing her contributions to public health, commitment to community engagement and leadership potential.
Through her research, Calkins found that as temperatures rise, so do the number of traumatic injuries among construction workers as well as the number of heat-related illnesses and injuries among the general working-age population.
Most surprising: Even on days when temperatures were only moderately hot, on-the-job injuries and illnesses increased, including among young, healthy workers who are typically considered more resilient.
More workers at risk than previously known
Calkins was one of the first to document the connection between heat exposure and injuries using data from the state worker's compensation system, said DEOHS chair Michael Yost.
Her work has increased awareness that the risks of working outside in hot temperatures extend to workers in construction as well as agriculture in both Eastern and Western Washington and across all age groups, Yost said.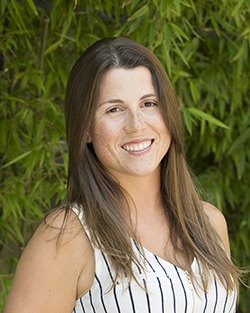 The findings point to the need for additional protection for outdoor laborers, Calkins said.
"Even prior to someone's awareness of being too hot, there is an increased risk of injuries," Calkins said. "This means that even on a day not considered too hot for working, the industry still needs to be prepared for increased risk for injuries."
The heat is on
Calkins became interested in measuring heat exposure as a master's student working with DEOHS Lecturer Tania Busch Isaksen.
She used emergency response data in King County to show that temperatures above 85.5℉ increased the risk for basic life support calls by 8 percent. When temperatures hit 98℉ or more, calls for advanced life support rose 14 percent across all age groups compared to days with lower temperatures.
Calkins decided to continue that research while getting her PhD at DEOHS as well as a graduate certificate in climate sciences. Her conclusion: Construction workers in Washington state are at greater risk for falls, broken bones, concussions and other traumatic injuries as temperatures rise.
A need for better data
Researchers often measure individual heat exposure through survey questions that rely on the person's perception of experiencing symptoms. Being able to measure actual metabolic and environmental data in real time is challenging, Calkins said.
Part of Calkins's research involved measuring individual heat exposure through devices that record the temperature immediately around each worker, rather than using a single device placed at a worksite.
While the results were not statistically significant, Calkins said additional research is needed. "We know that the workers are at higher risk, but we don't have the data right now to provide better recommendations for them."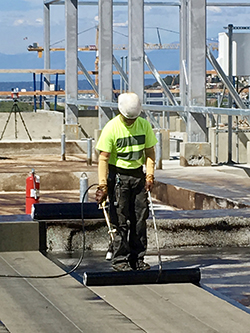 Time to get ready
Now is the time for workers, companies and regulatory authorities to prepare for increasing temperatures, Calkins said.
Washington is one of only two states with outdoor heat rules specifically addressing on-the-job heat exposure. Some cities, including Phoenix, have also put specific regulations and safety precautions in place for outdoor workers.
Seattle and other cities need to be ready to protect road crews, roofers and other construction workers who will face greater risk with rising temperatures, she said.
Calkins will begin a two-year fellowship this summer with the National Institute for Occupational Safety and Health, working on a study to measure heat and particulate matter exposure among wildland firefighters.
"I have an appreciation for how difficult it is to actually measure what workers are exposed to in the environment," Calkins said. "We need more information to understand heat exposure, and I want to refine how exposure is measured and ultimately develop safer work conditions."