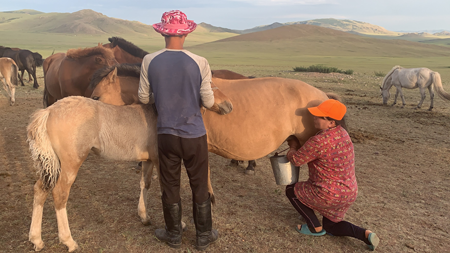 An unlikely partnership between livestock herders in Mongolia and the UW Department of Environmental & Occupational Health Sciences (DEOHS) is creating new opportunities to improve worker safety in one of the world's most remote locations.
A team of DEOHS faculty and staff recently visited northern Mongolia for a two-day worker safety training focused on preventing and reducing the transmission of zoonotic diseases among herding families, animal workers and the animals they care for.
Sixty Mongolian herdsmen as well as physicians, community health workers, veterinarians and agricultural and environmental professionals attended the training in Selenge, Bulgan Province, to learn how to prevent human-animal disease transmission in livestock farming.
The DEOHS team included Nancy Simcox, DEOHS lecturer and director of Continuing Education programs; Dr. Peter Rabinowitz, DEOHS professor and director of the UW Center for One Health Research; and Jill Tepe, continuing education and outreach coordinator.
Preventing human-animal disease transmission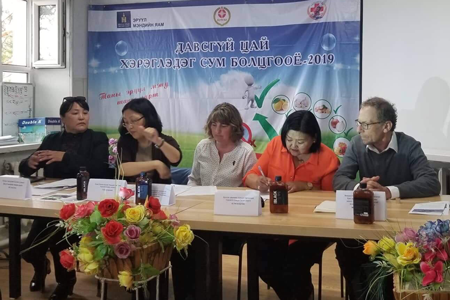 The workshop used a One Health approach to explain the health connections between humans, animals and their shared environment as a way to reduce diseases such as brucellosis.
Mongolia has one of the world's highest rates of brucellosis, a serious, persistent bacterial infection that spreads from animals to humans.
"In Mongolia, a large part of the population lives closely with animals, and this poses unique challenges for keeping people, animals and the environment healthy," Rabinowitz said. "We discussed ways to protect against getting infected with brucellosis and other pathogens that can cross between people and animals."
"We also learned a lot from the herdsmen and the health professionals about the changing agricultural, health system and climate conditions in the country that will play a role in future disease risks," he said.
Partnering on construction safety
The One Health training grew out of a partnership between DEOHS and the International Human Resources Development Institute that began in 2018 when a trade union in Mongolia approached DEOHS about road construction safety training for workers who are building Mongolia's first highway.
Simcox said planning is already underway for another One Health training in other areas of the province next year focused on infection prevention on the farm for veterinarians, health care professionals, agricultural specialists and others.