Five months ago, I sat in a University of Washington classroom learning about how governments respond to emergencies in a course called "Disasters and Public Health," part of my MPH program in the Department of Environmental & Occupational Health Sciences (DEOHS).
Today—and to my surprise—I am part of Washington's real-time response to the COVID-19 outbreak, applying concepts I learned as a student to an actual public health emergency.
One of 600 state employees fighting COVID-19
This winter, I started a job with the state Department of Health (DOH) as a policy specialist in air quality and harmful algal blooms. My MPH thesis is on the health effects of wildfire smoke and public health interventions.
Which is to say, I am not an expert on communicable diseases.
A month later, DOH activated its Incident Management Team, part of a standardized framework developed by the Federal Emergency Management Agency to coordinate emergency response at every level of government.
DOH employees from across the agency stepped up to serve on the team, which now includes almost 600 people working across three campuses in Shoreline and Tumwater and at Camp Murray near Tacoma.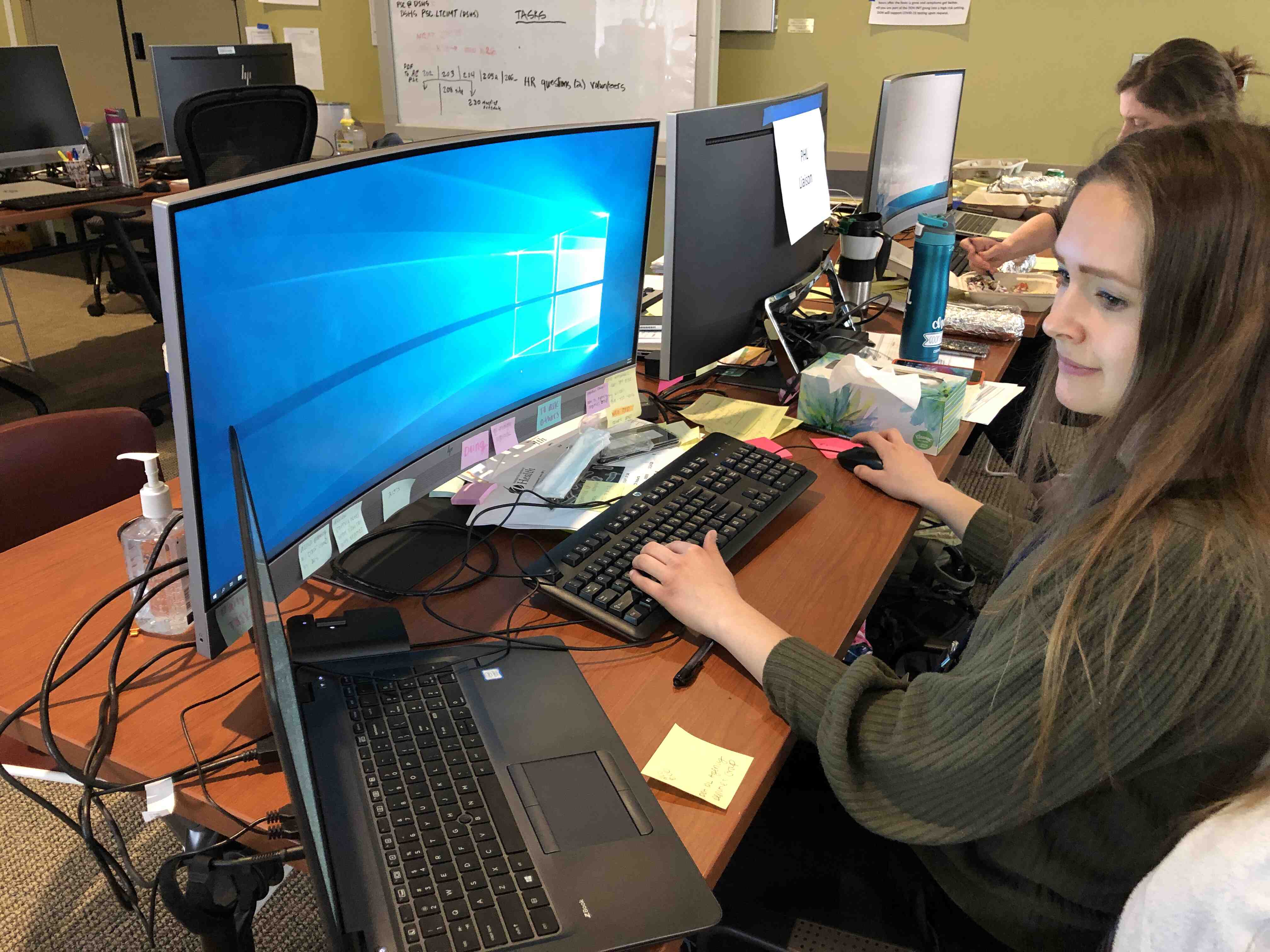 Inside the command center
This week, I am serving my third weeklong rotation as a "status check-in recorder" at the Shoreline campus.
This role is part of the Incident Management Team's resource unit in the planning section, responsible for ordering and tracking state workers involved in the fight against COVID-19 and for managing how team members are deployed.
The command center where I work is a room full of makeshift desks and workstations with signs on the back of each computer indicating each person's role.
About 20 staff bustle around in an urgent yet orderly way, taking calls, typing furiously, collaborating and problem-solving.
From my perch, I can see leaders discussing staffing plans and others on calls to coordinate resources.
I can also see their grit and determination to stay ahead of COVID-19.
"This is our office now"
My job is to ensure staff availability, manage scheduling, attend planning meetings, identify resource needs, respond to requests, communicate with staff across all three campuses and ensure new arrivals are checked in and directed to the right place.
When I returned for my second activation, I found a room of familiar faces. "This is our office now," the incident commander told me.
I found it easy to jump right back in, making calls to staff, updating our online schedule tracker and working alongside team members.
Long days and quick pivots
This is a job like none other I've had, with fast-moving parts in a dynamic environment.
In the course of an hour, I may identify specific tasks to be done, then learn new information that requires me to quickly pivot and reprioritize. We might reorganize an entire branch of the incident command structure or add a half-dozen new roles to fill on any given day.
I am an organized multitasker who works well under pressure—all skills that have served me well in this high-stress, ever-changing workplace.
The days are strenuous and tiring, often lasting well into the evening. Yet there is an energizing sense of collaboration and camaraderie as we work together to protect the health of our people and our state.
Being on the front lines of the state's coronavirus response is one of the most influential public health experiences I've had.
My student experience at DEOHS is coming alive in a new and profound way. I am honored to work alongside the remarkable public health professionals who are so carefully navigating Washington's way forward through this crisis.