Drinking coffee is linked to all kinds of health benefits, from reducing your risk of heart disease to potentially protecting you from cancer of the uterus and liver.
But could the process of preparing your daily cup of joe be hazardous to the health of your barista?
Professor Christopher Simpson of the UW Department of Environmental & Occupational Health Sciences (DEOHS) was recently awarded a grant from the Washington State Department of Labor & Industries to examine respiratory hazards in the coffee industry.
His research will focus on a chemical called diacetyl, which is naturally produced in the coffee roasting process and may be found in some flavorings.
Diacetyl is also a chemical flavoring added to microwave popcorn. It has been associated with high rates of a rare disease known as "popcorn lung," which damages the smallest airways of the lungs, interfering with the body's ability to get oxygen.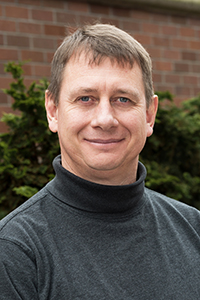 Measuring exposure to diacetyl
While it poses no risk for consumers, extreme levels of airborne diacetyl may be linked to this serious and irreversible lung disease, formally called bronchiolitis obliterans.
Recent studies have shown that workers in large commercial coffee production facilities are exposed to potentially hazardous levels of diacetyl.
"However, the levels of diacetyl present in smaller craft coffee processing facilities or coffee shops where coffee roasting, grinding and brewing take place are largely unknown," said Simpson, who is a principal investigator with the UW Interdisciplinary Center for Exposures, Diseases, Genomics and Environment based in DEOHS.
Testing a tool to reduce exposure
Simpson is launching a one-year study of diacetyl levels at Olympic Crest Coffee Roasters, a boutique coffee shop in Olympia, WA. He will lead a team that measures levels of diacetyl released during coffee grinding and brewing.
DEOHS graduate student Hannah Echt will take air samples from which diacetyl gas will be separated and quantified by the department's Environmental Health Lab. Echt's studies are supported by funding from the Northwest Center for Occupational Health and Safety, housed in DEOHS.
The team will also design and test an emission control device that could reduce exposure for baristas.
Next fall, after the emission control device has been installed in areas with the highest diacetyl levels, Echt will return to repeat the sampling.
Raising awareness in the coffee industry
The new study follows a 2018 pilot study where levels of diacetyl were measured in small coffee shops in Canada.
In all cases, diacetyl levels in barista work areas exceeded the recommended exposure levels defined by federal regulators.
"That was a surprise," according to Simpson. "Our hope is that we will increase awareness of this problem, define its extent and disseminate an effective control solution," he said.
"It's a pleasure to get out in the field to work with small businesses who take pride in what they do and want to do the right thing for their employees."
Funding for this research is provided by the Safety & Health Investment Projects Grant Program, State of Washington, Department of Labor & Industries.