Vanessa Vargas showed up for her first day at her new job with her heart pounding so loud it nearly drowned out the sound of construction equipment at the Seattle building site where she had been hired as a carpenter apprentice.
Vargas was the youngest person on the work site, the least experienced—and the only woman.
"My adrenaline's going, and I'm just trying to be careful of every move I make so I look like I know what I'm doing," Vargas recalled. "You don't want to make any mistakes."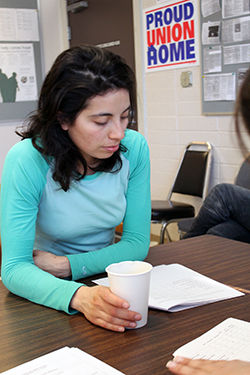 Persistent job stress like that can take a toll on your health and leave an unmistakable signature behind within your own blood. Now researchers in the UW Department of Environmental & Occupational Health Sciences (DEOHS) are using those biological markers in a first-of-its-kind study that will objectively measure differences in stress biomarkers among both women and men construction workers.
Exploring ways to improve job safety
The stress study builds on earlier research by a DEOHS research team that found Washington women construction workers were significantly more likely than men to report being injured at work and to feel high levels of stress.
"For women construction workers, we know that their gender puts them at greater risk for on-the-job injuries and illnesses," said DEOHS Professor Noah Seixas, who is overseeing the study.
The study is one of several new pilot projects led by DEOHS faculty and funded annually by the Washington State Legislature through allocations from the state Medical Aid and Accident funds. The money acts as seed funding for innovative approaches to prevent and reduce workplace illnesses and injuries.
Measuring stress levels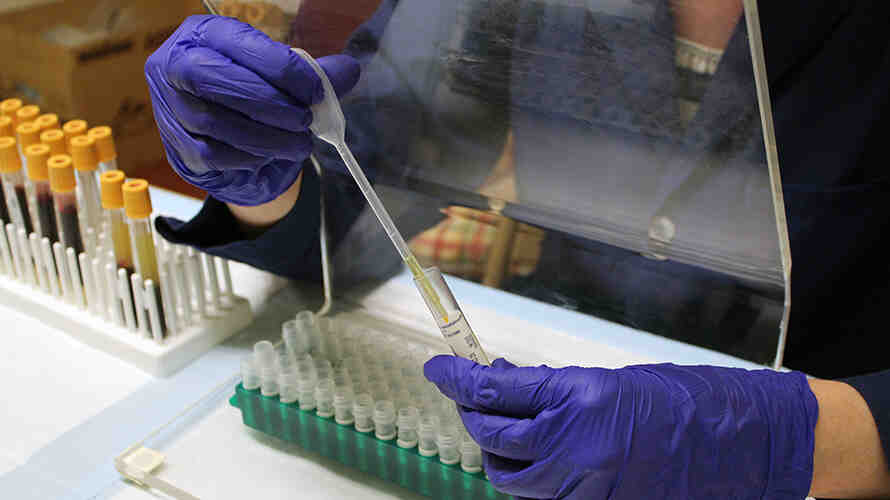 Vargas was among a dozen construction workers who volunteered recently to participate in the stress study at the Renton Carpenters Local 30 Union Hall.
UW students and faculty helped the workers complete a questionnaire about their health and sources of stress both on and off the job and took height and weight measurements. A nurse collected a blood sample from each participant. The samples will be analyzed at a UW lab for biomarkers of stress in the workers' immune, inflammatory and hormone response systems.
When the study is complete later this year, researchers will have data from 40 construction workers, including women and men at both the apprentice and more experienced journey levels and across different trades. Partners in the research include the Carpenters Employers Apprenticeship Training Trust, the Sheet Metal Workers Local 66 and the Seattle Area Pipe Trades Apprenticeship.
A dangerous profession
Just 3 percent of the nation's skilled trades workforce are women—about the same level as in the 1970s. That's despite relatively high wages and a nationwide shortage of skilled construction labor.
Widespread gender discrimination, isolation, sexual harassment and ill-fitting personal protective gear designed for men are among the stressors tradeswomen face in what is one of the most dangerous professions, said Hannah Curtis, DEOHS research coordinator.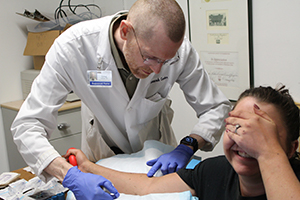 "We need better data on how stress affects construction workers' health and their ability to communicate their needs and work safely," Curtis said. "That will inform programs to improve workplace culture and training and potentially open the door for more women to consider careers in the trades."
"I just keep on working"
Several study participants said they had experienced discrimination on the job but also saw signs of progress.
Betty Cormier has worked in construction for three years, doing framing and concrete work. While the job is tough, she believes her co-workers and supervisor take a personal interest in her welfare and safety on the job, she said.
Vargas said she also sees things improving. Recently, she noticed what she calls "juvenile pictures" scribbled on the wall of her job site. The next day, she came back to find that the graffiti had been covered with plywood.
"I feel like people are pretty respectful of me. You may overhear things that make you uncomfortable sometimes, but I just keep on working," she said.