On the job | Zakary Reimann
August 27, 2019 |
Using video technology to document chemical exposures
Editor's note: This summer, 26 students in the UW Department of Environmental & Occupational Health Sciences (DEOHS) are getting hands-on experience as interns with government agencies and private companies. In our occasional "On the Job" series, we feature some of their stories.
Zakary Reimann, MS, Applied Occupational Hygiene
Intern with: SAIF Corporation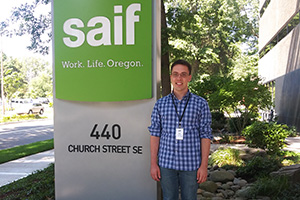 An egg farm. A foundry. A blade manufacturer. A blasting facility.
These are among the worksites that I have visited this summer through my internship with SAIF Corporation, Oregon's not-for-profit workers' compensation insurance company.
I am part of a team of six industrial hygienists based in Salem, OR, this summer. My main job is to conduct sampling for particulates, noise, mold and other chemicals.
I am also working on a project to incorporate video exposure monitoring into SAIF Corp. site visit inspections.
Workers are outfitted with a GoPro camera while we simultaneously monitor particulate concentrations. This new tool serves as an effective way to visually demonstrate when exposures occur and what workers were doing at the time of exposure. I am confident this tool will be useful for employers and policyholders to identify and mitigate employee exposures.
My team has been very supportive, giving me opportunities to collect samples on my own, interpret results, write reports and communicate with policyholders. I work with great colleagues here!