A research team at the UW Department of Environmental & Occupational Health Sciences (DEOHS) will receive a $5 million funding award from the Patient-Centered Outcomes Research Institute (PCORI) to study strategies to prevent unsafe opioid prescribing in workers' compensation programs in two states.
Dr. Gary Franklin, DEOHS research professor, leads the team.
Franklin's team will compare the effectiveness of two state opioid prescription review programs already in use in Washington and Ohio. Washington uses a prior authorization model, while Ohio uses a retrospective review of opioid prescriptions.
Prior authorization requires physicians to get approval from health insurance companies before prescribing medicine, while a retrospective review happens on a case-by-case basis after treatment.
The team will focus on opioid prescribing for common musculoskeletal conditions, such as low back and neck pain. Researchers will also examine each program's patient-centered outcomes, including pain, quality of life and return to work, as well as the presence of opioid use disorder and work disability.
Potential for national impact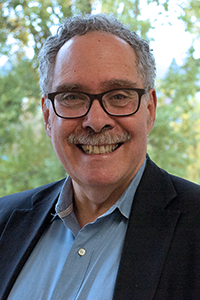 Both approaches have proven effective in decreasing unsafe opioid prescribing. However, more research is needed to understand the impact on patients' health and well-being.
Researchers say their findings could influence how other states approach the issue of opioid prescription practices.
"One of the key strategic directions to reverse the opioid epidemic is to prevent unsafe opioid prescribing and the transition to ineffective chronic opioid use in common, acute pain conditions," said Franklin, who is also medical director of the Washington State Department of Labor & Industries.
"This population-based project in Washington and Ohio will teach us a great deal about how best to accomplish this goal."
Data for better decision-making
Both Washington and Ohio have regulatory authority over health care delivery to all injured workers. They are also the two largest states with an exclusive State Fund, which means private workers' compensation insurance companies do not operate in these states.
What's more, both have initiated distinct opioid review programs consistent with prescribing guidelines.
This study is among 16 projects recently approved for PCORI funding totaling $85 million to improve care and outcomes for conditions that impose high burdens on patients, caregivers and the health care system.
It is also the latest study in PCORI's portfolio of patient-centered comparative clinical effectiveness studies on substance use disorders and pain management.
"This project was selected for PCORI funding for its potential to fill an important gap in our understanding of unsafe opioid prescribing and to give people living with pain useful information to help them weigh the effectiveness and safety of their care options," said PCORI Executive Director Joe Selby.
The award is approved pending completion of a business and programmatic review by PCORI staff and issuance of a formal award contract.
PCORI is an independent, nonprofit organization authorized by Congress in 2010 that funds research to provide patients, their caregivers and clinicians with the evidence-based information needed to make better-informed health care decisions.