The UW Department of Environmental & Occupational Health Sciences (DEOHS) will soon incorporate virtual reality (VR) into our worker health and safety training programs—a kind of digital "apprenticeship" that could save real lives on the job.
Starting next year, DEOHS will pilot-test VR simulation in some training courses for construction workers and others on how to work safely in confined spaces—think construction pits, tunnels and storage containers.
"Using VR in the classroom allows workers to recognize potential hazards before encountering them on the job," said Nancy Simcox, DEOHS lecturer and director of our Continuing Education Program. The program trains nearly 5,000 safety leaders and workers in the Pacific Northwest each year.
It's the first step toward what Simcox hopes will be a digital transformation in workplace health and safety training, leading to fewer on-the-job injuries and fatalities.
Partnering with the University of Idaho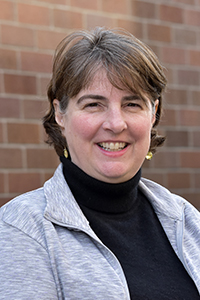 This innovative approach to worker training began as a student-led capstone project in the Virtual Technology and Design Program at the University of Idaho (UI).
With grant funding from DEOHS through the Northwest Center for Occupational Health and Safety's Education and Research Center, UI graduate student Serendel MacPherson and program team member Elyse Vaartstra tested the VR simulation and will pilot it in the classroom in January 2019.
Eventually, Simcox wants to see the approach used in all confined spaces courses offered by DEOHS to workers throughout the Pacific Northwest.
"We chose to develop the confined spaces VR simulation because it touches so many different industries, such as construction, mining and oil and gas," said Brian Cleveley, UI senior instructor in the Virtual Technology and Design Program and faculty mentor for this project.  
VR now more affordable, accessible
While more research is needed, VR has been shown to improve comprehension and training effectiveness.
The next step will be to assess workers' long-term retention, said Simcox, who has previously used VR simulations to train health professionals on how to deal with infectious diseases, such as the Ebola virus.
Cleveley said more companies are starting to value and incorporate VR into training and the workplace. While VR used to appeal only to video gamers, now it is familiar across age groups.
"This new generation of students coming into the classroom is already familiar with VR, and it is a great tool for cognitive learning and decision-making," Simcox said.
With VR becoming more affordable and available, Simcox said the technology shows great potential for worker training on a variety of topics, from emergency medical training to preventing on-the-job hazards like falls, electrocution or workers being struck by or caught in work equipment.
Using VR to save lives
Both Simcox and Cleveley say they hope to expand the UW-UI partnership to improve worker health and safety.
"The key to reducing injuries is increasing workers' retention coming out of the classroom," Cleveley said. "We believe in the Confucian saying: I hear and I forget, I see and I remember, I do and I understand."
Other collaborators on the project include: Adam Gerson, safety compliance officer at the Idaho Occupational Safety and Health Administration; Karin (KD) Hatheway-Dial, UI instructor; Jennifer Lastra, CEO and co-founder of 360 Immersive; and Stephanie Carter, senior industrial hygienist at Veritox.