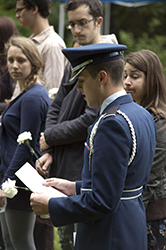 A logger, an electrician, and a firefighter are among the 14 men and women who died last year in King County from job-related injuries or illnesses. An event on April 25, 2014 organized by students at the University of Washington will honor these workers and the soldiers who have died.
"The Occupational Safety and Health Act assures workers the right to a safe and healthy job. Yet, more needs to be done to protect American workers from injuries, disease, and death," said Jacqueline Garrick, a PhD student studying environmental toxicology and one of the organizers of the event.
Some of the professions with documented fatalities, such as accountants and office managers, would be consider "safe" jobs; these tragedies, however, serve as a reminder that worker's safety promotion is needed across all fields, not just those considered dangerous professions, she said.
In 2012, 4,383 workers nationwide were killed on the job. The Bureau of Labor Statistics
 estimates there are three million job injuries and illnesses among private-sector workers and 793,000 injuries and illnesses among public employees. But due to underreporting, these numbers understate the problem.
The ceremony at the UW will include a formal reading of the names of the fallen workers from King County, Washington and a presentation by Michael Silverstein, former director of policy for the Occupational Safety & Health Administration (OSHA) and a former director of the Washington State OSHA program. He is a clinical professor of occupational and environmental medicine at the University of Washington School of Public Health.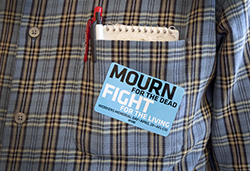 Open to the public, the UW Workers' Memorial Day observance is sponsored by the UW Department of Environmental and Occupational Health Sciences in collaboration with UW campus students, union leaders, UW Environmental Health and Safety, and the Harry Bridges Center for Labor Studies.
The event will take place Friday, April 25, 2014 in the Odegaard Library, room 220, beginning at 11:30 am with procession from Red Square.