The UW Superfund Research Program received a five-year, $10 million award from the NIH to continue studying the effects that environmental pollutants pose to the nervous systems of humans and fish.
[caption caption="Courtesy Washington Sea Grant" align="right"]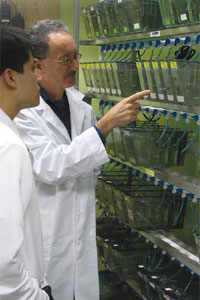 [/caption]
The program, housed in the Department of Environmental and Occupational Health Sciences in the School of Public Health, was one of the original national university Superfund research programs in the country when it was founded by the National Institute of Environmental Health Sciences in 1986. Superfund sites are highly contaminated properties designated for cleanup by the U.S. Environmental Protection Agency because of their potential impact on human health and the environment.
Researchers from across the University of Washington are focusing upon how three chemicals – cadmium, manganese and arsenic – from hazardous waste sites can affect cognition, olfaction and motor function in rodents and aquatic species. UW Superfund Research Program Director Evan Gallagher said the funding renewal will allow researchers to explore innovative biomarkers that help assess exposure, neurotoxicity and risk susceptibility in humans and fish. Such tools could help inform cleanup of contaminated sites and disease prevention strategies.
"The UW program is unique in that it addresses the effects of environmental pollutants that pose hazards to the nervous system, and which are associated with the public health risk to Alzheimer's disease and neurodevelopmental diseases," said Gallagher, a professor of environmental and occupational health sciences. "A critically important aspect of the UW Superfund program is addressing effects of pollutants in Puget Sound salmon."
The UW Superfund Program includes researchers from across the University and supports more than 30 scientists, administrative staff and graduate students at UW Seattle and UW Tacoma campuses.
[caption align="right" caption="Lower Duwamish Waterway"]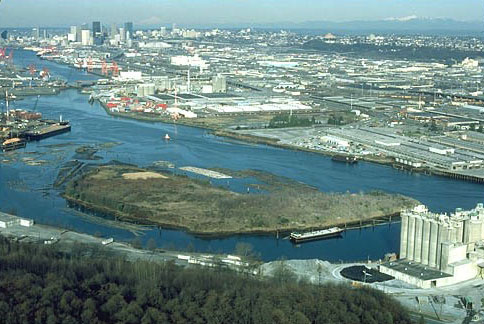 [/caption]
The research program consists of four projects:
Exploring how chemicals negatively affect the way salmon detect predators and prey, and other neurobehaviors (led by Gallagher)
Understanding genetic susceptibility to metal toxicity (co-led by Clement Furlong, research professor of medicine and genome sciences, and Lucio Costa, professor of environmental and occupational health sciences)
Studying cellular and molecular mechanism of cadmium neurotoxicity (led by Zhengui Xia, professor of environmental and occupational health sciences)
Evaluating the potential environmental health impacts of arsenic in shallow lakes (co-led by Rebecca Neumann, associate professor of civil and environmental engineering, and James Gawel, associate professor of environmental chemistry and engineering at UW Tacoma).
In addition, the Superfund Research Program features a Functional Genomics and Bioinformatics Core, led by Theo Bammler, which provides expertise in molecular techniques to all of the research projects, and a Training Core, led by Gallagher, which provides research opportunities to graduate students. Thomas Burbacher, professor of environmental and occupational health sciences, leads Community Engagement and Research Translation Cores that work with government agencies and community groups impacted by hazardous waste sites in the Pacific Northwest.
External source
DEOHS newsletter
URL
https://deohs.washington.edu/news/uw-superfund-program-receives-10-million-award-study-effects-pollutants-nervous-system