GO TO: Project Goals Project Collaborators Project Outcomes Communication Contact Media Español
Nestled between three major freeways and in immediate proximity to the world's busiest border crossing, San Ysidro is a small community in the southern part of San Diego. There are no regulatory air monitors in San Ysidro, and residents worry that government air monitoring is not adequately measuring air quality in their community. As a result, not enough is known about the day-to-day exposures that residents experience from air pollution.
---
San Ysidro Community Air Study
This project has the primary objective of understanding the air pollution health risks faced by the San Ysidro community and identifying solutions. San Ysidro, as a border community located at the California/ Baja California border, may face unique risks that are not experienced by other California communities. In collaboration with community partners, including Casa Familiar, research partners and government agencies we developing tools to measure and describe air pollution on an hourly basis.
The Community of San Ysidro
Of its 28,000 residents, 85% are Hispanic, 30% do not speak English well or at all, and 54% have less than a high school education. The median household income is 49% less than for San Diego County and 24% less than for California as a whole.
Initial CalEPA OEHHA-funded Low-cost Monitoring Network
Being close to the international border may result in exposure to pollution from lines of idling vehicles at the Ports of Entry, trade-related commercial trucks, and transport of pollutants from Mexico.  In January 2016, we engaged in extensive outreach through community workshops to learn about residents' air quality concerns and their ideas on where they would like to locate air monitors. In August 2016, the first air monitor was installed in the community. In June 2017, the collaboration launched a community website with real-time air data. This initial two-year project was funded by the California Office of Environmental Health Hazard Assessment (OEHHA).
The goals of this study phase (2016-18) were:
Assess community air quality needs and concerns.

Place 13 next-generation low-cost sensors in the community to assess air quality.

Collect air quality data on Particulate Matter (PM2.5), Ozone, Nitrogen Oxide, Nitrogen Dioxide Carbon Monoxide.

Support ongoing improvements in the built environment and public health.

Collaborate with the Imperial Community Air Study to merge the advanced community air monitoring efforts.

Provide data for CalEnviroScreen.
Provide the San Ysidro community with access to real-time air quality through the San Ysidro Air Monitoring Study website and interactive map (also shown below).
Real-time map of the San Ysidro Air Monitoring Study
Click here or image below to view real-time map.
Border 2020 Expansion (2019)
This project funded by the North American Development Bank out of the Border 2020 Program expands on the existing CalEPA-funded air quality monitoring network consisting of 12 multi-pollutant monitoring sites in the border community of San Ysidro, CA, by adding 6 additional monitoring sites in Tijuana, Mexico. Together these sites will provide comprehensive air quality monitoring data on both sides of the border. This network will allow for quantified measurements of different emissions reduction activities at the POE and better understanding of the human health benefits to area residents. To better understand cross border needs and air quality issues, this project counts on the collaboration of researchers of the Universidad Autonoma de Baja California (UABC).
San Ysidro Community Air Monitor Network Sustainability (2019)
The initial monitoring network, supported by the California Office of Environmental Health Hazard Assessment (OEHHA) is currently in need of improvements and replacement of monitoring equipment. A grant from the CARB administered Supplemental Environmental Projects Policy (SEPs) funding   provides for the sustainability of the monitoring effort through 2019. The project seeks to continue measuring changes in air pollution, identify areas of San Ysidro that are highly affected and identify potential mitigation strategies through community engagement.
Community Air Grant (2019-20)
Funding from the CARB Community Air Grants Program ensures that the impact of this project continues to grow, building off the successful partnership model for ongoing engagement with community residents developed by Casa Familiar and its academic partners, San Diego State University and the University of Washington. The project will conduct community-to-community outreach, technical training, and sustain and expand current community-led air monitoring network. The team includes a community steering committee made up of at least ten residents and a technical advisory group made up of experts primarily from academia and government agencies, to guide all phases of community air monitoring activities. The aims are to provide residents and governmental entities in the border area, data to understand air quality impacts from vehicular border crossings.
Information collected with being used to develop public health initiatives and projects aimed at reducing exposure in the San Ysidro border community. Over the course of the project, there will be at least three community-training events, the current monitoring network will be updated, and we will work to deploy 100 new ultra-low-cost PM sensors. The project includes a co-location plan in conjunction with SDAPCD, for hardware calibration and performance purposes, and a QA/QC development plan for monitoring. The project will also include language and visualization tools that are key to assuring all program concepts are communicated effectively in the border region, for all stakeholders.
Project Collaborators
Community Partners, including Casa Familiar, will inform the main goals and objectives of this effort. Community partners will be key in disseminating results of the study, identifying mitigation strategies and leading future efforts to reduce air pollution impact in the San Ysidro area.
Scientists from the University of Washington and San Diego State University will provide both equipment and technical guidance to maximize the quality of data collected. Type of pollutants measured, location of the monitors and analysis methods will be selected to best address the concerns raised by community partners. The scientists will oversee data collection and analysis.
Project Outcomes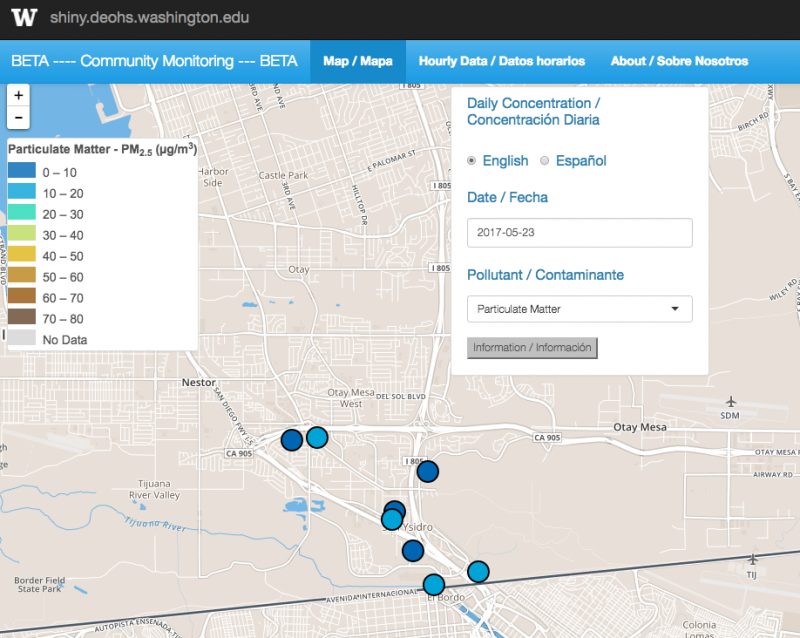 Project results will be shared with community partners on an ongoing basis through meetings and a dedicated website. We expect that our results will increase the community understanding of the geographic differences in the community with traffic pollutants, origins of pollutants and potential hazards to the community. Additionally, we hope to increase community knowledge and empowerment and provide guidance on future solutions. 
Access the project's data website via this link: www.syairstudy.org
...
---
Ubicado entre las tres principales autopistas y en las inmediaciones del cruce fronterizo más transitado del mundo, San Ysidro es una pequeña comunidad en la parte sur de San Diego. No hay monitores de aire reglamentarios en San Ysidro, y los residentes temen que el monitoreo de aire del gobierno no esté midiendo adecuadamente la calidad del aire en su comunidad. Como resultado, no se sabe lo suficiente acerca de las exposiciones diarias que los residentes experimentan debido a la contaminación del aire.
Estudio de la Calidad del Aire Comunitario en San Ysidro
Este proyecto tiene como objetivo principal comprender los riesgos a la salud debido a la contaminación del aire que enfrenta la comunidad de San Ysidro e identificar soluciones. San Ysidro, como comunidad fronteriza ubicada entre los estados de California/Baja California, puede enfrentar riesgos únicos que otras comunidades de California no experimentan. En colaboración con asociados de la comunidad, incluidos Casa Familiar, colegas de investigación y agencias gubernamentales, desarrollamos herramientas para medir y describir la contaminación del aire cada hora.
La Comunidad de San Ysidro
De sus 28,000 residentes, 85% son hispanos de los cuales 30% hablan poco, no hablan o no saben inglés, y 54% tienen escolaridad máxima de preparatoria. El ingreso medio por hogar es 49% menos que el del Condado de San Diego y un 24% menos que el del estado de California.
Red inicial de Monitoreo de Bajo Costo Financiada por CalEPA-OEHHA
Estar cerca de la frontera internacional puede resultar en la exposición a la contaminación causada por las líneas de vehículos inactivos en los puertos de entrada, camiones comerciales y el transporte de contaminantes desde México. En enero de 2016, participamos en una amplia difusión a través de talleres comunitarios para conocer las inquietudes sobre la calidad del aire de los residentes y sus ideas sobre dónde les gustaría ubicar monitores de aire. En agosto de 2016, se instaló el primer monitor de aire en la comunidad. En junio de 2017, la colaboración lanzó un sitio web comunitario con datos aéreos en tiempo real. Este proyecto inicial de dos años fue financiado por la Oficina de Evaluación de Riesgos para la Salud Ambiental de California (OEHHA).
Los objetivos de esta fase de estudio (2016-18) fueron:
Evaluar las necesidades y preocupaciones sobre la calidad del aire de la comunidad.

Colocar 13 sensores de bajo costo de próxima generación en la comunidad para evaluar la calidad del aire.

Recopilar datos sobre la calidad del aire en materia de partículas finas (PM2.5), ozono, óxido de nitrógeno, dióxido de nitrógeno y monóxido de carbono.

Apoyar las mejoras en curso para el entorno construido y la salud pública.

Colaborar con el Estudio de Aire de la Comunidad Imperial para fusionar los esfuerzos avanzados de monitoreo de aire de la comunidad.

Proporcionar datos para CalEnviroScreen.

Proporcionar a la comunidad de San Ysidro acceso a la calidad del aire en tiempo real a través del sitio web del Estudio de Monitoreo del Aire de San Ysidro y un mapa interactivo (también se muestra a continuación).
Mapa en tiempo real del Estudio de Monitoreo del Aire de San Ysidro:
Haga clic aquí o en la imagen de abajo para ver el mapa en tiempo real.
Frontera 2020 - Expansión (2019)
Este proyecto financiado por el Banco de Desarrollo de América del Norte con el Programa Frontera 2020, amplía la red existente de monitoreo de calidad del aire financiada por CalEPA que consiste en 12 sitios de monitoreo de múltiples contaminantes en la comunidad fronteriza de San Ysidro, CA, agregando 6 sitios de monitoreo adicionales en Tijuana, México. Juntos, estos sitios proporcionarán datos completos de monitoreo de calidad del aire en ambos lados de la frontera. Esta red permitirá mediciones cuantificadas de diferentes actividades de reducción de emisiones en el POE y una mejor comprensión de los beneficios para la salud humana de los residentes del área.
Para comprender mejor las necesidades transfronterizas y los problemas de calidad del aire, este proyecto cuenta con la colaboración de investigadores de la Universidad Autónoma de Baja California (UABC).
Presentación final del proyecto
Sostenibilidad de la red de monitores de aire de la comunidad de San Ysidro (2019)
La red de monitoreo inicial, apoyada por la Oficina de Evaluación de Riesgos para la Salud Ambiental de California (OEHHA), actualmente necesita mejoras y el reemplazo del equipo de monitoreo. Gracias a una subvención por parte de la Junta de Recursos del Aire de California (CARB) que tiene fondos para proyectos dentro de la categoría de política de proyectos ambientales complementarios, permite la sostenibilidad del esfuerzo de monitoreo hasta 2019. El proyecto busca continuar midiendo los cambios en la contaminación del aire, identificar áreas de San Ysidro que están altamente afectadas e identificar posibles estrategias de mitigación a través de la participación de la comunidad.
Subvención para el Aire Comunitario (2019-20)
Los fondos del programa subvenciones para programas de monitoreo comunitario por parte de CARB, aseguran que este proyecto continúe creciendo, aprovechando el exitoso modelo de asociación para el compromiso continuo con los residentes de la comunidad desarrollada por Casa Familiar y sus socios académicos, la Universidad Estatal de San Diego y la Universidad de Washington. El proyecto llevará a cabo actividades de extensión de comunidad a comunidad, capacitaciones técnicas y mantendrá y ampliará la red actual de monitoreo de aire liderada por la comunidad. El equipo incluye un comité directivo comunitario formado por al menos diez residentes y un grupo asesor técnico compuesto por expertos principalmente de instituciones académicas y agencias gubernamentales, para guiar todas las fases de las actividades de monitoreo de aire de la comunidad. Los objetivos son proporcionar a los residentes y entidades gubernamentales en el área de la frontera, datos para comprender los impactos en la calidad del aire de los cruces fronterizos vehiculares.
La información recopilada se utilizará para desarrollar iniciativas de salud pública y proyectos destinados a reducir la exposición en la comunidad fronteriza de San Ysidro. A lo largo del proyecto, habrá al menos tres eventos de capacitación comunitaria, la red de monitoreo actual se actualizará y trabajaremos para implementar 100 nuevos sensores de material particulado de costo ultra bajo. El proyecto incluye un plan de ubicación conjunta con el Distrito de Control de Contaminación del Aire de San Diego (SDAPCD) para fines de calibración y rendimiento de los instrumentos, y un plan de desarrollo de aseguramiento y control de calidad para el monitoreo. El proyecto también incluirá herramientas de lenguaje y visualización que son clave para asegurar que todos los conceptos del programa se comuniquen de manera efectiva en la región fronteriza, para todos los interesados.
Colaboradores del Proyecto
Sociedades comunitarias, incluyendo Casa Familiar, informaran las metas y objetivos del estudio. Además, la comunidad colaborará con científicos para seleccionar la localización de los 12 sitios de monitoreo. Las sociedades comunitarias serán la clave para obtener resultados en el estudio, identificando estrategias de mitigación e impulsando futuros esfuerzos para reducir el impacto de la contaminación ambiental en la comunidad de San Ysidro.
Científicos de la Universidad de Washington y de la Universidad Estatal de San Diego proveerán tanto los equipos como el conocimiento técnico para obtener información de la mayor calidad posible. Los tipos de contaminantes que se medirán, la localización de los monitores y el método de análisis serán seleccionados tomando en consideración las preocupaciones que tengan las sociedades comunitarias. Los científicos estarán supervisando la recolección de la información, así como su análisis.
Resultados del Proyecto
Los resultados del estudio serán compartidos con las sociedades comunitarias de manera regular mediante reuniones y con el uso de una página web. Se espera que los resultados incrementen el conocimiento de la comunidad para entender cómo las emisiones relacionadas con el tráfico, el origen de los contaminantes y el posible riesgo en la comunidad dependen de la localización geográfica. Adicionalmente, se espera empoderar comunidades y dar guía para futuras soluciones.
Para acceder a los resultados del proyecto por favor visite el sitio web en el siguiente enlace: www.syairstudy.org
Communication
Webinar (December 2016)
Earlier this month USEPA hosted a webinar with the purpose of sharing details about the OEHHA funded two-year San Ysidro Study. The study is a collaborative effort between government, academia, and community residents to establish a network of low-cost "next generation" air monitors in San Ysidro. Community residents are guiding and leading the study with support from academia and government. Data provided by the network of monitors will be able to capture neighborhood scale pollution impacts, inform future efforts to reduce impacts, and provide air pollution data on the border region for California's environmental screening tool, CalEnviroScreen.
Community Meetings
FRIDAY, JUNE 9, 2017.
Previous community meeting: Tuesday, March 23rd, 2016 at 5:30 PM.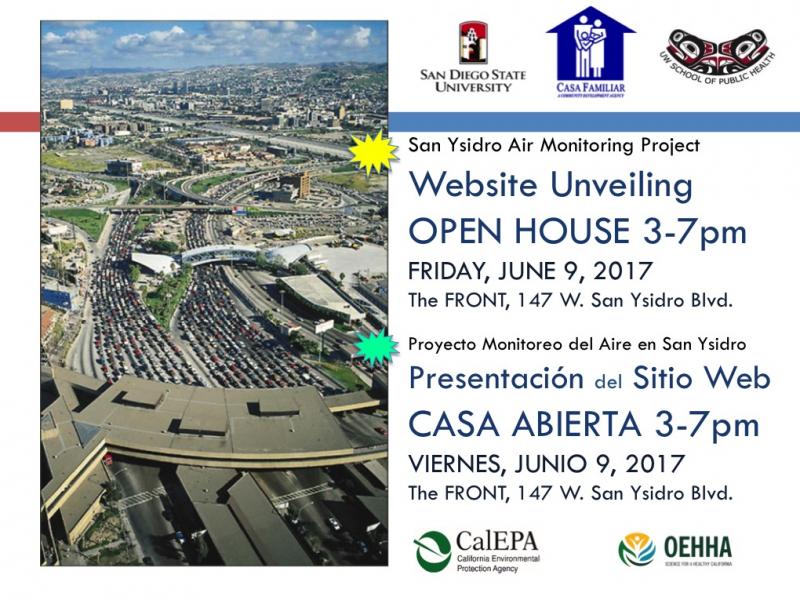 Border 2020 Adivsory Group Meeting Slides (6/27/2019)
Presentation to the project's US and Mexican Advisory Board members that describes the monitoring sites in Tijuana, Mexico, calibration of the air quality monitors, and preliminary results from the first months of deployment.  PDF of presentation 
Research Team Contact Information
IN ENGLISH:  
Edmund Seto

Principal Investigator
University of Washington
206-543-1475
Penelope (Jenny) Quintana, PhD, MPH

Co-Investigator
San Diego State University
619-594-1688
Elena Austin, ScD

Research Scientist
University of Washington
206-221-6301
...
IN SPANISH OR ENGLISH:
Javier Emmanuel Castillo Quiñonez, PhD

Co-Investigator
Universidad Autónoma de Baja California
David Flores, B. Arch.

Development Director
Casa Familiar
619-428-1115 
Vanessa Galaviz, PhD, MPH

Project Representative, 
State of California OEHHA 
916-323-9581 
Media Coverage
July 2018: State Grant to Fund Expansion of Air Quality Network in San Ysidro, Calif. GovTech.
June 2017: Air monitoring program in San Ysidro launches public web tracker. The San Diego Union Tribune.
May 2017: Yale Climate Connection radio story. Yale Climate Connections.
February 2017: In California's Imperial Valley, Residents Aren't Waiting for Government to Track Pollution. billmoyers.com.
January 2017: Program Focuses On Tracking Air Pollution At US-Mexico Border. KPBS Public Broadcasting.
September 2016: Stagnant Air: The Politics of Breathing at the Border. KCET. 
August 2016: San Ysidro Port of Entry to Track Air Pollution with 13 Monitors. Times of San Diego. 
August 2016:  San Ysidro will check its own dang air quality. San Diego Reader.
April 2016: Two-year project will study air pollution in San Ysidro from cars idling at the border. Los Angeles Times.
April 2016: San Ysidro residents brace for a busier border. Voice of San Diego.
April 2016: Nonprofit to study air quality in San Ysidro. San Diego Union Tribune.