Working with community partners to present Superfund-relevant science
The UW SRP community engagement core, active through June 2022, partnered with the Northwest Toxic Communities Coalition to identify topics of interest to community-based organizations working to protect their communities from hazardous waste hazards and promote effective cleanups. We hosted quarterly webinars available to the public on selected topics. Recordings of the most recent webinars are available below.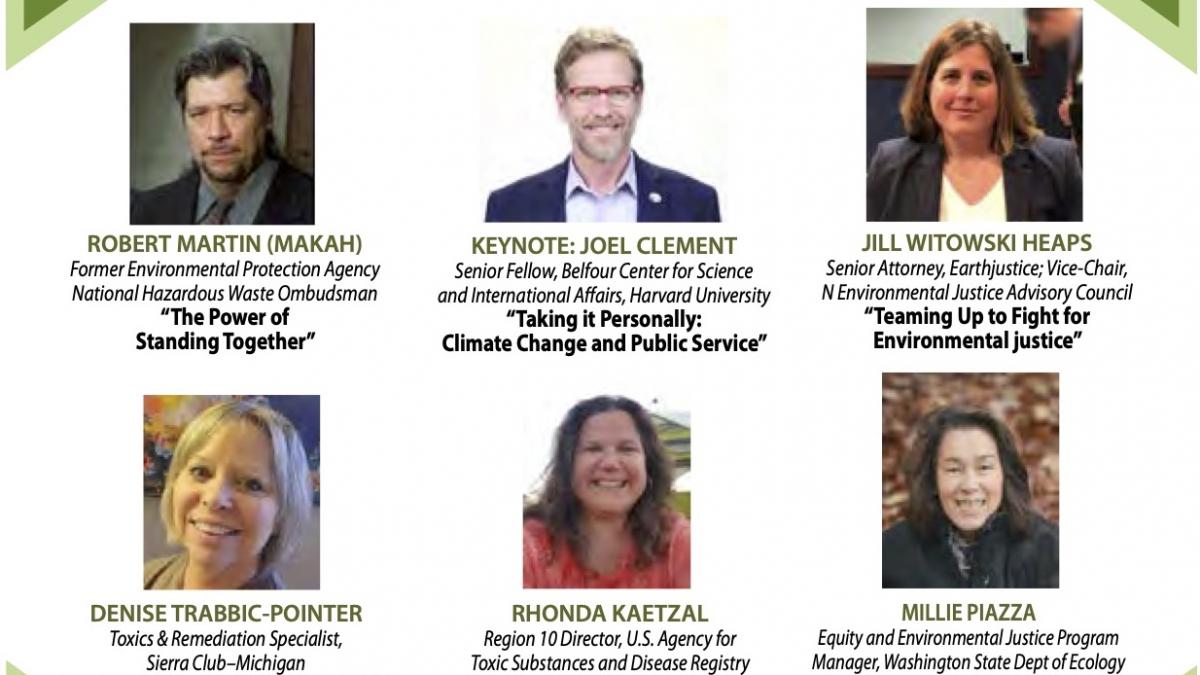 March 26 – NW Toxic Communities Coalition Summit 2022
Join us for the 13th Annual Summit of the NW Toxic Communities Coalition, in partnership with the UW Superfund Research Program This year's theme is "Together We Can – Scientists and Advocates Working Together to Promote Environmental Health." 
Click these links for the Summit poster and full agenda.
Visit NWTCC HERE.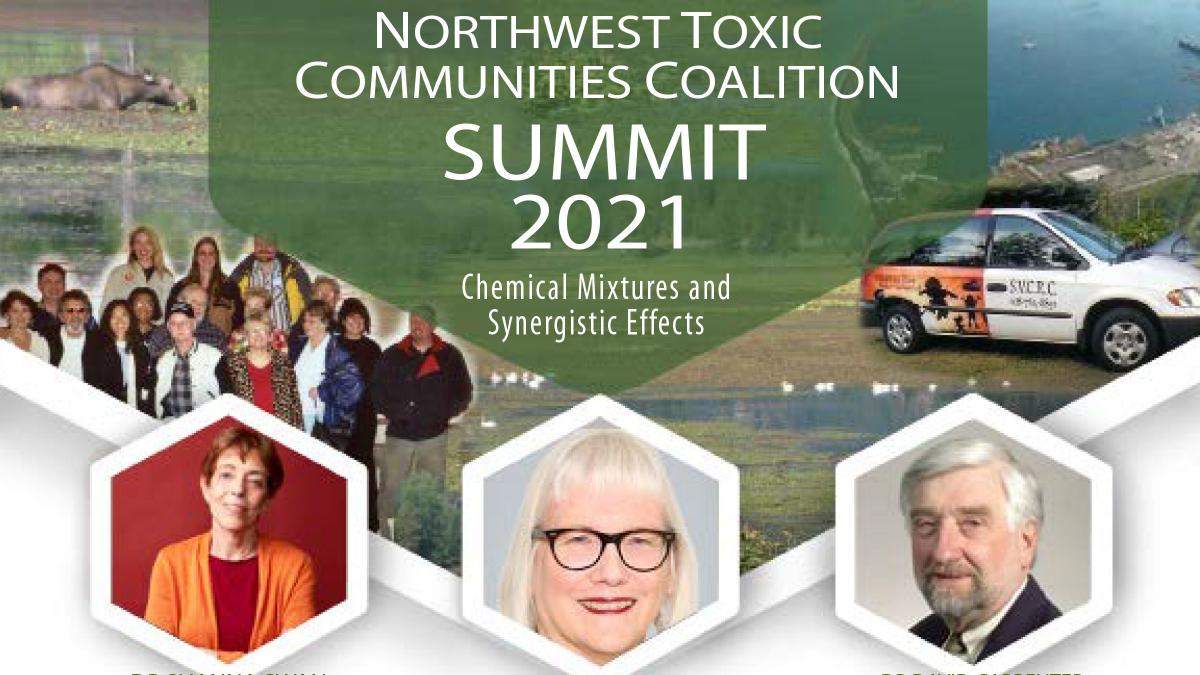 April 24 - NW Toxic Communities Coalition Summit 2021
Join us for the 12th Annual Summit of the NW Toxic Communities Coalition, connecting and empowering communities impacted by toxic waste to share resources, information and support for toxic cleanup efforts throughout the northwest and the nation.
Co-hosted by the UW Superfund Research Program.
View poster HERE.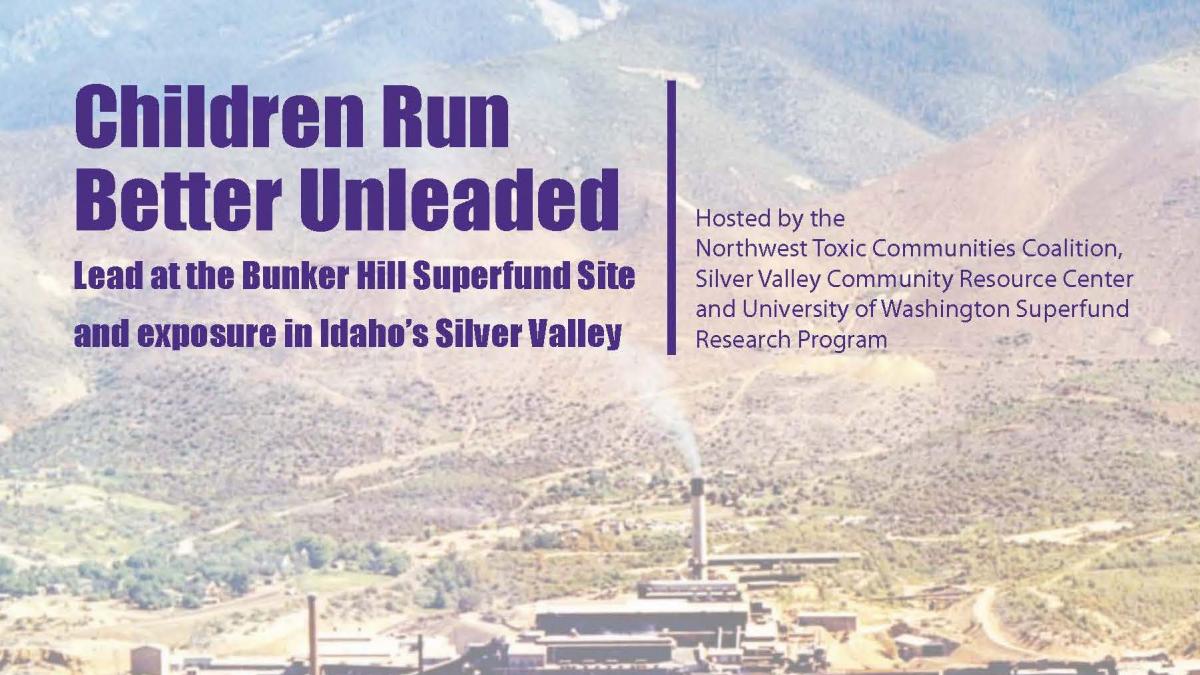 Oct. 13, 12-1:30 PM: Children Run Better Unleaded
Lead contamination linked to the Bunker Hill Superfund Site has been a cause of concern to health officials and citizens in Idaho's Silver Valley for decades. Hear from experts and advocates about successes and failures in cleaning up the area and protecting Idaho's children from lead exposure. Panelists: Dr. Steve Gilbert (UW), Rhonda Kaetzel (ATSDR), Barbara Miller (Silver Valley Community Resource Center).
Institutional Controls: A Case Study
Professor Cliff Villa of the University of New Mexico, Piper Peterson of EPA Region 10, and James Rasmussen of the Duwamish River Cleanup Coalition discuss EPA's Institutional Control Plan for fishers at the Duwamish Waterway Superfund Site. Presenters discuss details of the plan and lessons it offers for communities developing strategies to protect the health of fishers at contaminated sites nationwide.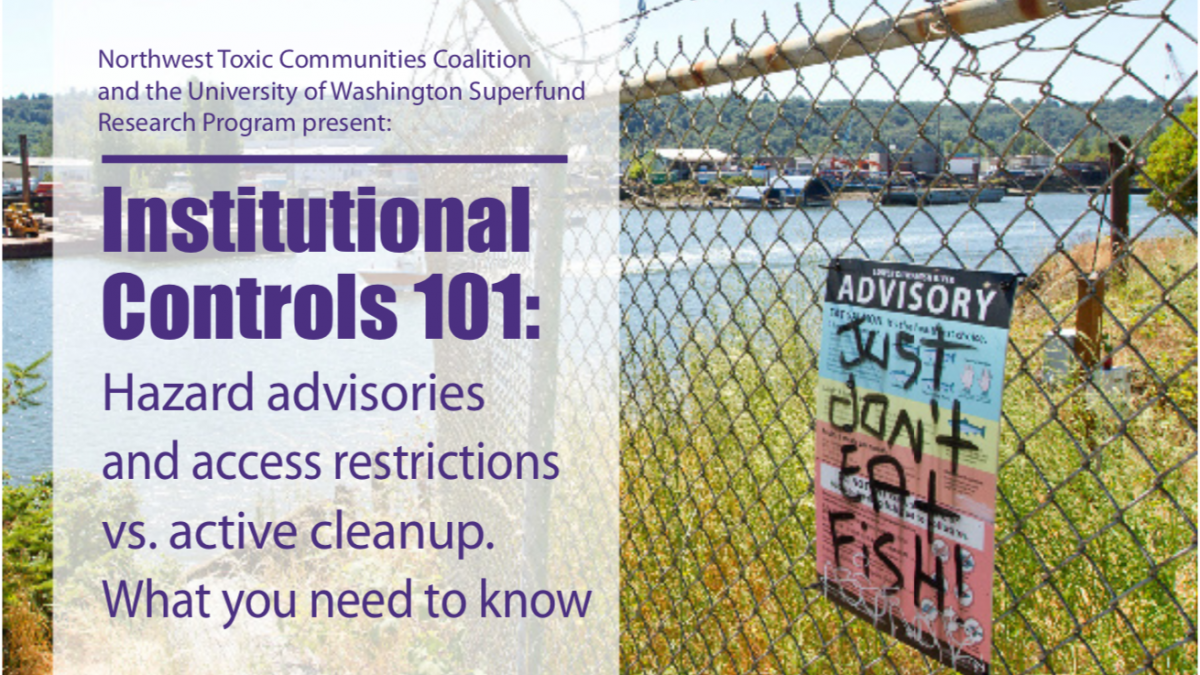 Institutional Controls 101
Institutional Controls (ICs) are hazard advisories and access restrictions commonly employed as treatments alongside active cleanup. Presenters Peter deFur of Environmental Stewardship Concepts and Cliff Villa of the University of New Mexico Law School discuss challenges, opportunities, and limitations of ICs based on U.S. case studies.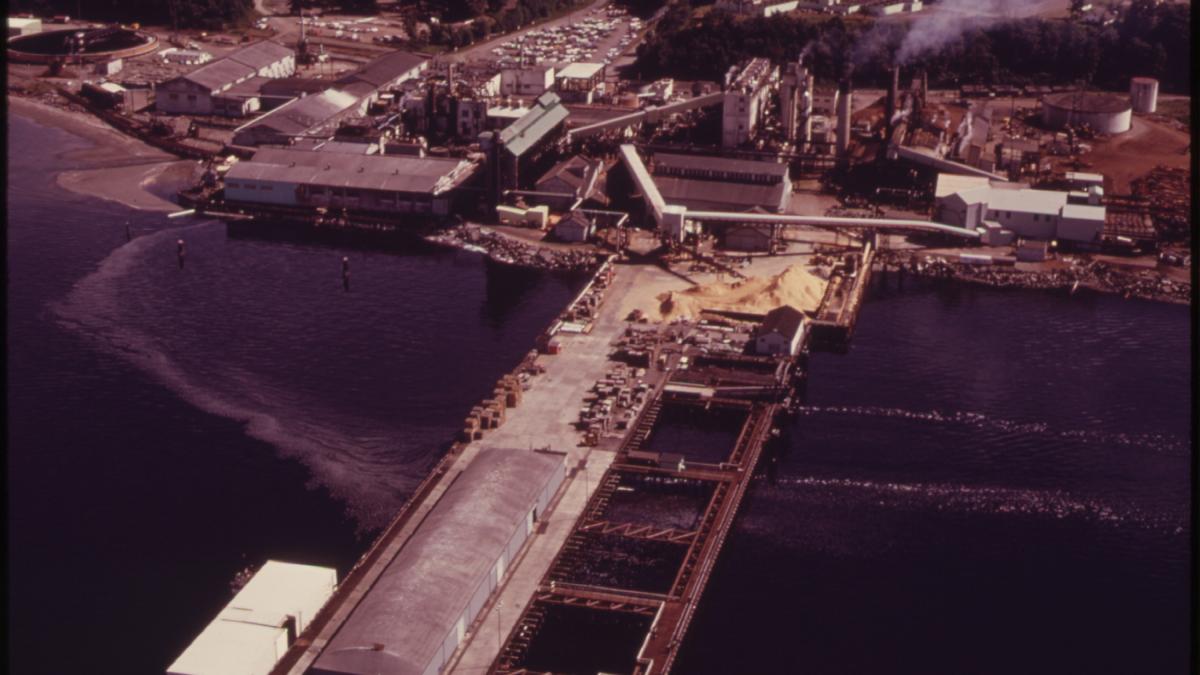 The Rayonier Pulp Mill Cleanup Plan
20+ years after the closure of the Port Angeles Rayonier Pulp Mill, the Washington Department of Ecology released a draft cleanup plan. Sediment, soil, and groundwater contaminants at the site include dioxins/furans, PAHs, heavy metals, PCBs, and phenols. Olympic Environmental Council's technical advisor, Dr. Peter deFur, describes proposed cleanup plan and how to get involved.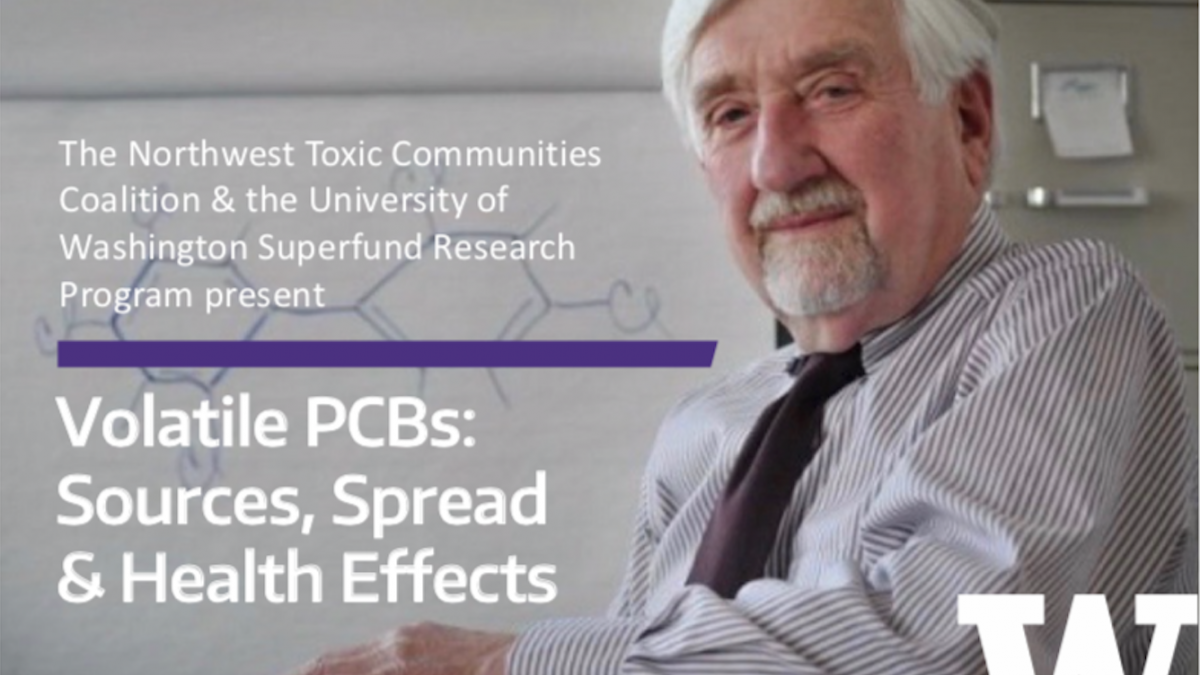 Volatile PCBs: Sources, Spread, & Health Effects
Volatile Polychlorinated Biphenyls (PCBs) can be inhaled as a vapor and may have more harmful effects than the PCBs that bio-accumulate in animal tissue and are ingested. Dr. David Carpenter from the University of Albany discusses the sources of volatile PCBs at hazardous waste sites, the routes of exposure, and consequent health effects.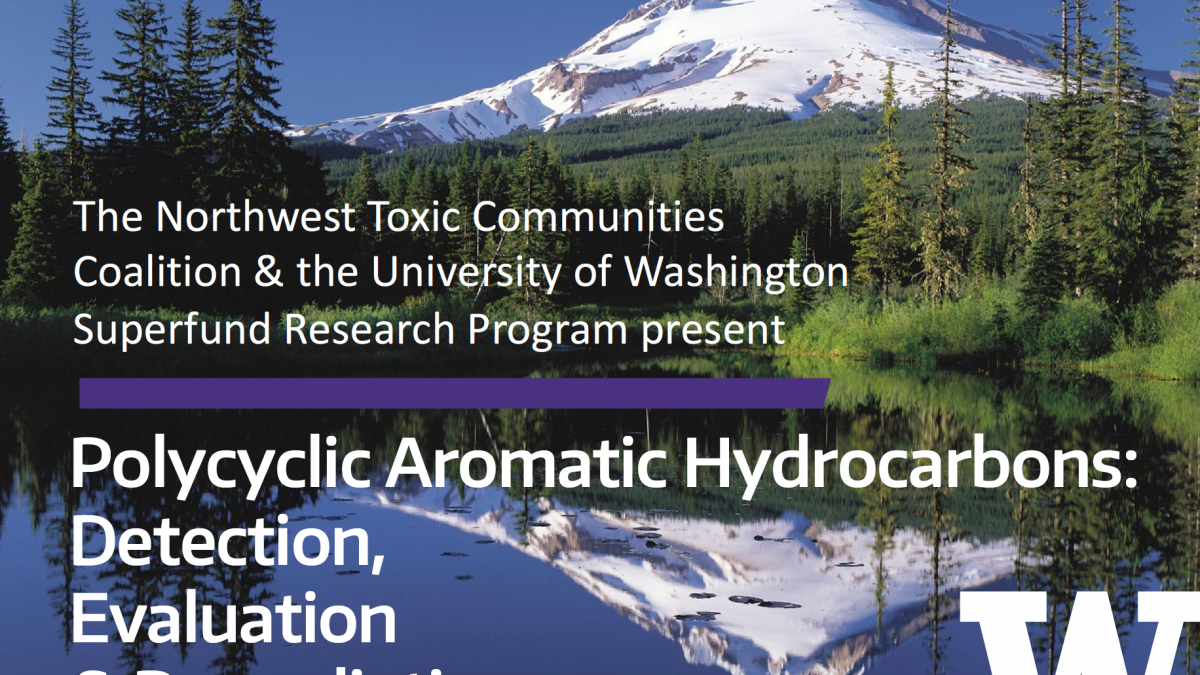 Polycyclic Aromatic Hydrocarbons: Detection, Evaluation, & Remediation
Polycyclic aromatic hydrocarbons (PAHs) are a class of naturally-occuring chemicals that are produced during the burning of coal, oil, gas, wood, garbage, and tobacco. People can be exposed to mixtures of PAHs by breathing contaminated air. Human health effects from exposure to low levels of PAHs are largely unknown; several PAHs are considered to be cancer-causing. In this webinar, Dr. Rohlman discusses methods for detecting, evaluating, and remediating PAHs.