Jennifer Otten, PhD, MS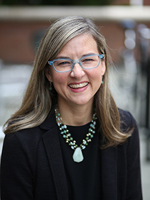 Associate Professor, Env. and Occ. Health Sciences
(Primary department)
Adjunct Associate Professor, Health Services
Jennifer Otten is an Assistant Professor in Environmental and Occupational Health Sciences, core faculty in the Nutritional Sciences Program, and affiliated with the UW Center for Public Health Nutrition. Dr. Otten received her BS in Nutritional Sciences from Texas A&M University, her MS in Nutrition Communications from Tufts University, her PhD in Animal, Nutrition, and Food Sciences from the University of Vermont, and completed a postdoctoral research fellowship at the Stanford Prevention Research Center in the Stanford University School of Medicine. She completed her dietetic internship at Massachusetts General Hospital, Boston. Between 1998-2006, Dr. Otten served in various capacities for the Institute of Medicine of the National Academy of Sciences in Washington D.C., including as a study director and as the organization's first communications director. During this time, Jennifer managed and staffed the inaugural years of the Kellogg Health of the Public Fund and served as study director and co-editor for the IOM's report titled Dietary Reference Intakes (DRIs):
The Essential Guide to Nutrient Requirements
. Click
here
 for Dr. Otten's Google Scholar Profile.
Links
See SPH page for list of articles about Dr. Otten.
Research Interests
Impacts of public health, nutrition, and food policies and the policy process on health behaviors and health outcomes. Food systems, as it relates to food and nutrition policy. Understanding and improving the ways in which research gets to the public policy table. Exploring the Effects of Wage on the Culture of Health in Early Childhood Education Centers. Seattle Minimum Wage Study.
Education
PhD, Animal, Nutrition, and Food Sciences, University of Vermont, 2009
MS, Nutrition Communications, Tufts University, 1998
BS, Nutritional Science, Texas A&M University, 1995
RD, Dietetics, Massachusetts General Hospital,