Affording food is such a challenge in Washington state that residents who experience food insecurity say their grocery bills are their biggest source of financial stress, more so than paying for rent or utilities.
That's one of the findings of a new food survey of Washington residents from December 2022 to January 2023, run by researchers at the University of Washington School of Public Health and Washington State University. This survey is the fourth wave of the long-term WAFOOD survey that's been conducted during the pandemic to understand how Washingtonians are accessing food amidst COVID-19.
These most recent results show that while most people in the state have had to make changes in their grocery shopping habits amidst inflation and supply chain shortages, in particular, residents who are Black, Indigenous and people of color (BIPOC), low-income residents and households with children are struggling to afford food. At the heart of food affordability in the state is economic insecurity, researchers and community leaders say.
These findings come as pandemic-era boosts to the federal Supplemental Nutrition Assistance Program (SNAP) are set to expire at the end of February. This means that in March 2023, those who use SNAP benefits will lose access to those additional emergency funds each month.
"Inflation is being felt at many levels, and that just puts people who are already at risk at even greater risks as some of these COVID boosts and extensions come to an end," said Jennifer Otten, one of the leaders of the survey team and associate professor in the UW Department of Environmental & Occupational Health Sciences (DEOHS) and the Nutritional Sciences Program in the UW School of Public Health.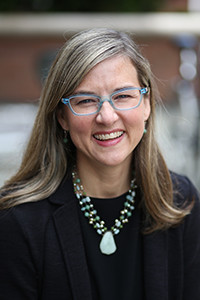 Nearly half of survey respondents report food insecurity
The survey included 5,052 responses from people representing every county in Washington state, with an oversampling of households who are lower income and accessing food assistance programs.
About 41% of people surveyed have incomes of $35,000 or less and 71% have incomes of $75,000 or less. This was intentionally done so that researchers could provide feedback for food assistance programs on what people using their services most need.
Among the survey respondents, 49% experienced food insecurity in the past month and 55% used food assistance in the past month. Food insecurity was higher among respondents identifying as non-Hispanic Black (47% reported very low food security), Hispanic (34%) or another race/ethnicity (34%), which includes American Indian or Alaskan Native, Native Hawai'ian or other Pacific Islander, and self-described race/ethnicity identities.
Researchers found that not only are people having trouble affording food, but many are unable to afford healthy food, as people experiencing food insecurity changed where and what they ate. Washingtonians said that they could not afford as much produce and meat as they used to, and many respondents in households with food insecurity rated their general health and diets as poor or fair.
Respondents seeking food assistance at food banks said they were likely to find healthy and familiar food options, while respondents seeking food assistance via newer mobile and delivery food programs that emerged during the pandemic said they only sometimes received healthy and familiar food options.
"Everyone is trying to cope with these food price increases"
The US Department of Agriculture found that food prices increased by about 10% in 2022 and predicted that they will increase by an additional 7% in 2023.
"Food is so much more expensive now than pre-pandemic," Otten said. "Our survey found that almost everyone is trying to cope with these food price increases in some way. But households experiencing food insecurity reported having to engage in many more price coping strategies in order to make ends meet, making it harder for them to access the right kinds of foods for a healthy lifestyle."
The WAFOOD survey is a joint effort between the University of Washington and Washington State University. The WAFOOD4 team comprises Jennifer J. Otten, associate professor, Nutritional Sciences Program (NSP) and DEOHS at the UW School of Public Health (UWSPH); Marie L. Spiker, assistant professor, NSP, Epidemiology and DEOHS at UWSPH; Jane Dai, PhD student, Health Systems and Population Health at UWSPH; Ashley S. Tseng, PhD candidate, Epidemiology at UWSPH; James H. Buszkiewicz, research investigator, Epidemiology at University of Michigan SPH; Shawna Beese, assistant professor of Rural Health Promotion at WSU Health Sciences; Sarah M. Collier, assistant professor, NSP and DEOHS at UWSPH; Alan Ismach, research coordinator, DEOHS at UWSPH.
For more information, contact Jennifer Otten.
Adapted from the full post here.