Now Retired, Charles Treser Still Teaches Healthy Homes is of Paramount Importance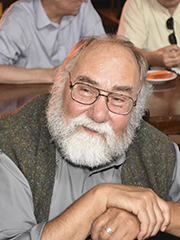 by Elizabeth Sharpe
Charles (Chuck) Treser sits in a tall-back chair in his fifth-floor office in the Health Sciences Building on the University of Washington campus. Treser's full mustache and beard are mostly gray and white. A mole under his left eye disappears when he smiles, which is often. He retired this summer from the Department of Environmental and Occupational Health Sciences, where he has been on faculty for the past 36 years. Now, principal lecturer emeritus, he continues to teach.
This room where he works lies along a crowded corridor. It feels less like an office and more like someone's personal library, like a den in a home. An old wooden desk stands sentry under a window, mostly bare except for a bronze swing arm table lamp with a old-fashioned shade. Overhead to one side hangs a framed vintage map of Ireland. A more utilitarian steel desk abuts the wooden desk to form an "L."
We spend more than half the hour talking about Ireland, where he has gone to visit nearly 15 times, where an old farm in Castletownroche about 45 minutes by car from Cork, keeps his suitcase between his visits. It's there where he returned for another month-long sojourn after celebrating his retirement. It's where he stays in a "self-catering" cottage, stocked with a liter of fresh milk, eggs from the farm hens, a tub of butter, a loaf of brown bread, and the kind of linens and towels any other Irish home would have. The place feels to him like home.
The home, he explains, is one of our important environments; it's where we spend eight to ten hours a day. Yet, it's the most difficult to keep healthy. Treser has been a sanitarian for 46 years. He is a public health professional deeply invested in healthy housing. A healthy home is properly maintained and free of pest infestations, pesticides, and contaminants that can cause allergies, asthma, and toxic exposures. A healthy home is safe; children are not inadvertently exposed to objects or situations that might cause injury or illness. Treser teaches a course on the subject for the Division of Housing and Community Health at the Northwest Center for Public Health Practice at the University of Washington.
He was elected a diplomate in the American Academy of Sanitarians and received the John P. Nordin Outstanding Sanitarian Award from the Washington State Environmental Health Association. He received a leadership award from the Public Health Seattle & King County. He was honored by the Public Health Practice Program Office at the U.S. Centers for Disease Control and Prevention and received a Distinguished Service Award from the American Public Health Association. The list of awards he's received covers more than one page in his curriculum vitae.
The section on his CV listing the classes he's taught runs six single-spaced pages. Over the course of a year, Treser has between 200 and 300 students in his classes.
He started working in education during the Vietnam War. Treser got his draft notice and his college diploma on the same day. Most of the three years, seven days, and some hours of service in the U.S. Army, he spent in Vietnam as an 82 Charlie, military slang for an artillery survey personnel (12 months) and then as an education specialist (6 months). He also administered GED exams to those in the service who had left high school before graduating and University of Maryland self-study courses.
When he finished with the service, Treser took a position at the Allegheny County Health Department in Pittsburgh, Pennsylvania. One of his first assignments was a model cities' program to regenerate neighborhoods. The city took over abandoned, vandalized, unfit-to-live-in homes. Later, he took a year off to get a master's degree in environmental and occupational health from the University of Michigan, Ann Arbor, which was the number one university in public health at the time. Treser got a 4.1 grade point average, two A pluses, one of them in a course on public health policy.
On the utilitarian steel desk in Treser's office sits his laptop beside a to-go ceramic Starbucks mug.
Nowadays, having a laptop is commonplace. But in 1980, when Treser was hired, personal computers were just starting to appear in the department. Jack Hatlen helped recruit Treser to the University of Washington as a lecturer and program manager for a distance-learning program in environmental health. Hatlen is now associate professor emeritus. He remembers Treser got one of the new computers. Treser learned MS-DOS and then when faculty got Macs, Treser learned that, too.
"He took to the systems like a duck to water," said Hatlen. Treser would later develop the department's first website—for the department's undergraduate program.
It was while in the distance-learning program, Treser developed a course in law and process, which became part of the Executive MPH program in the Department of Health Services and the Environmental Health Policy and Practice undergraduate course (Environmental Health 473).
With Hatlen, Treser helped start the Association for Environmental Health Academic Programs in 1999 and was the first president. Through this association, they connected with environmental health programs across the country and established an accreditation council.
"Chuck was always volunteering," Hatlen remembers. Treser was a college marshal in the University's commencement for 27 years. He chaired committees in the American Public Health Association. He was president of the Washington State Public Health Association and had several terms as secretary of the Washington State Environmental Health Association. He chaired the National Conference of Local Environmental Health Administrators.
"Chuck got in and did the work," said Hatlen. "He didn't just offer an opinion. If he says he will do something, you can count on him 110 percent. He is such a worker and producer."
Treser connected with people. He built relationships. That translated well for the undergraduates who he helped find internships. Since 2005, he advised 240 undergraduates during their internship experience, required for graduation for the BS degree.
Treser says he enjoys working with undergraduates; they want to do something meaningful with their lives.
"What's more important than clean air, clean water, healthy food, and a decent place to live? Students get this," he says.
"Chuck was very much a guardian of the rights of students and concerned about student welfare," said Marcia Killien, a professor emerita who served as secretary of the faculty until July 2016, a role she had for eight years.
She invited Treser to serve on a task force she co-chaired that was charged with understanding issues related to lecturers at the university and making recommendations to the Provost.
"He was thoughtful, hard working, an active participant who took the work of the task force seriously," she said of Treser.
Treser has been very active in the University of Washington's faculty governance since 1999. The UW has a strong tradition of shared governance—faculty working alongside the administration in the day-to-day governance of the university. From 2013-2015, Treser chaired the Faculty Council on Student Affairs, and was instrumental in updating and revising the Student Code of Conduct.
And active he remains, despite his retirement. This fall Treser is back to teaching and his usual routine: up before the rooster at 3 am and in to work by 5:30 or 6 am. He plans to continue to teach a subject he holds dear: Housing and Health (Environmental Health 443).