What is Environmental Health?
Environmental health is the study of how environmental factors can harm human health and how to identify, prevent, and control such effects.
Environmental health professionals work to: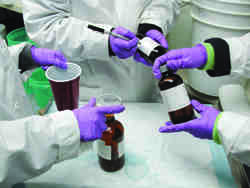 maintain a safe supply of food and drinking water
discover mechanisms of diseases caused by environmental exposures
treat and dispose of solid and toxic wastes
reduce air, water, food, and noise pollution
control workplace hazards
Environmental exposures cause hundreds of thousands of illnesses each year, including asthma and cancers. This interdisciplinary program addresses public health issues associated with exposures to human-caused and naturally occurring chemical and microbial contaminants in air, water, soil, and food. Graduates become professionals who work to identify, evaluate, and control exposures to environmental contaminants.