A disaster researcher in the UW Department of Environmental & Occupational Health Sciences (DEOHS) will help lead a new $19 million research hub focused on building community resilience to earthquakes, tsunamis and risks associated with climate change along the Pacific Northwest coast.
DEOHS Assistant Professor Nicole Errett will co-lead teams focused on community engagement, outreach and co-production of scientific research on disaster risk and risk management.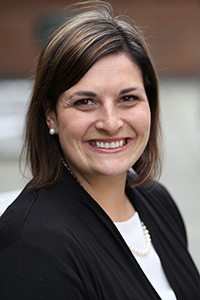 Her work is part of a new project funded by the National Science Foundation called the Cascadia Coastlines and Peoples Hazards Research Hub, which will work alongside coastal communities in Washington, Oregon and Northern California that are within the Cascadia Subduction Zone, an offshore fault that stretches from California to southern British Columbia.
The project brings together social scientists, geologists, engineers, public health researchers and other experts across multiple institutions. It is based at Oregon State University and led by OSU and the University of Washington.
"Our hope is to have a better understanding of the hazards coastal communities face; the strengths and vulnerabilities of their built, social and natural environments; and how communities can best prepare to manage their disaster risk," Errett said.
DEOHS is expected to receive $1.3 million over the next five years for the project. The hub's co-principal investigators at the UW are: Professor Ann Bostrom in the Evans School of Public Policy & Governance; Professor Harold Tobin of the Earth and Space Sciences department and the Pacific Northwest Seismic Network; and Alison Duvall, associate professor of Earth and Space Sciences.
Joining forces with community partners
Errett is co-leader of two teams:
The Community Adaptive Capacity team will work with communities to build resilience in the face of climate change and natural hazards by tapping into community assets, networks and other capabilities. The team will identify disparities that create unequal vulnerability to hazards such as earthquakes and flooding and inequitable access to planning and decision-making processes to plan for and recover from those disasters.
The Community Engagement and Co-Production of Coastal Hazards Knowledge team will build partnerships that recognize community expertise, engage underrepresented populations to identify research priorities and integrate hub research with coastal community needs.
Jamie Donatuto with the Swinomish Indian Tribal Community will be co-leader of the second team along with Errett and Amanda Murphy of Washington State University.
"To create solutions with community support, communities must see their own priorities and values reflected in those solutions," said Donatuto, Swinomish environmental health analyst.
"This is particularly important with Indigenous communities. They have unique worldviews that may not easily integrate into Western ways of working," she said. "It's about uplifting the knowledge of Indigenous peoples who have been on this land and these waters since time immemorial and acknowledging that their ways of knowing are unique and run deep."
A partnership of local and academic expertise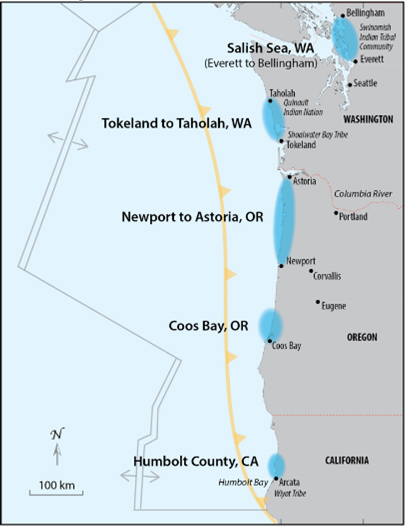 Community engagement will be critical to the project's success, Errett said.
Errett and her teams will create partnerships with an array of stakeholders—from tribes and government officials to community leaders and residents—to integrate community perspectives and local knowledge into culturally relevant solutions.
"It's about joining forces with communities and being guided by what they need," Errett said.
The community collaborations, engagement and outreach will focus on five geographic areas: Humboldt County, California; greater Coos Bay, Oregon; Newport to Astoria, Oregon; Tokeland to Taholah, Washington; and Everett to Bellingham, Washington.
The research hub will offer opportunities for student researchers as well, Errett said. "They'll be applying their skills to solve real-world challenges our coastal communities face."
Dozens of collaborators
Working side by side with communities to co-create and produce scientific research "creates a pathway for science to influence policy and practice," Errett said.
Scientists at public institutions have an obligation "to make sure the science we're generating has benefits beyond our four walls," she said. "We're telling communities: We will research with you to find the answers you need, and those answers will help people in other communities as well."
Bringing together dozens of scientists, project leaders, partner organizations and community collaborators with multiple perspectives can make the process of finding those answers challenging, Errett acknowledged.
"But at the end of the day, it makes everything better. That local perspective is so critical and brings a level of understanding of what the problems really are that no research paper I can read is going to tell me."