Champion of ergonomics
November 21, 2019 | Amanda Pain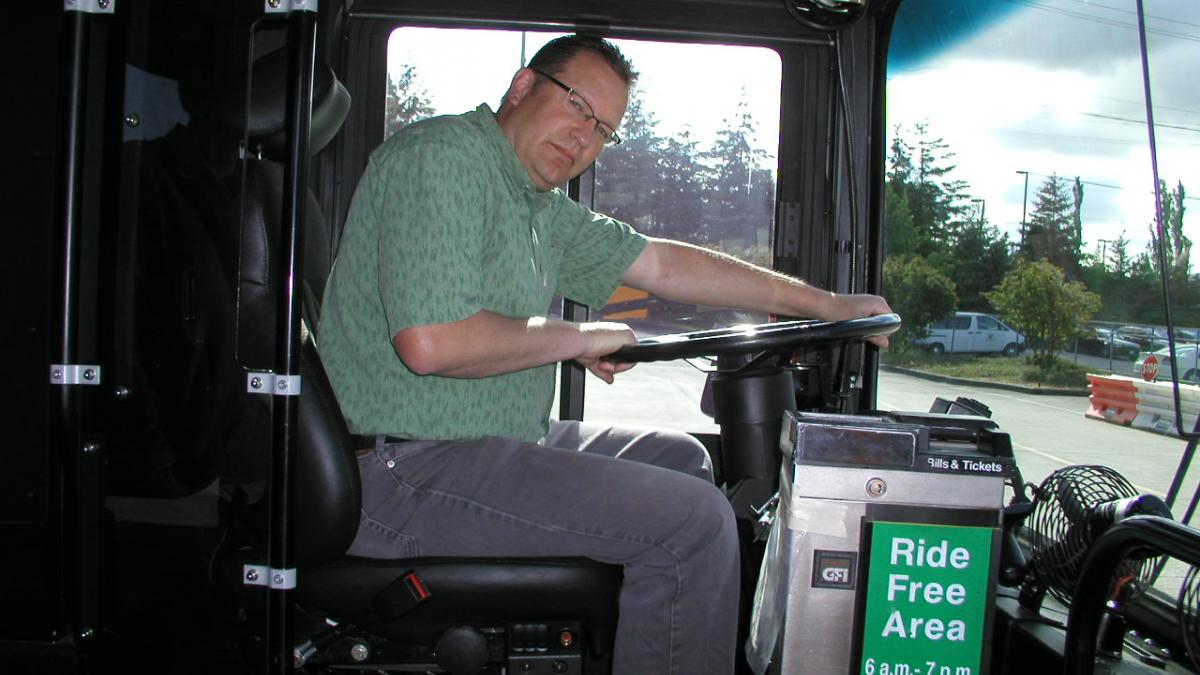 DEOHS Professor Peter Johnson, founder of UW ErgoLab, to retire after 18 years
After 18 years at the University of Washington, Peter Johnson, professor in the Department of Environmental & Occupational Health Sciences, will retire in mid-November.
Peter W. Johnson
Professor, UW Department of Environmental & Occupational Health Sciences
Adjunct Professor, Industrial and Systems Engineering
Joined DEOHS faculty:
2001
Proudest Achievement:
King County Metro is now using new bus driver seats after Johnson's research team proved the seat was safer for drivers and could save King County $4.6 million in workers' compensation claims.
"I will miss interacting with students and something I call the 'research rush' when you discover new things. There are very few things like it."
- Peter W. Johnson
During his academic career, Peter Johnson established the UW ErgoLab, which conducted field and laboratory exposure assessments to prevent worker musculoskeletal injuries.
Johnson retires this month as professor in the UW Department of Environmental & Occupational Health Sciences.
Johnson succeeded in applying research directly to industry practice in the manufacturing of computer devices, as well as driver seats for buses and semi-trucks.
"The field of ergonomics is rewarding because it is often easier to identify the cause and effect, unlike other occupational exposures," Johnson said. "With good science, you have the ability to have a major impact on worker health."
From engineering to ergonomics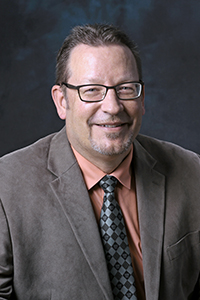 Johnson became interested in ergonomics as an undergraduate in industrial engineering because he liked the idea of helping people in the workplace. After graduation, his interest was further cemented in his first job.
"I started working at Hewlett-Packard (HP) in 1988, when Windows-based computing environments were very popular," Johnson said
It was then that Johnson said he experienced "inspirational dissatisfaction." He decided to go back to school for a PhD in Bioengineering from the University of California, Berkeley. Since then, Johnson's 20 years of research has focused on reducing musculoskeletal injuries in workers, which he said account for over 40% of workers' compensation claims every year.
Johnson spent the first 10 years of his academic career working with HP, Microsoft and Logitech researching the design of new tablets, notebook computers, keyboards and mice, as well as working with Steelcase on the design of ergonomic office furniture.
In 2006, a former UW graduate student, working as the head of workers' compensation claims for King County, unintentionally launched Johnson into the next phase of his research career: studying whole body vibration (WBV).
Whole body vibration
Johnson learned that one-third of all workers' compensation claims were due to low back injuries, but it was unclear why.
Johnson received a small grant and quickly discovered that changing the seats used by bus drivers for King County Metro used could reduce the adverse effects of WBV. In addition to musculoskeletal problems, WBV can negatively impact the liver, kidneys, reproductive organs and digestive system.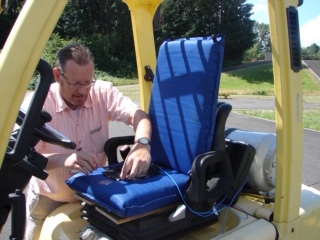 Johnson said he is proud of his research team for directly linking research and practice.
In recent years, Johnson tested a safer bus driver seat and found it reduced WBV exposure by 50%, and a related study conducted by one of his MPH students discovered King County could save $4.6 million in workers' compensation claims by installing the seats on county buses. King County Metro has announced it will now purchase safer seats for bus drivers.
Real world impact
Johnson is internationally recognized for his WBV work and for his impact on industry policy and practice through his participation in the American National Standards Institute's WBV Committee and the International Standards Organization WBV Committee.
While Johnson is retiring from UW full-time, he is not done impacting occupational health.
Johnson now owns a start-up company that is designing a new seat suspension system for truck and bus drivers. Once commercialized, he hopes this seat will be his biggest contribution to public health. In addition to reducing WBV exposures, the new seat design may be less expensive to manufacture.
Johnson also plans to work as an ergonomics industry consultant and will serve as a member of Logitech's scientific advisory board while continuing to contribute to the UW in an academic role.
"Professor Johnson has contributed immensely to occupational health through product improvement and informing policy and standards to reduce worker injuries," said Hyoung-gon "Frank" Ryou, PhD student in environmental and occupational hygiene and Johnson's advisee.
"I wish him luck in the next phase of his career, and I know he will continue to make a huge impact on worker health."