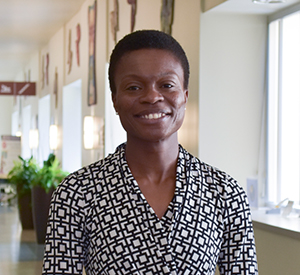 When the COVID-19 pandemic first hit Washington last spring, the race was on at the UW Occupational and Environmental Medicine (OEM) Clinic in Seattle to make sure patient care wasn't interrupted.
The clinic, located at Harborview Medical Center, treats patients who are injured or sickened on the job. For these workers, access to consistent care is essential: The odds of returning to full-time work following a workplace injury or illness drop sharply the longer a worker is off the job.
In just two weeks, the OEM Clinic pivoted from nearly all in-person visits to nearly all phone and telemedicine visits.
"It was part of an all-hands-on-deck effort to prepare for a surge in coronavirus cases across Harborview and UW Medicine," said Dr. Esi Nkyekyer, the OEM Clinic's medical director and clinical assistant professor with the UW Department of Environmental & Occupational Health Sciences (DEOHS).
The OEM Clinic is a collaboration among DEOHS, Harborview, UW Medicine and the UW Division of General Internal Medicine.
Getting ready for telemedicine
Doctors at the clinic see more than 300 patients each year who have been injured or become ill from exposure to chemicals or other hazards at work.
While the clinic's health care providers had some experience with phone visits, the shift to telemedicine introduced new layers of complexity. Nkyekyer called the rapid transition "hair-raising and intense."
With Harborview's support, the team moved fast to train providers on how to use telemedicine, install webcams and headsets and set up new processes for working with patients.
From the comfort of patients' homes
In the months since, both patients and providers have learned to appreciate the benefits of telemedicine. Care has actually become more accessible for some patients.
"We're hearing from a lot of patients who live farther away in Eastern Washington that they are grateful not having to drive three or four hours to see us," she said.
"I've enjoyed it much more than I thought I would," she said. "The process of seeing a patient through telemedicine in some ways has been more personal and gives me an eye into a patient's home life that can give additional insights about their care."
In one case, she said, a patient with a shoulder injury had been anxious about her progress and her interactions with claims processors as she sought workers' compensation coverage for her injury.
After moving to video calls for follow-up visits, "she was like a totally different person—much more comfortable and less anxious. I could tell it was a different experience for her being in her own home," Nkyekyer said.
Telemedicine has also created opportunities for doctors to interact more closely with medical trainees, sitting in virtually to observe their interactions with patients and providing real-time feedback.
Still, Nkyekyer said, "I do miss the face-to-face contact and the actual laying of hands on patients because that's what most of us went into medicine to do."
Helping UW employees through COVID-19
The shift to telemedicine and phone visits in the spring coincided with a rise in University of Washington employees testing positive for COVID-19 who needed help filing workers' compensation claims.
The OEM Clinic partnered with the Center of Occupational Health and Education (COHE) at Harborview to create new resources and processes to ensure workers could file timely claims.
They also offered guidance as Harborview set up a COVID testing site for its employees.
The Harborview COHE is part of a statewide network of programs supported by the Washington State Department of Labor & Industries (L&I) to reduce work-related disability through education and training.
An FAQ created for UW employees eventually was shared statewide as a resource for all workers navigating the L&I claims process. COHE staff across the network have shared tips and best practices on telemedicine and claims processing during the pandemic.
Ready for the next wave
With COVID cases ticking up in Washington and flu season on the horizon, Nkyekyer said health care providers are gearing up for what could be a tough winter.
"My sense is that if we see another wave of COVID this winter, we're set up well," Nkyekyer said. "We know what to do, and it's reassuring that we have the processes in place to respond quickly."
Nkyekyer is also acting assistant professor in the UW Department of Medicine, Division of General Internal Medicine, and Spector is associate professor in the same division.