"OK, who do we have next?"
Dr. Esi Nkyekyer leans forward, listening intently as a medical fellow describes her next patient.
The case: A middle-aged man who washed cars for a living but has been unemployed since developing carpal tunnel syndrome on the job. He feels numbness and tingling in both hands even after surgery.
The patient also has diabetes but isn't currently being treated for it. (Could nerve damage from diabetes also contribute to the numbness and tingling he is experiencing, Nkyekyer wonders?)
One more thing: The man says he is desperate to get back to work. His primary-care doctor says he can't return to his previous job. But other medical providers who have evaluated him say he is well enough to resume any kind of work.
"So," Nkyekyer sums up, "it seems to me we need to break this bottleneck."
About the OEM Clinic
Established in 1981 as one of the country's first clinics dedicated to occupational and environmental medicine.
Major funding comes from Harborview Medical Center, the state of Washington through the Medical Aid and Accident Fund and other sources.
Designated by the Washington State Department of Labor & Industries as a center of excellence for chemically related illnesses.
Treating 300+ patients each year
"Bottleneck-breaker" is an apt description for the Occupational and Environmental Medicine (OEM) Clinic, where Nkyekyer (pronounced en-CHE-cher) is the newly appointed medical director.
Here, doctors who specialize in preventing, diagnosing and treating work-related and environmental health issues see more than 300 patients each year who have been injured or become ill from exposure to chemicals or other hazards at work.
Their cases can be uncommonly complex, requiring multiple specialists, a highly customized approach to health care and a clinical and administrative team that works together to address patient needs and barriers to recovery.
The clinic—located at Seattle's Harborview Medical Center—is a collaboration among DEOHS in the UW School of Public Health, Harborview, UW Medicine and the UW Division of General Internal Medicine in the Department of Medicine.
When is it work-related?
On a recent day, patients visiting the OEM Clinic included:
A hair stylist who lost her sense of smell after years of chemical exposure in her workplace.
A surgeon worried about pain in her hands after years of using medical equipment designed for male doctors.
A hospital worker who was hit in the back with a piece of heavy equipment on the job and hasn't been able to control the pain.
The clinic also serves as a referral center for workers at the Hanford Nuclear Reservation who have experienced chemical exposures or injuries on the job.
Patients may have multiple health issues—some work-related, some not—that can impact their ability to return to work, said Nkyekyer, a Yale-trained physician who completed an occupational and environmental medicine fellowship at the UW.
A care provider's decision about whether an injury or disease is work-related has important financial, legal, policy and workplace implications that may go beyond a single patient, potentially affecting many other workers.
A ripple effect on families, communities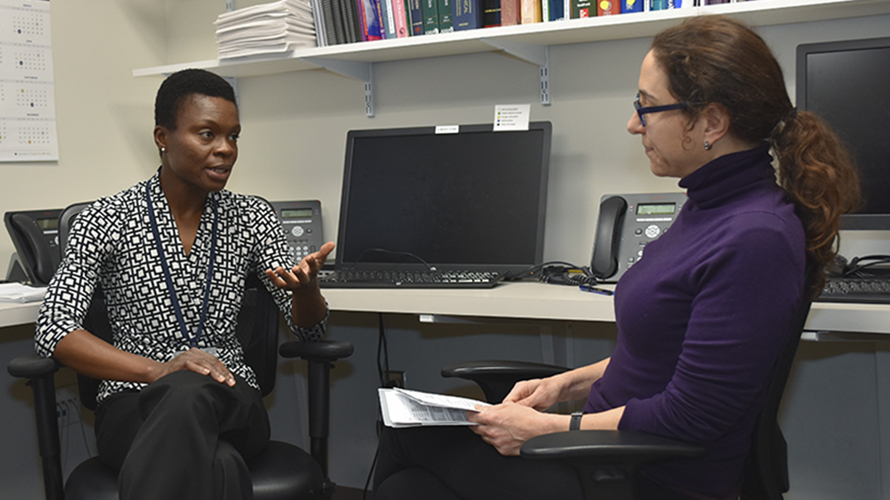 Work injuries and illnesses can affect any part of the body, so the team includes multidisciplinary experts from orthopedists to pulmonologists.
Recently, the clinic launched a new practice area exclusively focused on treating people who work with animals.
"We're like the doctors for your life. We're taking care of your work-related injury or exposure, and . . . we also want to help you get your life back," Nkyekyer said.
Research shows the longer an injured worker is off work, the more likely he or she is to become disabled and unable to work, with a ripple effect on their families and communities.
Coordinating care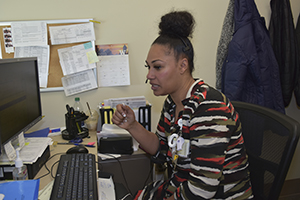 The clinic plays a central role in coordinating across the many agencies and individuals involved in each case, including:
Other medical providers.
Rehabilitation specialists.
Exposure scientists.
Vocational counselors.
Employers.
The state Department of Labor & Industries and other workers' compensation insurers.
Each case generates a mountain of paperwork that needs to be completed under strict deadlines to ensure the worker qualifies for medical and employment benefits and that care is not delayed.
"These are people who have hit so many barriers," said Sherrill Simmons, clinic program coordinator. "I hear a lot of them saying they're depressed or worried about what happens if they get reinjured."
Educating employers and workers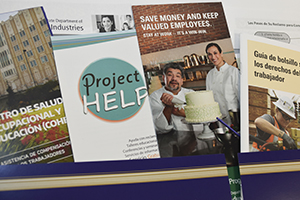 For Nkyekyer and the rest of the clinic's specialists, the patient in front of them is often just the beginning of the story.
An individual injury or illness could represent a sentinel case, signaling that other workers may be at risk in the same workplace or industry for similar injuries or illnesses.
Medical specialists may work with the clinic's industrial hygienist, experts in the DEOHS Field Research and Consultation Group and others to evaluate health and safety conditions at the patient's workplace.
"We're intervening at the individual level and at the population level," Nkyekyer said. "We provide education to each individual patient. But even bigger than that, we're talking to employers about what they can do to ensure a safer workplace."
The OEM clinic is the primary clinical training site for occupational and environmental medicine residents and fellows, many of whom end up caring for patients across the Pacific Northwest. Specialists also conduct medical screening and surveillance activities for individuals in high-risk occupations.
Seeing the big picture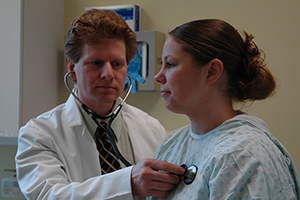 That ability to see both the patient and the bigger population health issues means doctors at the OEM Clinic can catch and address things others may miss.
A man in his 40s who suffered a back injury at work recently went to the clinic for an assessment by Dr. June Spector, DEOHS assistant chair and UW director of occupational and environmental medicine.
Despite having back surgery, he was still in so much pain he couldn't return to work or participate in job retraining.
But Spector also noticed a couple other things: The patient suffered from hearing loss and had an unidentified mass in his groin. Could the mass be a work-related hernia, she wondered?
She learned that he hadn't been able to wear hearing protection at his workplace because part of his job was to listen for incoming phone calls.
"He was feeling pretty discouraged," Spector said. "All of this was affecting his ability to think about his future and to interact with his kids."
In addition to treatment and physical therapy for his back pain, Spector ordered an imaging test for the mass and an audiogram to check his hearing—tests that could indicate whether he is eligible for additional support from workers' compensation insurance.
"The back injury was the only focus for months. If you go in with blinders, you can miss all the other things going on," Spector said.