Christopher Alawode
MPH, Occupational and Environmental Medicine
Hometown
Rancho Cucamonga, CA
Future plans
Working as an Occupational Medicine physician, perhaps in a rehabilitation center.
"With training in occupational and environmental medicine, I will be able to support workers in returning to their jobs."
- Christopher Alawode
I am a second-year trainee in the UW Occupational and Environmental Medicine (OEM) MPH program with previous training in Neurology. Following a non-work related injury and my frustration with navigating return-to-work responsibilities, I decided to pivot away from Neurology and transitioned to OEM.
The experience gave me a mild snippet of what it is like to require physical, speech and occupational services myself. In addition to appreciating those services, I also wanted to help other people who may find themselves in a similar situation. With training in OEM, I will be able to support workers in returning to their jobs.
As an OEM trainee, I work at clinics including the Veterans Health Administration, Kaiser Permanente On-The-Job and the UW's Harborview Medical Center. In addition, trainees have the unique opportunity to work with Dr. Betty Ann Cohen, an occupational medicine physician who owns and operates a private practice called The Healthy Worker Clinic in Yakima, Washington. This past summer I spent a few weeks working there.
Experience at the Healthy Worker Clinic
The Healthy Worker Clinic primarily functions as an occupational medicine clinic to serve agricultural, blue-collar and white-collar workers in the Yakima Valley. The clinic provides Department of Transportation (DOT) physicals, agriculture and pre-employment physicals, drug and alcohol testing, respiratory evaluations through mask-use clearance and fitting and worker injury evaluations.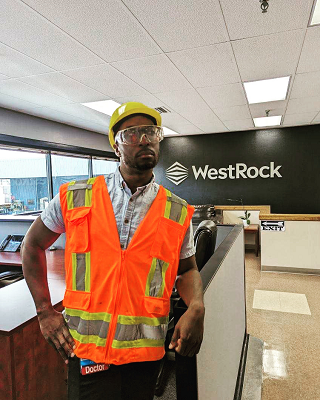 As UW OEM trainees, we conducted most of the DOT, agriculture and pre-employment physicals, and observed drug and alcohol testing.
One of my most memorable cases was a Spanish-speaking patient who came in with ankle sprain as part of a worker's compensation claim. The patient also had worsening Bell's palsy, a condition that causes sudden, though usually temporary, weakness in the muscles on one side of the face.
The emergency department initially treated the patient, but the patient's daughter said his Bell's palsy was worsening. He did not have a primary care doctor, so Dr. Cohen and I decided to bolster the treatment of his Bell's palsy through care separate from his worker's compensation claim. The following week, I witnessed improvement in the patient's facial palsy!
Another memorable case was of a male patient in his mid-20s trying to return to work as a forklift driver. During my DOT physical examination, I discovered he had a heart abnormality. We recommended he establish care with a primary care provider and see a cardiologist who could evaluate his case and provide potential clearance to return to work.
Next steps in my career
My work at the Healthy Worker Clinic strengthened my conviction that I would prefer not to work in a private practice as a solo Occupational Medicine physician. Instead, I would like to have ancillary services readily available, such as audiology, physical therapy or speech therapy, in the same space or clinic.
My goal is to perform many of the tasks I did at the Healthy Worker Clinic at a health maintenance organization such as Kaiser or Concentra. I am considering working at a rehabilitation center such as Northwest Return to Work, Rehabilitation Institute of Washington or even other similar settings in my home state of California.
Reflections on the OEM training program
The OEM program provides a plethora of rotations to customize each trainee's individual experience. Additionally, the program supports an industrial hygienist who is available for the litany of exposure cases that I face in clinic as well as phone or in-person interpretation services for patients who speak another language. I am very grateful for this training opportunity and I look forward to translating what I have learned into a fulfilling career.