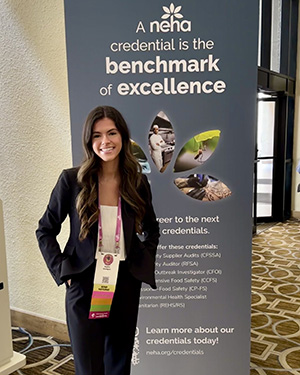 As an undergraduate at the UW, Sophie Goodgion had never been to a scientific conference. Then, as part of the prestigious National Environmental Public Health Internship Program (NEPHIP), she was offered an all-expenses-paid scholarship to attend the National Environmental Health Association (NEHA)'s annual meeting in New Orleans. She was excited but also unsure about going to a conference on her own.
But when her mentor for her NEPHIP internship with the Tacoma Pierce County Health Department said she was planning to go to the meeting, and encouraged Goodgion to come along, she was sold.
Around the same time, Applied MS student Tania Vallejo was talking with her adviser, Assistant Teaching Professor Emily Hovis, about submitting their research to the NEHA conference. The project is focused on the health impacts of neighborhood share pantries and refrigerators.
Vallejo had been a big fan of conferences since attending her first one soon after she had been accepted to the UW Department of Environmental & Occupational Health Sciences (DEOHS). At a meeting of the American Industrial Hygiene Association, she received a warm welcome to the department from DEOHS Teaching Professor Martin Cohen.
She was thrilled when Hovis said she would support her trip and present alongside her at the NEHA conference and another meeting.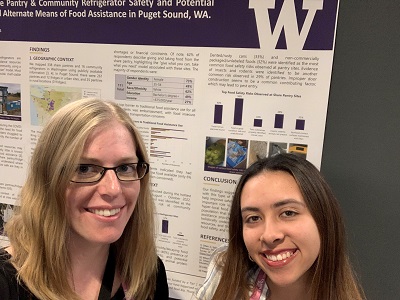 When Goodgion and Vallejo met up in New Orleans last summer, they were both glad they had chosen to attend the conference. Both soaked up opportunities they couldn't have gotten on campus, broadening their understanding of environmental health and connecting with professionals in the field from all over the world.
"It's a different experience when you're with environmental health professionals, and they're talking about the data they're finding and the challenges they're facing in their own public health agencies," Goodgion said.
Getting oriented
On the day before the conference started, Goodgion attended a four-hour session for NEPHIP interns, which provided tips on presentations, resumes, interviewing and networking, as well as free headshots.
"It made us all more confident about talking to people, because sometimes it can be a bit intimidating," she said.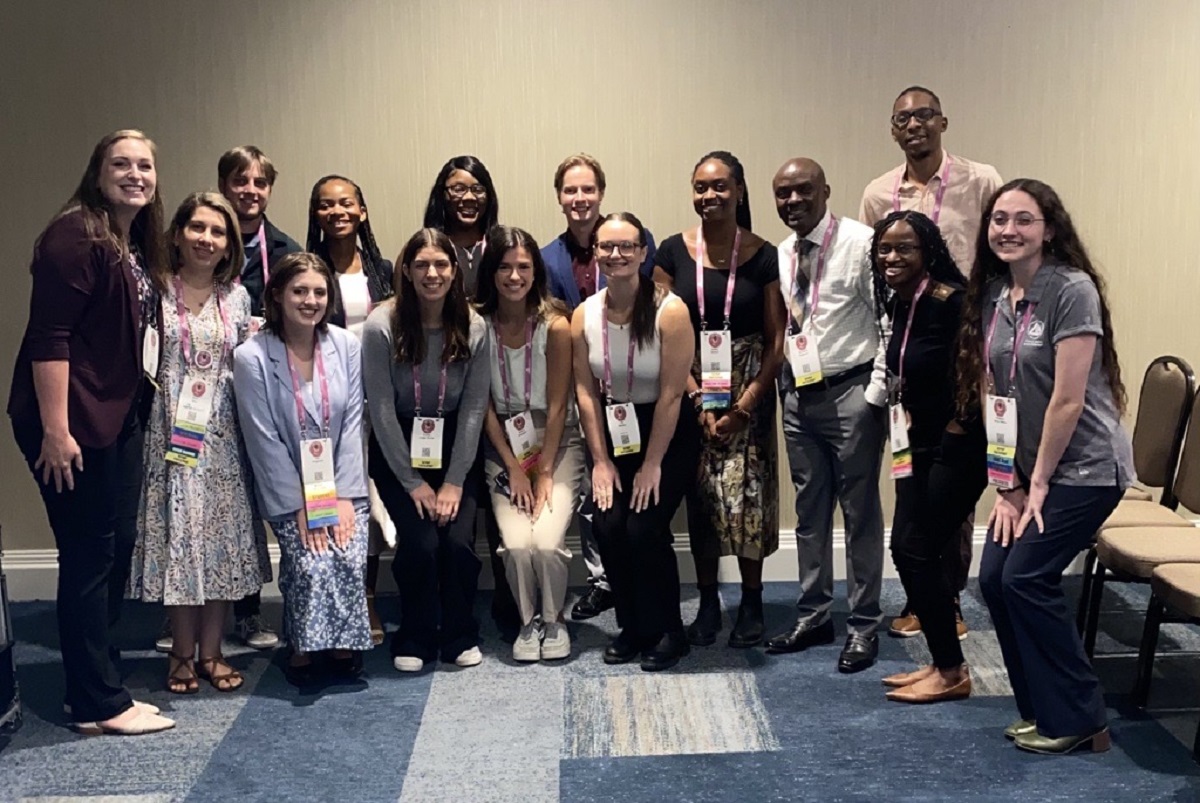 That preparation paid off during networking events like a bowling night where professionals networked with students.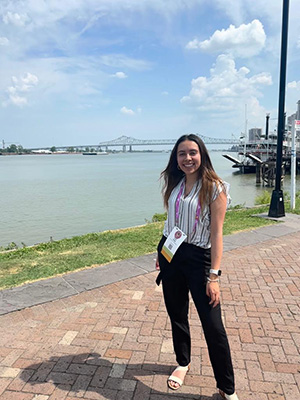 "I really enjoyed talking to environmental health professionals about what paths they took to get where they are and what they liked about their jobs," Goodgion said. "Everyone was so passionate about their work."
Meeting your future colleagues
Vallejo had a similar experience of forming new connections. "It's great to be around different people from all over who have common interests," she said. "You get to know people who might be your future supervisors or colleagues."
While presenting her research poster, she was inspired by discussion with other attendees, who shared thoughts based on similar issues related to food insecurity in their states. She loved the "interconnection of ideas" it generated.
"There are endless possibilities"
During the meeting, Goodgion enjoyed talks on food safety, disaster preparedness and vector control for disease, which were a welcome complement to her focus on wildfire smoke outreach during her internship. Similarly, Vallejo, who interned last summer with biotech company Seagen, appreciated hearing from professionals working in the public sector and regulatory affairs.
It made her realize "you can be anything you want in environmental health; it's so broad. There are endless possibilities in our field."
Urban exploration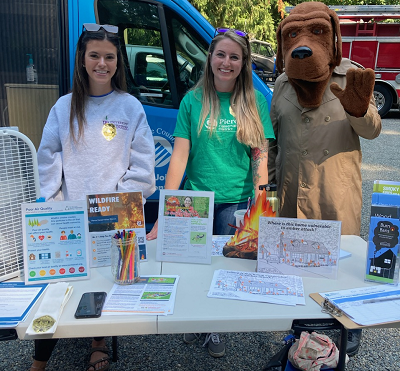 Both also enjoyed the chance to explore New Orleans. Goodgion sampled gumbo and beignets and went on a ghost tour, then ventured down Bourbon Street one night with Vallejo and others.
"You spend the day in events and talks, but you also have time to enjoy the city with people you just met and keep those conversations going," Vallejo said. "It's a really integrative experience."
A nurturing department
As both students prepare to graduate—Vallejo in December and Goodgion in June—they're feeling grateful for their conference experience and the deep support of the DEOHS community.
"Everyone in the department is so welcoming, and they truly want to help you be the professional you want to be," Vallejo said. "Emily has been the best mentor I could ask for, and she has given me so many opportunities."
Goodgion, who is now starting her third class with Hovis, echoed this sentiment. "I'll be sitting on our department floor and one of my former professors will come and sit next to me and ask how school and my internship are going," she said.
Both appreciated the chance to gain work experience in environmental health during their programs' required internships, and the excellent guidance and preparation they received from DEOHS student advisers Janet Hang and Dan Poux.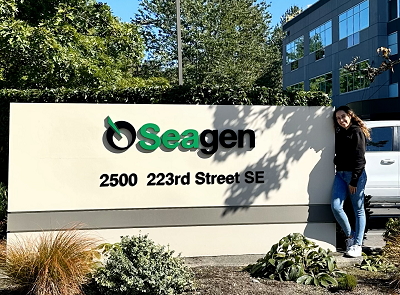 Advice to students
Both Goodgion and Vallejo encouraged fellow students to reach out to professors, explore field trips and internships, and get involved with organizations like the Student Environmental Health Association (SEHA).
They also recommend taking advantage of opportunities to attend conferences, and awards to help like DEOHS's Environmental Health Student Support Fund.
"There's only so much you can learn in the classroom," Goodgion said. "Getting that real-world experience is so important."