Sure, you can lecture teenagers about the dangers of sun exposure. You can tell them that skin cancer is the most common cancer in the United States.
But if you really want the message to hit home, let them discover it for themselves.
That's the premise behind a pioneering environmental-health education program developed by the UW Center for Exposures, Diseases, Genomics & Environment (EDGE) and a group of Washington high school teachers. EDGE is part of the UW Department of Environmental & Occupational Health Sciences (DEOHS).
The ATHENA program—it stands for the Academy for Teaching about Health and Environment Associations—has changed how health and science are taught across the state since it launched under a different name more than 20 years ago.
"We are reaching students in non-science classes and getting them to think about the intricate connections between human health, the health of the environment and the choices we make as individuals and society," said Jon Sharpe, DEOHS instruction support specialist who helped start the program.
Learning by doing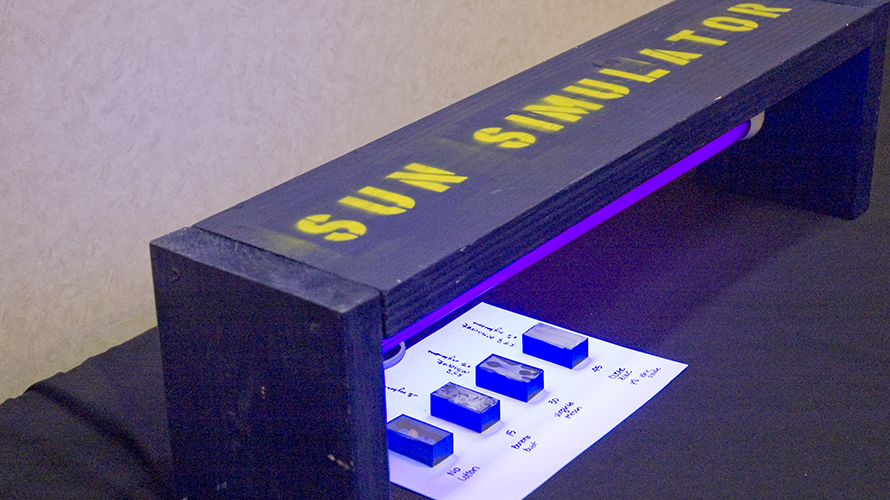 Teachers say the emphasis on hands-on science and topics relevant to today's teens gets students excited about health careers and changes how they think about their choices as consumers.
EDGE staff work with high school teachers across Washington to develop classroom kits that teach students about the nutritional differences between natural and artificial sweeteners, the health effects of vaping and other environmental health topics.
"Kids like to get their hands on something tactile," said Marilyn Hair, former community outreach specialist with EDGE who worked with teachers to develop the kits.
A sun-baked experiment
In the sun exposure experiment, high school students place colorless beads, made of special material that reacts to ultraviolet light, inside a clear plastic box and smear lotion or sunscreen on the clear lid. Other beads are placed in a box with nothing applied to the lid.
Then students make predictions: What will happen to the beads when the boxes are exposed to sunlight?
The approach itself is backed by science: A recent study from the University of Chicago found that students who physically experience scientific concepts understand them more deeply and do better on tests.
Adopted by 33 school districts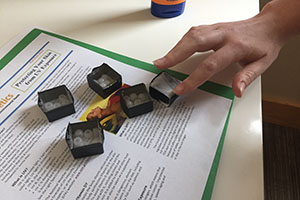 The kits are now part of the health curriculum and family and consumer sciences classes in 33 school districts across Washington.
"The ATHENA curriculum hits on a lot of cylinders," explained Lindzee Alvarez, a health teacher at Interlake High School in Bellevue and one of ATHENA's first participants. "Students bring home resonant concepts to their families about relevant topics and can link to things they are learning about in other classes."
Lessons and activities developed for the ATHENA program are now part of the Bellevue School District health curriculum taught across all of the district's high schools, thanks to efforts by Alvarez and others to promote the materials.
Making science relevant
Alvarez and other ATHENA participants convened at the UW last month to document the program's impact, revisit program goals and discuss ways to measure its future effectiveness.
While the original idea was to expose middle- and high-school science teachers to the expertise of UW science researchers, ATHENA now also supports teachers developing and piloting new environmental health-focused lessons and activities, Sharpe said.
"When we first started doing outreach to schools, there was a sense that we really needed to get students to do lab-based experiments so we could nurture future environmental health scientists," Sharpe said.
Today, "there's a new emphasis on really big, interdisciplinary problems like climate change, the built environment and health disparities—problems that will require all sorts of expertise to tackle in the coming years."