Richard Gleason
Associate Teaching Professor, UW Department of Environmental & Occupational Health Sciences
Proudest achievements:
Earning the UW's Distinguished Contributions to Lifelong Learning Award in 2017.
Joined DEOHS faculty:
1997
"Being in the classroom with students is what gets me to work every day! I like to facilitate conversations so we can learn from each other."
- Richard Gleason
They say teaching is a superpower. Even by that standard, the impact of Richard Gleason's 26-year teaching career seems superhuman.
Every year since 1997, Gleason has taught:
About 100 UW graduate and undergraduate students about occupational health and safety.
An estimated 500 Northwest workers and health and safety professionals taking continuing education courses on construction safety, industrial hygiene and other safety topics.
That's more than 15,600 students and working professionals who have learned from Gleason's interactive teaching style, industry experience and trademark sense of humor about how to make workplaces safer.
Gleason retires this month from the UW Department of Environmental & Occupational Health Sciences (DEOHS) as associate teaching professor.
"Rick Gleason is the most respected instructor that I know," said Martin Cohen, DEOHS assistant chair who worked closely with Gleason. "Not only does he know the material, he presents it in an entertaining manner. No one ever wants to give a presentation after Rick. No one can compare."
Teaching working professionals about workplace safety
"He is the best instructor I have had, and I have had a lot....The material he presents and the way he presents just has you holding on his every word—love his humor and humility."
~ OSHA Education Center student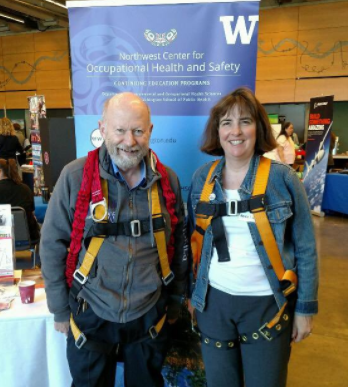 Gleason is famous among his students for using humor to break the ice and enliven his classrooms. "I wasn't that smart, so I had to come up with a way to entertain," Gleason jokes.
Here's an example: "Do you know what I did when I found out that most accidents happen in the home? (pause) I moved!"
About half of Gleason's time has been spent teaching working professionals across Washington, Oregon, Idaho and Alaska in the same program he helped launch in 1995—the Pacific Northwest Occupational Safety and Health Administration (OSHA) Education Center. The center is part of the DEOHS Continuing Education Programs.
"Because of Rick's impact, many workers go home safely to their families each day in our Northwest region," said Nancy Simcox, director of DEOHS Continuing Education Programs. "He practices a combination of occupational health training, mentoring and advocacy—all-in-all, a true inspiration."
An explosion in a bottle
Gleason enjoys using props as part of his teaching. One of his most memorable demonstrations shows what happens if a confined work space, such as a tunnel or a vessel, isn't properly ventilated.
He adds butane to a 5-gallon jug of water, then drops in a lit match. A toy figure peering down from the top of the jug doesn't stand a chance. "He shoots across the room and ends up with a blackened face," Gleason said. "They love that one!"
Other lessons involve small die-cast metal construction vehicles or an old miner's flame safety lamp once used in coalmines.
"I would build up this bank of ideas, make a note on a napkin, learn from their close calls and draw from their personal experiences … I learn from my students," he said.
Real-world examples from the workplace
The other half of Gleason's career has been spent in UW classrooms teaching undergraduate and graduate students.
He draws from real-world case studies to bring workplace safety issues to life, including from his occasional work as an expert witness in construction, general industry and maritime safety litigation.
"I remove the names and get to share what I've learned in class after the cases are settled," he said. In a recent class, he discussed construction crane safety and was able to share photos from an on-site inspection.
Washington has a strong culture of emphasizing safety on the job, with the third lowest rate of worker deaths in the nation, Gleason said.
"Employers are more aware now of the cost of injuries and the risks, and they are focusing more on prevention," he said.
Still, 80 workers died on the job in Washington in 2022, and Gleason knows there's more work to be done.
Forging personal relationships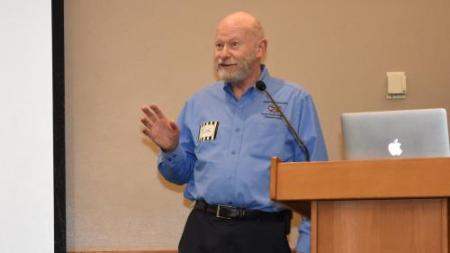 Gleason also stands out for the personal connections he makes with students. He sets a goal of writing five recommendation letters each week for students trying to get jobs or into a graduate school.
Belen Salguero, who graduated last month with her BS in Environmental Health, remembers chatting with Gleason one day as she was trying to figure out her future plans. Gleason offered to write her a letter of recommendation and then handed it to her at their next class session.
"Well, I guess I'm going to grad school!" she remembered thinking. She'll start the DEOHS MS program in the fall.
"It's fun to see people who got into a degree program or a job, to see them employed and doing good," Gleason said.
A lifetime focus on worker safety
Gleason also draws from his own experiences in his classes.
Growing up, he remembers seeing the safety pins his dad earned as a truck driver after each year with no accidents.
He also recalls watching his dad suffer from lower back pain on the job after so many miles in a driver's seat without proper suspension or cushioning.
After graduating from Montana Tech with a BS in Occupational Safety and Health, Gleason landed in Seattle to get his MPH in Industrial Hygiene at the University of Washington.
He was living and sometimes working with a family involved in commercial fishing off the Washington coast and learned that it was one of the riskiest jobs in the world.
"That gave me my thesis idea," said Gleason, whose developed his thesis on the safety and health problems faced by commercial fishermen in the North Pacific Ocean.
Safety compliance and consulting work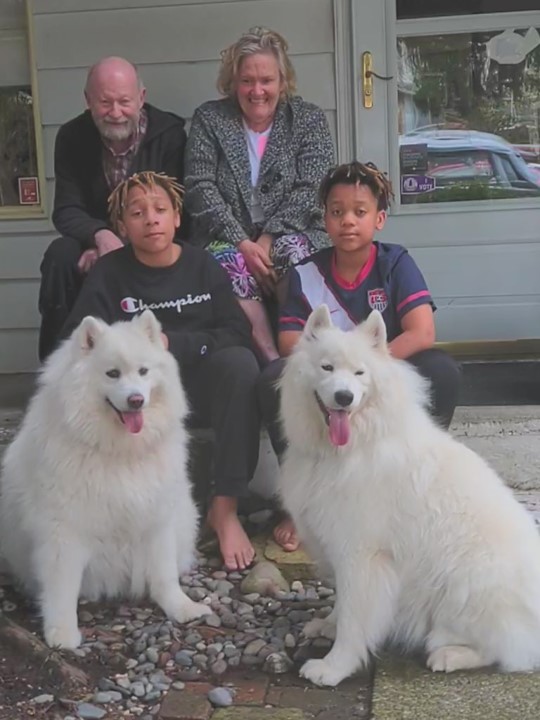 After graduation, Gleason spent the next 13 years working for the federal Occupational Safety and Health Administration and the Washington Department of Labor & Industries. He worked as a business inspector, first in compliance, then in consulting, which he preferred for its focus on prevention.
This was his first experience with teaching, and he loved it.
Gleason went into private consulting with Prezant Consulting for six years before moving to UW as a lecturer. "Now I am teaching in the same master's program I started in as a student 45 years ago!" he said.
Along the way, he also earned professional certifications in both industrial hygiene and as a certified safety professional. He lives in Seattle with his wife and two teenage grandsons, who they are raising.
Service to UW and the Pacific Northwest
Gleason's influence extends well beyond the classroom.
He hosted a monthly podcast called "The Heartbeat of Health & Safety," in which he interviewed industry leaders on emerging health and safety topics.
Gleason also served on a number of University and professional health and safety boards, including:
The UW's safety and health committee (since 2011).
The Governor's Industrial Safety and Health Advisory Board (since 2011).
The Accident Prevention Panel Committee for the Washington Governor's Industrial Safety and Health Conference.
The Evergreen Safety Council (since 2008).
The American Society of Safety Professionals (since 1983).
The Pacific Northwest section of the American Industrial Hygiene Association.
What's next for Gleason? More teaching!
He plans to continue working part time as an OSHA trainer with the Continuing Education Programs. He also will be the keynote speaker at the Governor's Industrial Safety and Health Conference this fall.
Watch Rick Gleason's recent keynote address
In March 2023, Gleason gave the keynote address at a seminar sponsored by the Washington State Department of Labor & Industries, part of their Melvin E. James Honorary Lectures on Safety and Health. The title of his talk was: 50 Years of the Washington Industrial Safety and Health Act (WISHA).