Nearly 100 students, faculty and staff in the UW Department of Environmental & Occupational Health Sciences (DEOHS) got a crash course in community-based research this week during our fall kick-off event featuring research partnerships from every corner of Washington state.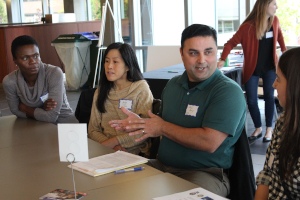 From our work with Seattle's Beacon Hill neighborhood to measure noise levels to our collaboration with Yakima Valley farmworkers on air quality issues, the event showcased local partnerships that aim to make healthy communities and safe workplaces accessible to all.
Collaboration is central to our research
Guests rotated among tables featuring eight projects, with DEOHS researchers pairing up with community research partners to talk about how they are investigating environmental and workplace factors that affect health.
Other speakers discussed the services DEOHS provides to the public through our Environmental Health Lab, Occupational and Environmental Medicine clinic, safety consultations for small businesses and continuing education courses.
The event was made possible by DEOHS donor Bruce Kelman, founder of the Redmond, WA-based consulting company Veritox. Kelman supports a DEOHS student scholarship as well as quarterly gatherings for students and faculty.