Kidney-on-a-chip goes to space
July 26, 2018 | Lisa Hayward Watts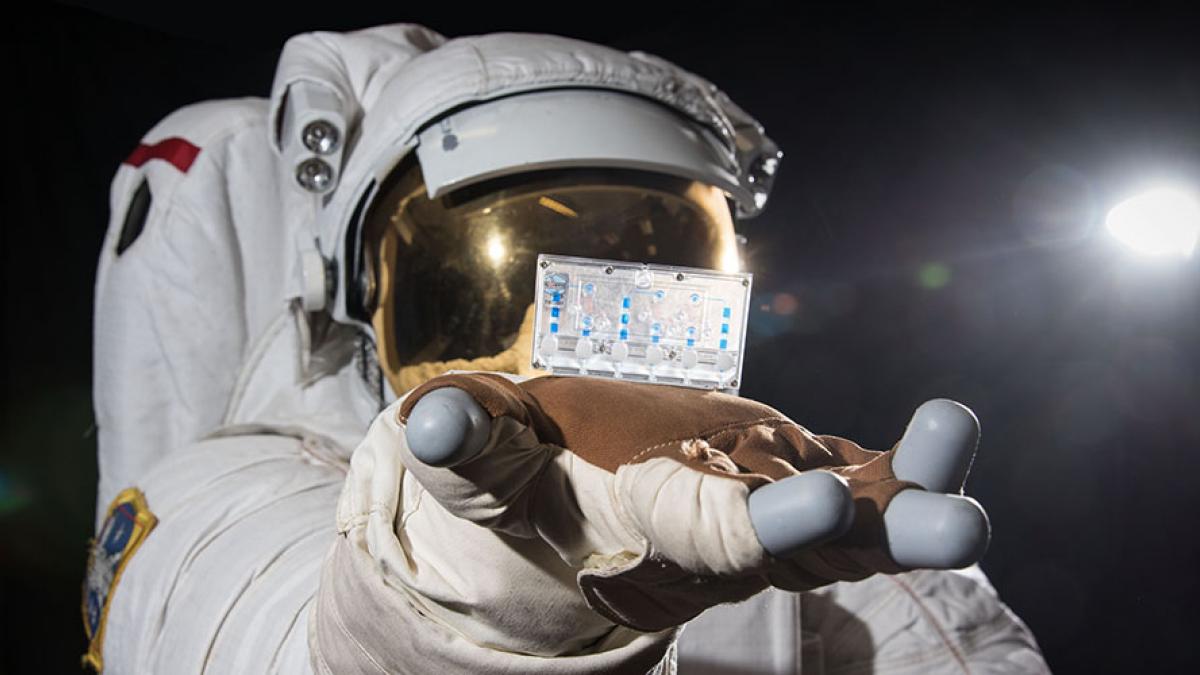 UW team supported by DEOHS prepares to send its simulated kidney technology to the International Space Station
A cargo spacecraft bound for the International Space Station this winter will carry a breakthrough technology developed at the University of Washington that could help scientists back on Earth transform care for kidney patients.
The device is called kidney-on-a-chip. While that may sound like some kind of British hors d'oeuvre, it is actually a device no bigger than your credit card that replicates a working human kidney, allowing researchers to test the effects of drugs in a natural model.
Kidney-on-a-chip was developed as part of a collaborative effort between the UW School of Pharmacy, UW Medicine, Northwest Kidney Centers and other partners with support from the Center for Exposures, Diseases, Genomics and Environment (EDGE). The interdisciplinary EDGE center is part of the Department of Environmental & Occupational Health Sciences (DEOHS).
Device simulates kidney function
The genius of kidney-on-a-chip is that it incorporates fluid flow to mimic normal kidney function. A tubule of kidney cells is enclosed inside a plastic case through which drugs can be passed in a system that replicates a working kidney.
Researchers can apply drugs with a syringe, pushing medications through the system—even multiple medications at once—without the need for gravity.
On Feb. 1, 2019, kidney-on-a-chip will blast off on a cosmic voyage to the space station with funding from the National Institutes of Health and NASA.  
Studying the effects of weightlessness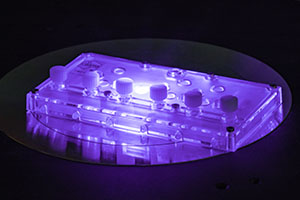 Why send kidney-on-a-chip to space? First, because microgravity speeds up processes related to the development of disease. Problems that take decades to develop on Earth could appear within weeks or months in space.
Second, studying kidney-on-a-chip in space can shed light on medical complications associated with weightlessness.
The experiment will allow scientists to probe the long-term effects of a lower-gravity environment on human organs. For example, bone loss plagues astronauts. Kidneys make the active form of vitamin D that keeps bones healthy, so it's important to understand how that process occurs in a weightless environment. 
Comparing drug toxicity 
The device was developed by a team co-led by EDGE members Edward Kelly and Jonathan Himmelfarb with their colleague Catherine Yeung. Kelly and Himmelfarb are already using kidney-on-a-chip to compare the toxicity of different products at different doses.
Normally, drugs are cleared from your body through urine produced by your kidneys. That makes kidneys particularly susceptible to the toxic effects of certain medications. Once kidneys start to fail, they limit your ability to process drugs and complicate treatment for a range of diseases, including kidney disease.
Until now, researchers testing the effects of a drug on kidneys had to apply the drug to cultured kidney cells on a plate. But that test doesn't model what happens in the body very well because it doesn't replicate cellular polarity or the fluid flow that occurs in the body.
A more expensive and ethically complicated option is to test on animals. However, animal models don't always predict human responses.
Improving treatment, developing cures
Kidney-on-a-chip allows researchers to optimize treatment while reducing the need for human and animal testing.
In the future, researchers hope to use the chips not only to improve treatment and prevention, but also to develop cures.
Two DEOHS professors who help lead the EDGE center—director Terrance Kavanagh and research team lead Elaine Faustman—co-direct a predictive toxicology group that supported the development of kidney-on-a-chip and continues to support its use for environmental health research.