From Washington's swim beaches to Amazon's Fulfillment Centers, students from the UW Department of Environmental & Occupational Health Sciences (DEOHS) are getting an up-close look at their future careers as health and safety professionals this summer.
Nearly 40 DEOHS students are working as summer interns across the US. Their workplaces include state government agencies, county health departments, private companies and nonprofit organizations.
"Internships get you out of your comfort zone and help you grow professionally," said Silvia Rus, a junior in Environmental Health who was selected as one of just 35 students nationwide for the National Environmental Public Health Internship Program.
"It's like putting you in the real world while holding your hand at the same time."
A growing job market
Environmental and workplace health is a rapidly growing field, with jobs projected to grow 30 percent in Washington by 2024.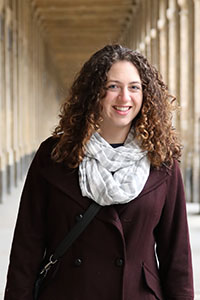 And DEOHS students have another advantage: a dedicated internship manager and career counselor. It is rare among UW academic departments to establish and fund a full-time internship and career specialist.
"The DEOHS creation of my role is a great investment in students," said Hayley Leventhal, who took the position two years ago. "I offer support for students as they apply for and complete their internships."
In high demand
DEOHS students have an impressive track record as interns. Survey responses show 97 percent of employers would hire their student-interns again, according to Leventhal.
"Internships are becoming more and more important to employers," said Leventhal, citing a recent Job Outlook 2018 survey. "Students want to understand how their education translates into the workforce, and employers want to see professional experience on a resume."
In the field
Our interns are blogging about their experiences this summer. Here's a snapshot of four of our student-interns:
Corinna Ong
Ong, a senior BS student in Environmental Health, is an industrial hygiene intern at the Washington State Department of Labor and Industries (L&I). Her job duties include: assisting industrial hygienists and safety specialists on field visits, conducting employee interviews and identifying and evaluating occupational hazards.
"A great thing about working for L&I is exposure to the different types of industries," Ong said. "I am learning how to communicate with people at all levels, from managers to employees."
Logan Dearborn
Dearborn, a sophomore BS student in Environmental Health, is a swim beach intern for the Clark County Public Health Department.
Dearborn samples the three county beaches for E. coli and conducts investigations for other waterborne illnesses. He is also creating a recreational waterborne illness toolkit to provide guidance during an outbreak.
"One of my favorite things about this internship is the mix of office and field work," Dearborn said. "My internship is pretty autonomous, giving me the opportunity to sample and start investigations on my own."
"I think everything about this internship experience is good practice for the real world," Dearborn said. "It is valuable to see what environmental health looks like outside of the classroom."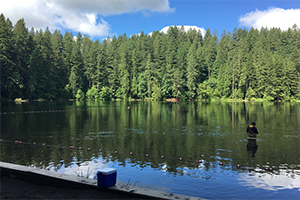 Silvia Rus
For her internship, Rus was placed at St. Mary's County Public Health Department in Maryland, where she is researching levels of arsenic in well water. Her primary job is mapping wells, cross-referencing well elevation and depth with arsenic levels.
"I grew up in Romania and drank from well water, so I am personally invested in this topic," Rus said. "I rewrote a letter for well homeowners providing arsenic public health information to make the letter less dry and more personable."
Deanna Ly
Ly, an undergraduate student in Environmental Health, is working as an environmental health and safety intern at Amazon's Fulfillment Center.
She spends her days in a fast-paced warehouse environment where she works with the company safety team to complete daily audits, job safety assessments and incident reports. Ly wrote in a recent blog post that she has nurtured professional relationships during her internship as well as advancing her understanding of the field of environmental health.
Preparing for success
Leventhal teaches an "internship bootcamp," a required course undergraduates take prior to starting their internships. It's designed to help students find, apply for and complete an internship.
Students learn to write resumes and cover letters, prepare for job interviews and learn about networking and professionalism.
"Hayley is always saying that internships are a ten-week-long interview," Ong said. "I took this advice to heart and show up every day to showcase my skills."
The number of DEOHS student interns has doubled in the past two years, Leventhal said. To track and support this growing student population, she uses an "intrusive advising" model that proactively reaches out to students.
"My goal is for all the students I work with to have the skills and confidence to manage their careers once they graduate," Leventhal said.