Amanda Durkin
BS, Environmental Health
Hometown
Hingham, MA
Future plans
A career in occupational health and an eventual MBA degree.
"One thing I will miss about the UW is the opportunity for constant learning and growth."
- Amanda Durkin
Amanda Durkin spent last summer quite literally living and breathing her University of Washington research project.
The UW Environmental Health student embedded herself in Washington's Methow Valley at the height of 2018's wildfire season as part of a research project on the health risks associated with wildfire smoke.
"Having first-hand experience living through an extreme weather event gave me more perspective on the need for air quality monitoring," Durkin said. "This project taught me a lot, and I enjoyed the community engagement aspects of my work."
Durkin was recognized this month as the 2019 Outstanding Undergraduate student in the UW Department of Environmental & Occupational Health Sciences (DEOHS).
Staying healthy in the smoke
During her two months living and working in the area, Durkin was part of a research team placing low-cost air monitors around the Methow Valley to gather data on air quality.
She gathered and analyzed data from the monitors and interviewed people living near the monitors to learn about how they used the air monitoring network during the wildfire event. Her work was part of a research project led by her faculty advisers, Nicole Errett and Tania Busch Isaksen, both DEOHS lecturers.
She also partnered with the Methow Valley Clean Air Project to help educate residents on which areas suffered from the worst air quality and how to stay healthy as wildfire smoke blanketed the region.
"Amanda played a critical role in establishing a community air monitoring network in the Methow Valley area," Errett said. "Because of her energy, enthusiasm and hard work, Methow Valley residents now have important air quality information they can use to inform decisions that impact their health."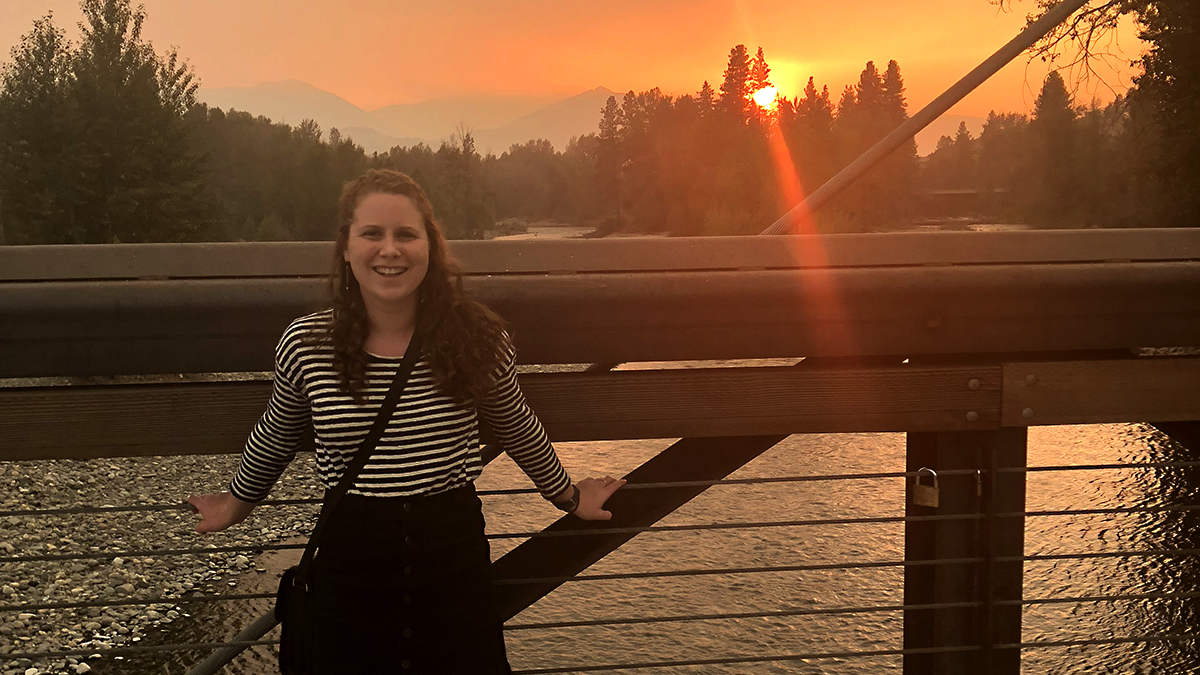 Breadth of experience
In addition to her research work, Durkin spent one day a week assisting the county health department with public health services, including food inspections, water quality testing and permits for wells.
Back on campus, she works as an occupational health and safety intern for UW Environmental Health and Safety, conducting inspections across campus that focused on occupational safety.
Durkin is also working with the research team to submit results from the wildfire project for publication.
"I have always been a hard worker," Durkin said. "It is great to be recognized for my academic achievements. I feel like it is the cherry on top of completing this program."
A scholar-athlete
Durkin moved across the country to attend the UW in part because of its competitive rowing program.
She has been a coxswain on the Husky women's rowing team for the past four years, notching three PAC-12 championships and recognition as part of the PAC-12 All-Academic Team in 2017 and 2018. She will compete June 2 at the national championship for the first time.
Durkin credits her UW peers, professors and teammates with teaching her how to build lasting relationships and make the most of the opportunities that have come her way.
She chose to pursue her BS in Environmental Health because of a long-time fascination with the interaction between human health and the environment.
"We are so dependent on the earth for our survival," Durkin said. "But yet we pay little attention to how we treat the planet. I wanted to study environmental health to help be part of the solution."
A focus on workplace health
Durkin is currently applying for jobs in occupational health, hoping to work in a community setting. Eventually, she can see herself in a nonprofit or academic setting and potentially pursuing an MBA degree to gain additional leadership skills.
"I think a strength and weakness of mine is that I am interested in so many different things," Durkin said. "Whatever field I end up pursuing, I want to continue to grow as a strong woman driven in her career."
Durkin's research was supported by the department's Environmental Health Research Experience Program: NIEHS grant #4R25ES021646-05.